Hello and welcome to Drowned In Sound's live coverage of the Mercury Prize 2014. Once upon a time the word 'live' used to be reserved for special EastEnders episodes and ropey cash-in albums, but then the Internet happened and here we are for the evening.
For the most immediate musings from myself and DiS' editor, Sean Adams, follow the Drowned In Sound on Twitter. To compare at our subpar coverage and complain at East India Youth being robbed of victory, hop over to our Music Board.
Refresh the page for updates
---
10.11pm - That's the end of the ceremony folks. Thanks for those who tuned in. A big congratulations to Young Fathers. Their win may have been straight out of the leftfield, but the 'surprise factor' probably helped. With FKA Twigs and Kate Tempest all predicted to win, alongside established acts like Damon Albarn and Royal Blood, no one called it for the Edinburgh act. Hopefully they'll use this as a springboard for bigger things.
10.09pm - Well who saw that coming? Not me. Their performance was something else though and Dead is a distinct piece of work. This feels like another Speech Debelle moment.
10.05pm - Young Fathers.
10.02pm - And the winner is...
9.57pm - The big reveal is happening live on Channel 4 and More4. So now's the time to tune in if you're near a TV.
9.50pm - And we're back. That break in proceedings was sponsored by dinner. The posh seats had pan fried beef fillet, the cheap seats had thai green curry in economy sized bowls. Not that I'm bitter. Now everyone's waiting for the big reveal.
8.29pm - 'Figure It Out' is dropped. There are meaty riffs. There is a huge round of applause. Obviously, we called this ages ago with our jubilant album review.
8.21pm - Royal Blood are the last band to play and the one I've put money on to win the Mercury. This prize has a long-standing issue with rock music, so crowning the Brighton duo as winners effectively solves this.
8.19pm - As you can probably tell, I know nothing about jazz.
8.17pm - Polar Bear have two saxophones compared to the Bombay Bicycle Club's one. This obviously makes them twice as good as Jack Steadman's lot. 14/10
8.11pm- Kate Tempest does 'Circles' while dressed in a trenchcoat. She looks nervous at first but works her way into it with the help of a truly excellent trench coat. Also, the song is straight up brilliant - so that's useful.
8.01pm - Epic is a word that Michael Bay ruined around the time of the first Transformers movie, but East India Youth certainly had a grand old stab at 'Looking For Someone'. The Roundhouse appreciated it too, a healthy round of applause for William Doyle reverberates around the venue. Meanwhile, he clutches his nominee trophy like the weedy kid who just won sports day.
7.53pm - GoGo Penguin came. GoGo Penguin went. "It's pretty surprising, bit of a shocker," they told us of their nomination. That's no surprise, they'd only sold 196 copies of the record before then.
7.51pm - Why bother with the Mercury Prize? To answer this perennial criticism of the ceremony is best answered with an album sales table from the Official Charts Company. To summarise the stats, the music industry is in a state and these nominees need all the help they can get.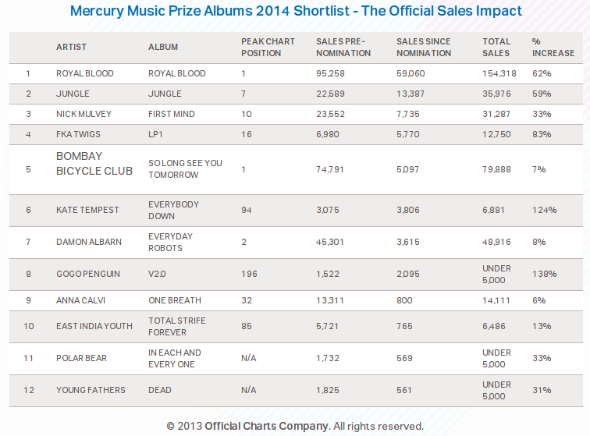 7.46pm - Anna Calvi is on now. She's been nominated for the Mercury Prize twice already but isn't expected to walk away with the winners statute tonight. Clearly her career hasn't quite this vintage Sean Adams savaging.
7.30pm - Wow. Young Fathers. 'Get Up'. The Edinburgh collective gave it everything there. If the Mercury Prize was awarded for frantic arm waving, there'd be a clear winner already.
7.24pm - That's something our Marc Burrows will openly admit to, by the way.
7.19pm - ...Damon Albarn gets easily the biggest cheer of the night for his album Everyday Robots. Probably because he used to be in Blur, but maybe because everyone really people loved 'Mr Tembo'.
7.15pm - Although the judges technically make their decision after the performances, we're not sure they have much effect on the winner. Still, that Twigs one was a stunner. She's one of the few nominees who has some star aura around her. Speaking of which...
7.13pm - FKA Twigs plays 'Two Weeks' while straddled by a pair of body-popping dancers. It's really quite weird and disconcerting, so not all that different to LP1 then.
7.10pm - Since we're chatting about personal picks, I'm a big fan of Kate Tempest's Everybody Down. If you live in a big city and have a natural disdain for humanity, then you'll easily relate with the London-based poet.
7.03pm - As is Mercury Prize tradition, the acts are stacked together in groups of three. Also, my laptop just konked out during Nick Mulvey's rendition of 'Cucurucu'. These two events are not connected.
6.41pm - Jungle are here and they've swapped their usual shell suits for skinny jeans and jazzy shirts. They do their song off the Amazon Fire phone advert. You know, the one your mum likes.
6.39pm - 7/10 is the definitive Bombay Bicycle Club rating, isn't it?
6.37pm - In case you didn't know Nick 'Grimmy' Grimshaw is hosting the show for Channel 4 and More4 and he opens the ceremony by introducing tonight's first act: Bombay Bicycle Club. They definitely won't win the prize, but are good sports and have turned up anyway to perform 'Carry Me'. There is a bloke playing saxophone for them. We like saxophones. 7/10
6.30pm - If you've been reading DiS for the last fortnight, you'll know we've gone big on the Mercury Prize. All our coverage has been compiled into a nice ebook, but I especially enjoyed Tom Johnson's interview with Young Fathers.
He claims the Scottish trio 'defy genre', but I'd just say they're new and loud and exciting. The kind of band the Mercury Prize exists to promote. Sean has them down as his favourites.
6.25pm - We'll be updating this page throughout tonight's ceremony, so stay tuned for some scandalous muttering from London's Roundhouse. Will FKA Twigs reign triumphant? Why on earth did we just stick a fiver on Royal Blood? How will we cope with all the drama?