The second installment of Metronomy's world tour diary sees them take in the sights and sounds of Australia and America. Words, again, supplied by keysman Oscar Stebbing.
---
OUR DUGGIE
Australia, January 15th-17th
Look at Oscar, ignoring Jørn Utzon's graceful, expressionist Sydney Opera House and the sights of beautiful Sydney Harbour. He's on the lookout for something, I'm sure of it. Is it the much-maligned Ibis he seeks - the scavenger bird and scourge of Sydney, cousin in temperament to the familiar seagulls of Oscar's native Brighton? There sure are plenty of them at the Botanical Gardens, where Oscar is roaming. Watch out Oscar - he'll steal the sandwiches from your picnic rucksack quicker than you can say 'Jack Robinson'!
---


---
Or is young Oscar in search of some authentic antipodean sustenance - perhaps a sizzling sausage fresh from the outdoor barbies of Bronte beach? We were treated to a BBQ by our promoters, Popfrenzy. We swam in the sea, sank a few beers, had a great time. Mmmm - smells good, doesn't it Oscar? - but no, that's not it. Maybe it's novelty he's after - something reminiscent of home, but just that little bit different? Maybe he's shunning the chicken sausage in favour of a Whopper meal, this time not from Burger King - but from Hungry Jack's. I think not - that's just a little bit too weird. I can tell Oscar's in the mood for a real hunk of beef. Wait - at last! Here he is now!
---


---
Phew! Quite the head turner, eh ladies? Quite the windswept go-getter! I'll admit it - it wasn't just Oscar; all of us in Metronomy got in a little bit of a tiz over Douglas Lance Gibson, Promoter's Rep: Our Duggie. A man's man from rural New South Wales, rugged and golden, but with an encyclopedic knowledge of all kinds of obscure indie bands with lots of 'V's in their names. Pretty much the perfect guide to Oz. Duggie accompanied us on our three date tour of Australia - Sydney, Brisbane and Melbourne. With him on board, how could anything have gone wrong? We had a ball. Thanks to everyone who came to the shows - hopefully we'll see you later in the year, Down Under.
PS - Sorry ladies: Our Duggie's taken!
---


---
OUR SPECIFIC COAST ADVENTURE
USA, January 20th–28th
Woo hoo! We're back in the home of the brave! Gimme an MSG sandwich with a xanthium gum chaser, to go!  The food here is so pervertedly more-ish that I'm like the dog in the experiment that keeps pressing the 'deliver food' button with its paw until its stomach explodes. This little morsel was served up at the Black Bear Café in Yreka, California, a stop-off on our brutal 20 hour drive from Seattle to LA. I should have held up a 20p to scale – that plate is about the size of my torso.
Seriously though, there's been a bit of a sea-change since last time we were here. There's a new guy at the helm and now everyone's friendly and you don't have to pay for anything in shops and all drugs have been legalised. We were actually in Las Vegas for the inauguration, but it didn't seem to impinge on anyone's conscience there too much. They were too busy HIGH ROLLING!
---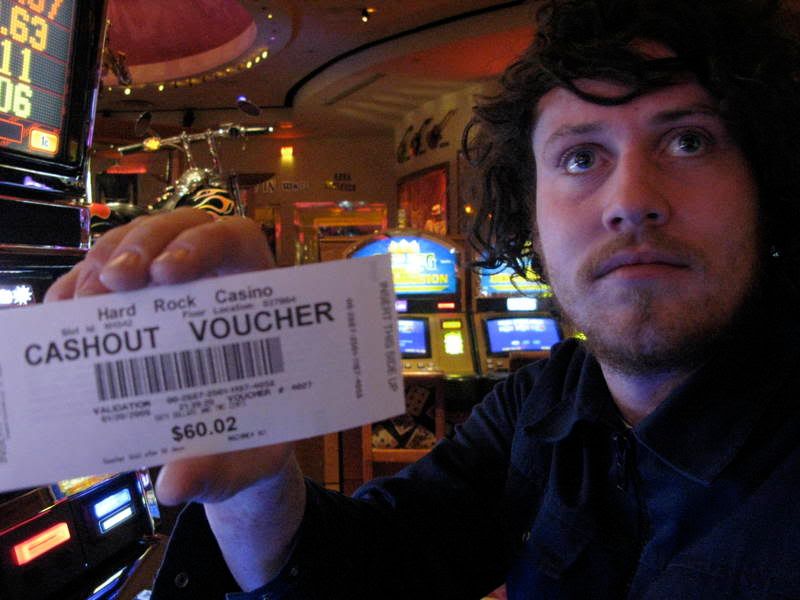 ---
Here's lucky Joseph with the money he won. Me and Oscar, of course, lost heavily. Plus ça change, eh? Vegas is basically everything everyone's told you about - I don't need to go into it here. It was the first stop on a trip up to the heartbreakingly beautiful Pacific North West. You go from the America that puts you off your drink by bragging to you about how many Spring Break titties he's squeezed, to the America that you want to put your arm around and say, "hey, you were all right all along, weren't you?" You go from this:
---


---
To this:
---


---
Now, call me a pussy fag homo liberal, but I'd like to buy this sign a beer.
Portland, Oregon is rad. It's where our driver, Sean, lives and it's like a little stab at utopia nestled in Ewok-land style countryside. Vancouver, likewise. Seattle – ditto. Good times and thanks to everyone who came to the shows and made them so special. I think an honourable mention here should go our touring partners, The Mae Shi. Hanging out with them is like going on a stag weekend with the cast of Yo Gabba Gabba!. It was so nice playing with another novelty band.
---


---
SUPERCALI
Los Angeles, January 19th, 21st and 28th
Wha did Diddy did? He did West Hollywood, bitch! I absolutely love this place. Does that make me a terrible person? Pools, parties, plastic tits and palm trees. I want to live like this until my friends and family intervene. I never imagined I'd say this, but I think Metronomy have switched allegiance. Bye bye Brooklyn, hola Beverly Hills! The East Coast is just too cold this time of year, and everyone there is way too uptight. Chill, guys!
We made a little base camp in Hollywood at the Beverly Laurel Motor Hotel , which is really cute and has a diner called Swingers downstairs. Allegedly it's the Swingers diner – in LA, everywhere is allegedly THE somewhere from a movie. Anyway. Our publisher and old pal Shiner came along for the ride – he said he had to help with the guestlist or something. He assured us the reason he came along definitely wasn't to hang out in the sunshine and drink cocktails. Thanks for the help Shiner!
---


---
We also got the chance to spend some time with Stephen [Metronomy manager's]'s old buddy Duncan. He lives in a beautiful house with his wife Madonna and daughter Ruby, and he's converted the poolhouse into a boy's bunker complete with Scalextric set. Living the dream! Madonna cooked us some amazing barbeque food on our first night in LA, and we were able to hang out with them a whole bunch during our trip. Thanks for the hospitality guys!
Good times all round, then. We DJed at the Standard Hotel (where there's a model lying in a booth behind the reception desk all night long), and played two shows, one little party and one big show, at the most beautiful venue:
---


---
We've got a load more photos from LA but basically they're all of us getting drunk so they're pretty boring. Look out for us on LastNightsParty.com or whatever. All I can say is, thanks LA, you killed it for us, we'll expect to hear back from you about the screenplay we dropped off. Adios amigos!