The ears have stopped ringing, the tent is finally packed in the loft, and the sunburn is now flaking off, but it will be while yet before Glastonbury 2015 fades out.
The 2015 edition was a special one. It wasn't necessarily to do with the headliners. It wasn't necessarily to do with the weather, or the people, or the drugs, or the booze, or the ley lines or the fried halloumi cones by the Pyramid stage - it was a strange alchemy of all of them, or possibly none of them. The weird coming together of all that is uniquely and completely Glastonbury, and it's something that even the festival itself can't guarantee every time.
This year, there was something in the air. DiS's Glastonbury regulars Marc Burrows, Dom Gourlay and Mark Muldoon took a deep breath, dived in, and when they finally resurfaced, this is what they were breathlessly enthusing about...
A is for Alvvays (John Peel stage, Sunday)
Every festival requires an anthem, and Alvvays have an abundance of them in their locker. While breakthrough single 'Archie Marry Me' is confidently dispatched in the early part of the set, it's the likes of 'Party Police' and 'Adult Diversion' bringing up the rear that get the party in full swing. Lead singer Molly Rankin even tells one eager punter to calm down, while instructing those of a vertical disposition to stand in front of anyone taller than them. For forty glorious minutes we forget our surroundings as Canada's finest purveyors deliver an impeccable, flawless set. (DG)
B is for Bacharach (Pyramid Stage, Saturday)
Presumably nobody told 87 year old Burt Bacharach that the "legends slot" was supposed to be on Sunday afternoon and it had been given to Lionel Richie, because it's saturday lunchtime and "legendary" barely covers this setlist. Very, very few living artists have a songbook this strong - 'What The World Needs Now', 'I Say A Little Prayer', 'Walk On By', 'Always Someone There To Remind Me', 'Anyone Who Had A Heart', 'That's What Friends Are For'... the masterpieces keep coming and coming. Admittedly there's something a little shiny about the smooth-as-perspex session singers covering for Dionne Warwick, Dusty Springfield and Tom Jones, but then these are robust enough to withstand the schmaltzy gloss. The standout moments come when Bacharach himself takes the mic, his voice -never especially strong - now just a husky, whispered half-croon on 'Raindrops Keeps Falling On My Head' and 'Alife', songs so often dismissed as cheesy muzak become strangely personal and not a little heartbreaking. (MB)
B is also for Belle & Sebastian (Other Stage, Sunday)
Much water has passed under the bridge since Belle & Sebastian shook the music industry's foundations at 1999's Brit Awards, yet for inexplicably they remain a curious anomaly to many: a gallant troupe of twee outsiders that speak to a select group of fans and little else. If only they'd been here to witness this. Stuart Murdoch, resplendent in sailor's uniform, charismatically owning the Other Stage for a good hour. Casually inviting fans onstage for 'Boy With The Arab Strap' and irking security in the process, his earlier impassioned speech about the referendum and Scotland's quest for independence suggesting they're anything but the patron saints of librarians. (DG)
C is for The Chemical Brothers (Other Stage, Sunday)
Competing against fifty years of rock history on the Pyramid Stage would be a tall order for many, but The Chemical Brothers are equal to it, delivering a tenacious performance worthy of a top-billing slot in itself. One suspects organisers were anticipating high demand resulting in The Who's stage time being brought forward half an hour to avoid congestion on the Other Stage. Not that DiS had ever given a second thought to where we'd be heading come 9.45 on Sunday night. Playing a set lasting an hour and forty-five minutes, The Chemical Brothers gave us a masterclass in both audio and visual ingenuity. Trawling through their back catalogue up to the present day, it proved both magical and intense in every way. If ever there was a perfect way to end Glastonbury weekend, this was it. Simply wonderful. (DG)
C is also for Courtney Barnett (Pyramid Stage, Saturday)
You can spot the exact moment, right here on the Pyramid, when Courtney Barnett "stepped up." No longer just a wry indie starlet, (or the "Aussie Jenny Lewis") this is a set brimming with confidence and sparkle and belting tunes. There's a glint in her eye as as the grungy thump of 'Pedestrian At Best' fades out - it's a done deal, Glastonbury is her bitch, and the big leagues await. (MB)
...and C is for Crows Nest
One thing that sets Glastonbury apart from the competition are its small stages hidden away in the least obvious corners of the site. Take the Crow's Nest for instance, tucked into the darkest recess of The Park area. Conceived by visual artist Pete Fowler and aided by Sheffield Leadmill promoter Kieran Crosby, it's line up features a multitude of well known artists playing previously unannounced last minute shows curated by the likes of Heavenly Records. Among those to grace its intimate confines this weekend were Toy, Django Django, Songhoy Blues and King Gizzard and the Lizard Wizard (more of their set later). And what's more, they also serve the best tea and cakes on site. (DG)
D is for Django Django (John Peel stage, Sunday)
When the power cut out on the John Peel Stage during Sunday's mid-afternoon set, Django Django could have disappeared into the ether wondering why such bad luck happened to them. Instead, they returned undeterred to transform the tent into a bouncing indoor rave reminiscent of Castlemorton and its ilk from the early 1990s. (DG)
E is for Extremely Big Lasers
Specifically those belonging to Arcadia: still the best nightclub on the planet, and yet one that only exists for three nights a year (although the spider is making a few other festival appearances). Its admirable Lets-Throw-Another-Element-Into-The-Production ethos is to thank here: we get lasers, flame cannons, high wire circus performers, video mapping, smoke jets, LED lights and fireworks, alongside DJ sets from the likes of Skream, Annie Mac and 2manydjs, though one or two of these elements are reserved for the spider's nightly 'Metamorphosis' showpiece - which due to clashing with the every headline set of the weekend, hardly anyone actually sees. 2manydjs play on Sunday night, and are generous enough to end their set – and therefore the festival, basically – with a six minute 2008 remix of MGMT's Kids, or, as one bystander comments (and by bystander, we mean the tabloid definition of bystander that actually means 'the article writer'), "the festival ending you'd always dreamed of getting". (MM)
F is FKA Twigs (West Holts, Sunday)
Glastonbury has many strange delights, but there is nothing within a thousand miles that comes close to Tahliah Debrett Barnett. FKA Twigs is what music from the future was supposed to be like, deconstructed to a handful of beats and washes and emotions and played out as the score to a startling one-woman ballet. Her performance has a pulverising, alien sexualailty; feminine without being fragile, odd but never alienating, and beautiful without seeming at all pretty. You can debate for days whether this is pop music or performance art, it doesn't really matter - This is utterly stunning, tonight's notably awed crowd is testimony to that. (MB)
F is also for F.F.S. (John Peel stage, Sunday)
The triumph of FFS's (that's Franz Ferdinand and Sparks) festival-closing set is that an artpop hybrid of two oddball acts from different eras, playing songs written forty years apart, always feels like one band. Across a set mixing their genuinely excellent recent album and a handful of greatest hits from both acts, FFS are of one mind, and the extent to which 'Piss Off', 'The Number One Song In Heaven' and 'Do You Want To' sound of a piece really is remarkable - that 'This Town Ain't Big Enough For The Both Of Us' and 'Take Me Out' each send the tent equally bananas shows the audience aren't playing favourites either. The band are clearly having a ball with these songs (Alex Kapranos has the messy grin of a kid at on Christmas morning throughout) and despite the claim stated in their best song, collaborations can work very well indeed. This isn't "Franz Ferdinand and Sparks", this is a F.F.S, and F.F.S are a hit. (MB)
F is also for Fat White Family (Shangri-Hell, Saturday)
Put the most debauched band around of the moment in the most debauched area of the entire festival site and it can only end in carnage, right? Well no, not exactly. Instead, their 4am slot on the Shangri-Hell stage ended up being one of the weekend's highlights. Having progressed from the shambolic beginnings of two years ago, Fat White Family have blossomed into a well-oiled machine, and in recently married mouthpiece Lias Saoudi have one of the most engagingly charismatic frontmen of his generation. Stage invasions from people dressed in fox masks ensue, with Saoudi spending the entire set either on or beyond the crash barrier, all the time never missing a note. The hype machine may have worked in their favour at the start, but the Fat White Family that soundtracks Sunday morning's sunrise are an altogether meatier beast entirely. (DG)
G is for Gengahr (John Peel stage, Sunday)
Forget the headliners, Glastonbury is second to none when it comes to discovering bill toppers of the future. One band in contention for the bigger stages are London-based four-piece Gengahr, whose playful vignettes are reminiscent of Wild Beasts and Talking Heads. Guitarist John Victor has an air of a young Jonny Greenwood about him, knocking out riff after riff in all the right places, which ultimately justifies the early Sunday morning alarm call after the previous night's excesses. (DG)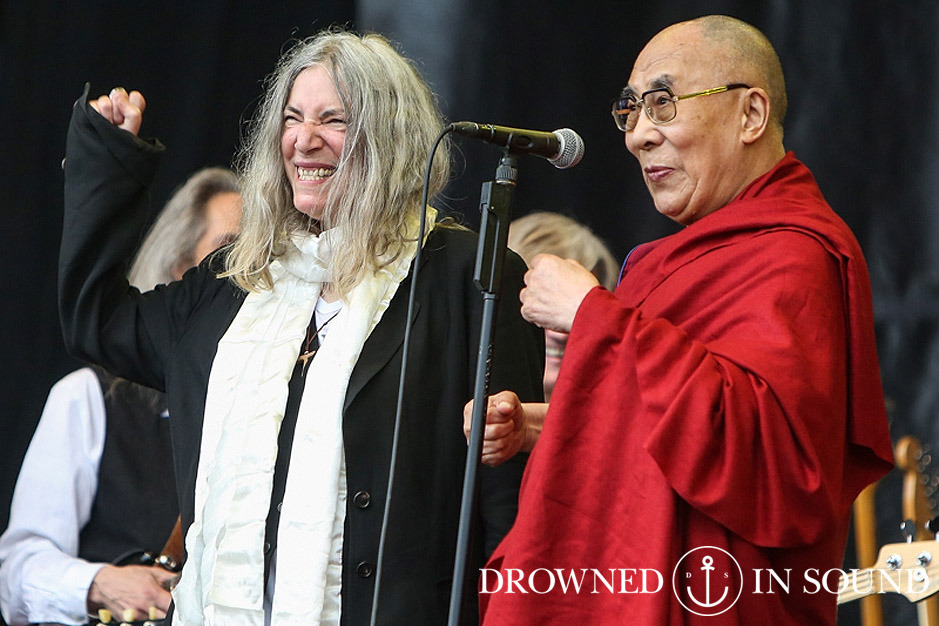 H is for His Holiness, the Dalai Lama (Stone circle/Pyramid Stage, Sunday)
When Emily Eavis announced the 14th Dalai Lama, Tenzin Gyatso, as the first officially confirmed guest for Glastonbury 2015 gasps of disbelief could be heard far and wide across the length and breadth of Britain. Now in his 80th year, not only would it be a privilege but also an honour to witness this gracious and humble man in the flesh. Inevitably, his appearance at the Stone Circle on Sunday is met by a surround-sound of clicking cameras and flashbulbs, and when Patti Smith introduces him onto the Pyramid Stage during her early-afternoon slot, those gasps turned to tears of joy. I swear I even heard a pin drop as he addressed the respectful crowd. Easily the most awe-inspiring five minutes I've ever witnessed in over twenty-five years of attending music festivals. (DG)
I is for impossible to see everything
We miss Idlewild on Sunday, despite really bloody loving them at DiS. That's the thing about Glastonbury - you literally cannot see everything you want to see. It's impossible. At this point we were trying to get from FKA Twigs at West Holts, to FFS at John Peel, a half hours walk, while seeing if it's possible to drop in on The Fall at the Park (It wasn't, FYI) and swing by Avalon to catch a bit of Idlewild. We heard they were brilliant. (MB)
J is for Jamie XX (Park Stage, Friday)
It's fair to say nobody's showing up expecting Jamie XX to beat Florence + the Machine to the 'showboater of the day' title. The danger here is of a set little more than an album playback, however In Colours is an album deservering a mass televised public celebration, and Jamie's slick enough to pace his hour wonderfully, make dancefloor-ready track embellishments, mix in a crowd-pleasing year 2000 garage hook (that he was no doubt reared on), and even arrange for a 9/10 sunset to form the backdrop to proceedings. A glorious hour. (MM)
K is also for King Gizzard and the Lizard Wizard (Crows Nest, Friday)
Fitting two drummers onto the tiny Crow's Nest stage would be an achievement in itself, never mind the other five members that make up Melbourne's finest psychedelic/grunge/punk/call-it-what-you-will combo. Having already played two sets earlier that day on the Park and Williams Green stages respectively, one could forgive them if their energy levels were sapped a little for this 1am shebang, but then KGATLW couldn't give anything less than 100%, and from the moment frontman Stu MacKenzie and his lively band of cohorts launch into their first number the Crow's Nest becomes a heaving mass of sweaty bodies piling on top of one another, reminiscent of those early punk shows you've only read about. Think Tame Impala covering Black Sabbath on speed and you're somewhere close. About two-thirds of the way in - by which point any defining line between stage and audience has long since transgressed - the power supply blows, giving those of us caught in the midst an opportunity for a breather, before everything starts up again for the finale some fifteen minutes later. Rock and roll in its purest and most enjoyable form, and coming to a town near you in the foreseeable. Go see, you won't be disappointed. (DG)
L is for Lulu (Avalon, Friday)
Still looking fabulous at the age of sixty-six, the lady christened Marie Lawrie back in 1948 brightened up a wet Friday evening in style. Performing an hour long set to a packed tent on the Avalon stage, she duly bedazzled with a repertoire that can only be described as showbiz personified. Combining a selection of hits, collaborations and covers with material from her latest album Making Life Rhyme, her show proved to be a celebration of half a century's worth of pop's finest gems. 'Relight My Fire', 'The Man Who Sold The World', 'To Love Somebody' all receive rapturous applause, with inevitably the most rabid cheers reserved for debut single 'Shout', released an astonishing fifty-one years ago. (DG)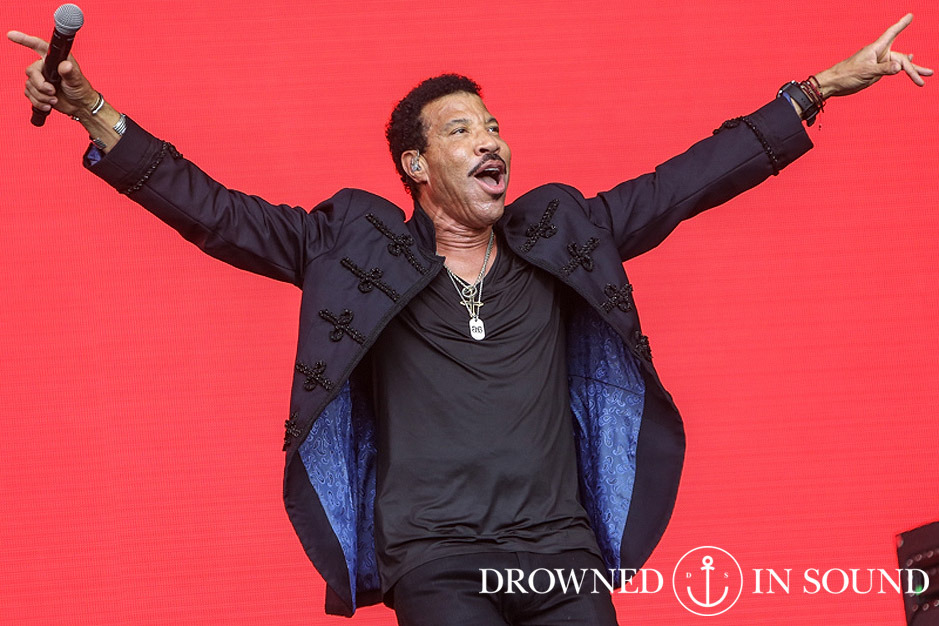 ...L is also for Lionel Richie (Pyramid stage, Sunday)
...who is here providing good clean festival fun. You have to admire the audience members hoisted upside-down by their mates so they can waggle their feet above the crowd and almost-literally manage 'dancing on the ceiling'. Lionel's cartoon character enthusiasm is infectious, and should ensure he stays the subject of memes for a good few years to come. Sure, it's not the inarguable five star smash that Dolly Parton was last year - during which one bystander cried twice - but everybody's leaving with huge grins on their faces. (MM)
Finally L is for " a Little bit of Politics" and the Leftfield
Many things make Glastonbury genuinely unique among music events: the Green Fields and the charities, the fact you can bring your own beer and, yes, the Politics. This is the only major UK festival to wear its values proudly, dedicating a whole stage to leftist, anti-establishment boat rocking. Immaculately curated by Billy Bragg -who else - the Leftfield is a haven for discussion, for argument and for music that has a something to actually say. Thus his bardship jostles with comedians Shappi Khorsandi and Phil Jupitus, while bringing in brilliantly oddball bands, like the lovely Martha, or the jangling, unstoppable "socialist R&B" of Thee Faction, a band whose toe-tapping polemic on Saturday would surely have started a revolution were they not preaching to the already firmly converted. (MB)
M is for Motörhead (Pyramid Stage, Friday)
Tomorrow Kanye will declare himself the greatest Rock n' Roll star on the planet. The day after that Pete Townshend will correct him, but both have forgotten they're sharing a festival with Lemmy, which ends that argument pretty quickly. Today Motörhead channel a big arena rock show with reasonable success: a Glastonbury crowd not used to this stuff occasionally look a little lost, but then, once or twice, so do the band; playing to a non-metal "away crowd" for what must be the first time in years. Still, Motörhead always pack a punch, even if it is from an increasingly gnarled fist, and there are moments here when the volume and the power (that bass sound!) steamrollers the field, as on 'Damage Case' and the inevitable 'Ace of Spades.' Years of hard drinking seem to be catching up with an increasingly frail Lemmy -he probably can't afford the Doctors that keep Keith Richards going - with guitar and drum solos killing time while he gets his breath back. There's a ropey moment during the closing 'Overkill' where the Lemster get the words mixed up and sings two verses of 'Ace Of Spades', it might be a clever comment about the audience only knowing one song, but the look on guitarist Phil Campbell's face suggests otherwise. "Remember us, we're Motörhead and we play rock and fucking roll!" says Lemmy to cheers that suggest that, though his memory might be slipping, ours certainly never will. (MB)
M is also for The Maccabees (Other Stage, Saturday)
While there's a worrying lack of potential headliners amongst the current musical contingent hoping for promotion to the Premiership, one band that must surely be in with a shout are The Maccabees. Drawing a huge crowd in the face of fierce competition elsewhere, they delivered a flawless set, including a raucous 'Latchmere' and celebratory 'Can You Give It?' while new material aired from forthcoming long player Marks To Prove It suggests a heavier direction which could catapult them into the upper echelons their craftsmanship thoroughly deserves. Jamie T joins them to play guitar on the new record's title track, and by the time 'Pelican' and 'Grew Up At Midnight' close the show there's little doubt we're in the presence of potential Pyramid Stage headliners of the future. Invincible. (DG)
N is for Not Seeing Pyramid headliners at all
Despite all the fuss over Kanye's allegedly controversial booking (as if getting one of the biggest stars in music to headline a festival is somehow a weird thing) this year, more than most, you could steer completely clear of the big pointy thing in the main field. No-one from DiS bothered with Florence or The Who, only one of us saw his Yeezyness, and we all had an amazing time anyway. So next year when some improbable pop act is granted the keys to the Pyramid, you can grow the fuck up and stop whining. (MB)
O is for obvious special guests
Rumours flew around the site about the "special guest" spots across the weekend, and broadly they were usually bang on. Admittedly not many guessed the Charlatans would open the Other Stage on Friday, but then watching the set not many seemed to care either. Later, on the Pyramid, the reveal of the Libertines' backdrop causes cheers of familiarity, not surprise: by this point most people had worked it out. Bastille and Wolf Alice, too, played sets that were about as secret as Hulk Hogan going undercover in an infant school. (MB)
P is for Pussy Riot (Park Stage, Friday)
Pussy Riot's Nadezhda Tolokonnikova and Maria Alyokhina, the acceptable face of anti-establishment Russia, turn their Park Stage Q&A into performance art, as a machine-gun wielding dissident stands on an army truck declaring the independence of the 'People's Republic of Glastonbury' ("free from the puppet governments of America and Europe, and Gay parades") before being rather awkwardly taken down and silenced by Tolokonnikova and Alyokhina, who present their "Ten Rules For Pussy Riot" and force a rainbow balaclava over their hapless homophobic captive. It's a bit all over the place, truth be told, and we're never 100% clear what they're getting at. That said, the welcome intervention of Charlotte Church, the acceptable face of anti-establishment Wales, leads into a fascinating Q&A atop the truck ("we must occupy war machines" says Alyokhina.) It's inspiring if occasionally bizarre stuff. (MB)
P is also for Patti Smith (Pyramid stage, Sunday)
It says everything about Patti Smith that the appearance on stage of the fucking Dalai Lama during her set is neither here nor there. She's totally mesmerising already, and has been steadily reducing her audience to tears for nearly an hour: a short interlude to give a monk a birthday cake -charming as that moment is - just another element in what was already the set of the weekend. Before His Holiness descends she dedicates 'Pissing In The River' to Wikileaks, and once he's left, snarls and storms her way through 'Gloria,' the entire crowd lost and rapt. God knows what early-arrival Lionel Richie fans were thinking, but you hope they're having their minds suitably blown. "I've nearly lost my voice" she says at one point, "but I'm going to give every last bit of it I have left to you people." You believe her - In that moment Patti Smith could have started a religion of her own. She finishes by covering 'My Generation' with twice the bollocks of the version the Who do later, ripping the strings from her guitar one at a time as screams of feedback roll across the field. It's transcendent and quite, quite astonishing. (MB)
...and P is for Pharrell (Pyramid stage, Saturday)
...and for product placement. Pharrell's fantastic - but first let's deal with the lingering issues, as he's responsible for some of the biggest embarrassments of the weekend. His all-female (natch) backing dancers come on stage with huge Adidas logos emblazoned across them - there's even one on the lead guitarist's backside. For a festival where any corporate logos above the size of, say, a vinyl case, are banned, it feels teeth-gnawingly out of place. He's also slimy towards the audience – at one point he announces that "English girls are the most beautiful in the world", it comes off as the most nakedly insincere stage-patter all weekend. That said his set is otherwise preposterously good fun. One senses that the segment of classic N.E.R.D. songs usually goes down better at his own concerts, but combined with the run of hits that make up the final third of the show it demonstrates how unmatched his career has been, and getting cute kids on stage to dance during 'Happy' even has those who abjectly hate that song jumping and getting teary eyed. (MM)
Q is for Quality
This year's lineup is marked by quality. Honestly, compared to, say, the Isle of Wight festival, who beat the Eavis's to the punch on Fleetwood Mac but booked the rest of their bill as haphazardly and cheaply as possibly, the Glastonbury line up has a top-to-bottom quality that reaches from the smallest stages to the biggest. And when we say smallest stages we don't just mean the Avalon tent and Williams Green, we mean stuff like Crooner's Corner, a plywood shack just outside the Circus Field. Something entertaining and well thought-out is always going on, even if -in this case - it's a bloke with a trumpet, singing Dean Martin songs. (MB)
R is for REVOLUTION (Shangri-La, all weekend)
Every year Shangri-La, the festival-in-a-festival which hoovers up most of the late night/early hours revellers, has a theme - this years? Revolution. This manifested itself firstly in a political slant to bookings on the Hell Stage (Slaves and Fat White Family among them) but more spectacularly in the design of the area itself. The centrepiece was the "Occupied Corporate HQ," a rabbit-warren of genuinely subversive art installations, and tiny pop-up bars and stages, the highlight of which was the Squat Party stage, designed like a shitty mid-80s toilet venue, spinning punk tunes and hosting proper punk bands all weekend. It was a riot. (MB)
S is for Suede, (John Peel stage, Saturday)
Possibly in response to the Yeezy-hating, Saturday night has the best selection of lower-stage headliners we've ever seen at a festival, with the Moody Blues, Jon Hopkins, Deadmau5, Public Service Broadcasting, Enter Shikari, Neville Staples and George fucking Clinton all pulling the Kanye-clash shift. The dark, kirsch-soaked cherry on top comes from Suede, here with nothing to promote but their whole history. The Suede we get tonight isn't the bum-smacking glamourpuss version, nor the muscular Britpop incarnation (the setlist foregoes both 'Filmstar' and 'Saturday Night' for starters) but the more stately, darkly romantic, swoonsome Suede, typified by opener 'Pantomime Horse.' It's a set of extraordinary confidence, power and grace, not even marred by the resurrection of 'She's In Fashion' (which surely even the most ardent Suede completist wasn't asking for?) in the encore. The band close with a roaring 'New Generation' leaving a rammed John Peel tent in absolutely no doubt that they chose the right way to see off Saturday. (MB)
S is also for… Spiritualized and Super Furry Animals (Park Stage, Friday/Saturday)
With sixteen albums between them over the past three decades, the inclusion of Super Furry Animals and Spiritualized as the Park Stage's big hitters for Friday and Saturday made us forget Florence and Kanye were even onsite. Indeed, it's difficult to remonstrate why anyone would want to be anywhere else except in the presence of these two legendary acts, regardless of who's topping the bill in the next field. Super Furry Animals' hour and a quarter long set demonstrates just how many big, BIG songs they have in their armoury - 'Rings Around The World', 'Juxtaposed By You', 'Hometown Unicorn', 'The International Language Of Screaming', the list of highlights from tonight's glorious set goes on. However, it's left to a pulsating run through 'The Man Don't Give A Fuck' - yeti costumes and all - to remind all and sundry of just what an important band Super Furry Animals are in the grand scheme of things.
The following evening Spiritualized also provide a timely reminder of why their name remains synonymous with some of the finest records released this past quarter of a century. Godfathers of the current psych rock scene, they open with a new song that falls somewhere between the narcotic solemnity of Ladies & Gentlemen We're Floating In Space andSongs In A&E's effervescent winsomeness. Nevertheless, it's the closing couplet of 'Walking With Jesus' and 'Come Together' that brings it on home why Jason Pierce and co. are still held in such reverence. Forget Yeezus, we just walked with Jesus. (DG)
T is for The Man Near The Toilet In Shangri-La
The late night freak-zone is not altogether unused to moments of unplanned entertainment, and hours after Kanye's set we are treated to twenty minutes of a festival-goer standing by the toilets, drinking from a can of Red Stripe, and looking like he's really enjoying just how delicious it is, while seemingly unaware that the can is both unopened, and upside down. (MM)
U is for the Unfairground
As highlighted in our preview last week, the Unfairground is a staggeringly imaginative funfair-cum-art-installation on the lip of Shangri-La, designed by the Mutoid Waste Company, and showcasing a twisted version of a traditional funfair. Cars are buried bonnet-down in the mud, giant babies leer at you from on high, and Bez runs a dance stage. It's everything that's great about the weird, subversive underbelly of the festival.(MB)
V is for Variable Weather
It's without precedent to get a Glastonbury that features every type of weather in one weekend. Glastonbury 2015 boldly goes a step further, giving us every type of weather within Lionel Richie's set. (MM)
W is for Wolf Alice (Williams Green, Thursday/Park Stage, Friday)
Without doubt the band of the moment, and with good reason. Their not-so-secret set in Williams Green might have given the health and safety police heart palpitations such is the clamour to get into the tiny tent, but boy, every push and shove to get a glimpse of Ellie Rowsell and co. was worth it. Already buoyant thanks to a number one midweek chart placing for debut album My Love Is Cool (it will go onto make number two), their set is a revelation and one that builds anticipation even more for the following afternoon slot on the Park Stage. Even a torrential downpour mid-set doesn't deter those present, and by the end Rowsell is in the crowd while fellow band members Joff Oddie, Theo Ellis and Joel Amey career around the stage like cats who've got the cream. And so they should. Arguably the best live band on these shores at the minute. (DG)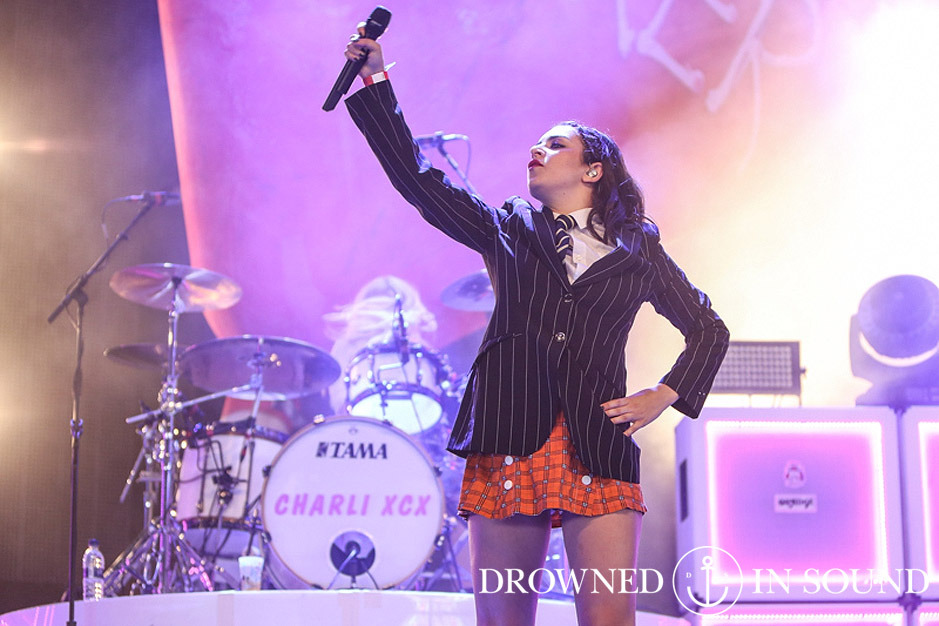 X Is For Charlie XCX (John Peel Stage, Sunday)
Rumours about Taylor Swift filling Friday's vacant Pyramid Stage slot turned out to be false, but those in need of a quick pop fix needn't despair. Charli XCX's teatime set on the John Peel Stage contained just about everything, from high energy dance routines and inflatable guitars to matching St Trinians outfits and a smattering of attitude. Oh, and of course, it also had the hits. Lots of them. And while there were too many highlights to pick any particular one (although Ms Aitchison nonchalantly reeling off both hers and Iggy Azalea's parts on 'Fancy' with consummate ease would be a contender) the salient point here would be that UK pop is in safe hands. (DG)
Y is for Yeezy (Pyramid Stage, Saturday)
The problem here is that the target audience is Kanye West fans, and everybody down the front is going wild at the album tracks you'd expect hardcore Kanye West fans to go wild to. If you're headlining Glastonbury however, you need to aim your set at a mainstream radio listening audience: when Jay-Z succeeded in 2008 his intro video was created especially, he came out ironically singing Wonderwall, and then mashed 99 Problems with the guitar riff from Back in Black. We got a Jay-Z show adapted for Glastonbury. Metallica last year made a similar effort. In 2015, Kanye West gives Glastonbury a Kanye West show.
It's a disjointed, undercooked performance, and for a man supposedly previewing his new album we get no new tracks. Just as the show is ending he proclaims himself to be the greatest living rock star on the planet - by this point one imagines his audience are usually agreeing with him, the fact he does so tonight after some particularly painful singing on 'Can't Tell Me Nothing', doesn't massively help matters. But then, if you were in Kanye's entourage I bet you wouldn't be the one to tell him he's a poor live singer either.
A lot of people seem to get their opinions about Kanye reinforced: The fans love it, whilst those who've never seen him before don't gain any interest in doing so again. Guardian journalists who think he's an occasionally gifted but problematic artist think it's an occasionally gifted but problematic performance. Kanye West probably leaves thinking it's the greatest rock show on the planet. (MM)
Z is for Zzzzzz
...As in, none of us have had any. But that's okay because it is a borderline necessary evil when dealing with a festival that despite being 45 years old, still manages to get better each year. The organisation gets slicker, the stages get better, the infrastructure improves (poignant this year after the death of organiser Phil Miller), its politics gets more vital and the late night areas get more ambitious. Its journey to grow into what it is today becomes more unfathomable and uniquely endearing, and as a consequence, its audience gets more appreciative. Glastonbury is totally nailing the job of being Glastonbury right now. (MM)
All photography by Mike Burnell. Full galleries over here.