Blimey, that went quickly!
The end of 2014 is nigh, and we've heard some cracking songs in its oh so brief existence. From Future Islands to 'Fancy', everyone's got their favourite and they're all completely different from each other. To find some order in the chaos, we asked over 30 Drowned In Sound staffers to vote for their top five singles of the year, then added up the results and made a list of the 40 most popular choices.
Read on for the final, definitive compendium and then subscribe to our Spotify playlist to listen to all the tracks in order.
Go on. Treat yourself, why don't you?
40) Todd Terje
Delorean Dynamite (Olsen Records)
Todd Terje's ear for melody, build and atmosphere is nowhere better displayed than on 'Deloreon Dynamite'. Crisp Italo beats, Moroder synths and driving basslines make for a track that sounds both nostalgic and forward thinking, one that is almost impossible not to like. Finding its place both within his classic (already, to my ears) It's Album Time and standing alone perfectly outside of it, the track layers seamlessly, ascending higher and higher until its ecstatic peak: a masterful, deft display of joyous electronic music. Jon Clark
39) April Towers
Arcadia (April Towers)
Pop music was so much better when I was a kid. No, it really was. Not only were the likes of Michael Jackson and Madonna still in their prime. We were also treated to a wave of cool electronic music nestling for top spot at the higher end of the charts. People like The Human League, Soft Cell, New Order, Orchestral Manoeuvres In The Dark and the Pet Shop Boys.
Nottingham duo April Towers are a throwback to those heady days, but with a vision and aesthetic that's so 21st Century. 'Arcadia' reminds me of Sunday evenings huddled round the radio listening to the Top 40 countdown. Thursday evenings glued to the telly hoping to catch a glimpse of my favourite song on Top Of The Pops. Thirty years ago, I'm sure April Towers would have been my new favourite band. In the coming months they could very well be yours. Dom Gourlay
38) SLUG
Cockeyed Rabbit Wrapped In Plastic (Memphis Industries)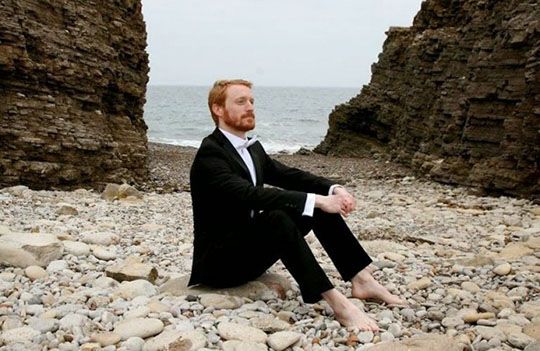 The great thing about years where Field Music don't release a record or tour, is that the Brewis brothers still release loads of records and tour. This year, David's done a second album as School Of Language, Peter's released Frozen By Sight with Paul Smith, and both have helped on the debut album by SLUG, the alias of former Field Music bassist Ian Black, who's recruited his former bosses to his own backing band.
The Led Zeppelin-meets-Sparks madness of 'Cockeyed Rabbit Wrapped In Plastic' was the world's introduction to SLUG, and sums up everything spectacular about North-East music: the shameless melding of prog and pop principles; the lofty musical ambitions and DIY aesthetic that sit hidden behind small-town frustration and a thirst for silliness; the honest proof that pop music doesn't have to be simple, and a ludicrously convoluted guitar hook and falsetto chorus can still be catchy as fuck. Robert Cooke
37) Spoon
Inside Out (ANTI- Records)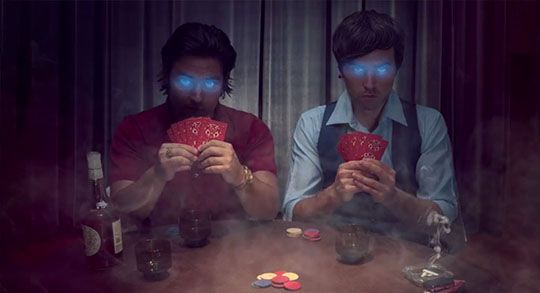 Inspired by Dr. Dre's legendarily addictive production, everybody's favourite Austinites Spoon have made a miniature modern masterpiece with 'Inside Out'. It's five utterly lush minutes of simulated beats and samples, supplanting hip-hop's swagger for anthemic pop earworm-hood. The song could easily get cut down to three minutes too - it contains two lengthy keyboard solos - but Spoon choose to ride it out for as long as possible.
Drummer Jim Eno isn't even present on the track, replaced by barely stuttering synthetic drums, and the rest of the song is simplicity itself, comprising only three chords throughout, while Britt Daniel delivers one of his most heartfelt vocal performances. It's pretty much the antidote to anything wrong with 2014. Tristan Bath
36) Anushka
Atom Bombs (Brownswood Recordings)
'Atom Bombs' is Anushka at their most refined. It gets to the very essence of what this Brighton electro-soul duo are about: creating songs that make you move and connect with on a deeper level, i.e. simultaneously throwing your hands up in the air and openly weeping like a child.
One of the many stand-out tracks on their excellent debut album Broken Circuits, it's packed with beautiful moments; the shuffling hi-hat euphoria as the chorus breaks, the restrained production in the verses, but it's Victoria Port's soulful and nuanced vocal delivery that really steals the show. Woodrow Whyte
35) Damien Rice
I Don't Want To Change You (Atlantic)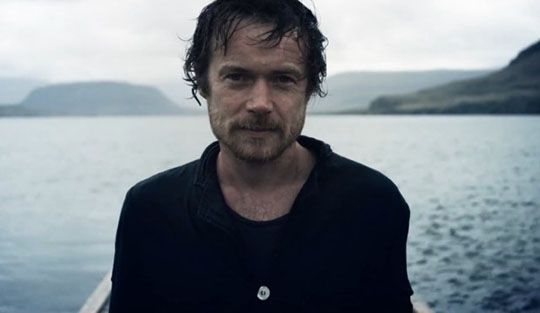 In truth, the single edit of 'I Don't Want To Change You' is a touch problematic. With nearly two minutes shaved off for radio purposes, it's impossible not to lose something significant, particularly when the song is this naked and unflinching. If anything, the brevity hurts. The payoff requires its gradual build. It's a pretty hard sell as it is; Damien Rice at his most wistful, feeling his way through pain and on-the-nose lyrics against a backdrop of searching strings.
It is both straightforward and deceptive, a mea maxima culpa and a powerful stab at ownership. To some ears, understandably cloying. To others, catharsis. For Rice, true conviction, even when pared down. Dave Hanratty
34) Flying Lotus
Never Catch Me (Warp)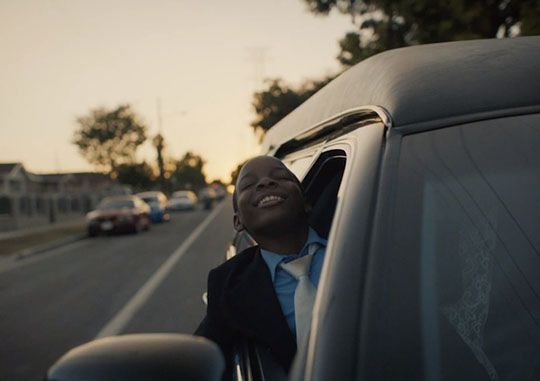 On one level 'Never Catch Me' works as a 3:54 distillation of all that Steven Ellison has been. Its kaleidoscopic whir contains Until the Quiet's darkly euphoric jazz, Cosmogramma's stomach-tightening psychedelia, the playful wonk of Los Angeles. But, this is no stall or reverse. Instead, each of these ingredients is folded into the mix with mad professor masterful precision, leaving just enough crucial air for Lamar's poetrain to build momentum and runaway with itself. The result ascends like a declarative flag of domination atop the highest peak of Ellison's own personal cosmic rock. 'Never Catch Me' is right. Christopher Sharpe
33) Mac DeMarco
Passing Out Pieces (Captured Tracks)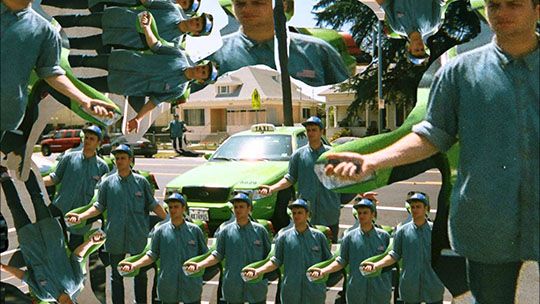 Supreme overlord of goofiness and all-round good guy Mac DeMarco enjoyed a fantastic 2014, hitting a creative and critical zenith with his sublime third album Salad Days. Musically, 'Passing Out Pieces' is a delightful indie-pop circus theme, but its downbeat lyrics accentuate the restless synth-work by not-so-subtly hinting at Mac's tired relationship with excessive touring. Not that its accompanying video explored this theme any further, mind: directed by his moustachioed bassist Pierce McGarry, it's a grainy, VHS-quality affair that showcases a series of bizarre-yet-hilarious sketches (lettuce birth scene, anyone?) - an irreverent visual companion for a fascinating piece of music. Sam Moore
32) Lykke Li
Gunshot (Atlantic)
There ain't nothing wrong with classic Madonna, and Lykke Li knows this. 'Gunshot' is a hop-skip from her drizzle-soaked laments of recent times, recalling more of her debut album's joyous Scandi-pop that contained just enough of a whiff of melancholy that you didn't suspect she was pretending to be from the land of death metal and Wallander. That's not to say this is a happy-go-lucky dittie, there's a definite funereal feel to the organs on the verses that make way for that explosive chorus. The hook erupts and splutters glimpses of Katniss Everdeen through your peripheral vision whilst singing about being shot in the heart.
It's a wonderful, wonderful wonderful song that wanders along the fine line between nostalgia and the dystopian sound of now. Turn off the lights, put on a cape and dance-dance-dance! Sean Adams
31) Alvvays
Next Of Kin (Transgressive)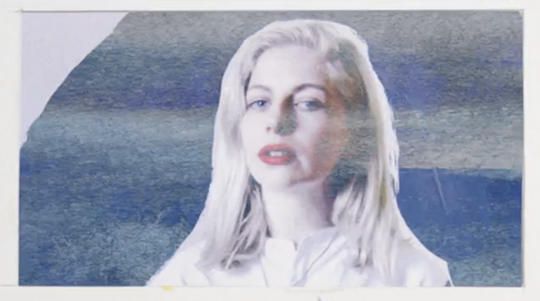 If you ever needed proof that 'indie-pop' and 'twee' should not be used synonymously, 'Next of Kin' by Alvvays should be your evidence. With its jangly guitars and wistful yet warm vocals from Molly Rankin, it is by far the jauntiest and most infectious song you're going to hear about a riverside drowning in 2014 and, by my estimation, the best. Christopher McBride
30) The Horrors
I See You (XL Recordings)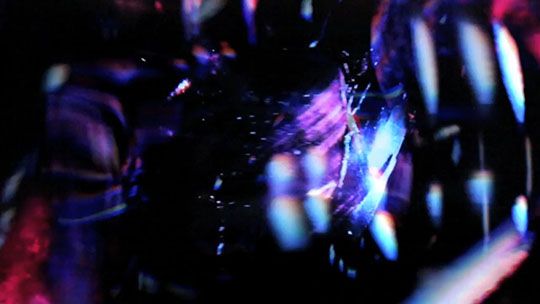 'I See You' made it's debut in The Horrors' live set during the summer of 2013, initially under the moniker 'Elixir Spring'. Even then its emphasis on sprawling keyboards rather than effects-heavy guitars caused it to stand out from the rest of the set. Fast forward to February of this year and the song heralded the arrival of the band's fourth album Luminous.
Imagine the Blade Runner theme re-enacted by Giorgio Moroder and you're somewhere close. At seven-and-a-half minutes in total, it contains all the elements required to deliver the perfect pop song. In hindsight, 'I See You' probably set unattainably high standards the rest of Luminous couldn't quite live up to. Nevertheless, it represents another highlight in a back catalogue full of treasures. Dom Gourlay
29) Jenny Lewis
Just One Of The Guys (Warner Records)
Two minutes into 'Just One of the Guys' the instrumentation falls away, and Jenny Lewis delivers its stinging précis unencumbered: "I'm just another lady without a baby," she concludes, after a moment of reflection. It's pretty devastating, but then she has made a career out of matching spiky lyrics to breezy melodies.
In skewering the societal and biological demands women come up against she has created something remarkable. Playful, poignant and as sincere as it is irresistible (that chorus!), not many pop songs dare tackle such themes. Here, with a little help from Beck on production and backing vocals, Lewis pulls it off with humour and grace to spare. James Skinner
28) Tune-Yards
Water Fountain (4AD)
You can hear it as a chronicle of our upcoming ecological collapse. You can hear it as a commentary on global austerity. You can hear it as an indictment of the self-devouring side of human nature. But you mainly hear it as the year's most thrillingly inventive, fireworking, cartwheeling, roaring, dancing, joyful explosions of life. Leave it to Merrill Garbus to square that circle. She's today's master of crashing painstakingly pristine production against lo-fi squalor to create confetti storms of untouchable vocal gymnastics. Going to hell in a hand basket has never sounded so empowering. Russell Warfield
27) Viet Cong
Continental Shelf (Jagjaguwar)
Reborn from the remnants of Women, Viet Cong announced their self-titled debut album with a brutal slab of nihilistic post-punk. "When all is said and done, you'll be around until you're gone," declares Matt Flegel as 'Continental Shelf' kicks into life, and things don't get much more cheery from then onwards. If you're the type to revel in guitar-lead squallor, this visceral slab of cut-throat fatalism is a complete and utter treat. Just press play and let those drums crash along your ears canals like tectonic plates ratcheting through the Richter scale. Rob Leedham
26) Manic Street Preachers
Walk Me To The Bridge (Columbia)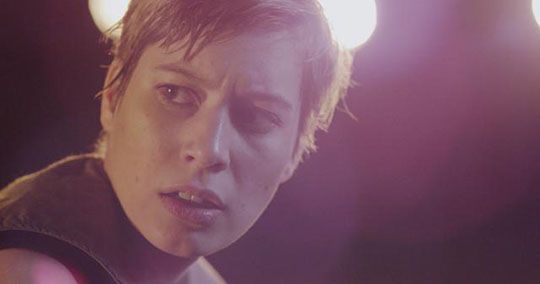 We should have seen this coming. Despite their habit of stylistic about-faces, did anyone expect the Futurology album to be so blindingly brilliant? After the solemn, sepia Rewind the Film, 'Walk Me To The Bridge' exploded like a Skittles bomb. And not any skittles- ART skittles. There's a rainbow of colours and ideas coded into this song, from the chilly, chiming keys that announce the chorus to Nicky Wire's heart-pumping bass part (when did he get this good?) and his definitely-not-about-Richey-honest-guv lyrics. A late-doors, energetic classic from a band that by rights should be incapable of delivering them. Marc Burrows
25) Conor Oberst
Common Knowledge (Nonesuch)
There's something that doesn't quite sit comfortably with me about lauding Upside Down Mountain as Conor Oberst's best record of recent times; it's very, very good, but it often also has the Bright Eyes man at his most formulaic. It's certainly the safest album he's made in a while, taking the basic template of probably his most successful effort to date - I'm Wide Awake, It's Morning - and blending its mid-twenties angst with some mid-thirties optimism.
The record's closer, though, breaks rank a little, and plays to one of Oberst's most underrated strengths - he's a superb storyteller. 'Common Knowledge' is a brooding, largely acoustic tale of a long-lasting struggle with depression and suicidal thoughts, told in gorgeously poetic fashion. Intelligent, blackly funny and with a stark final verse, it's one of the best songs Oberst has ever written; his achingly frail vocal turn just puts the seal on it. Joe Goggins
24) Röyksopp & Robyn
Do It Again (Dog Triumph/Wall Of Sound)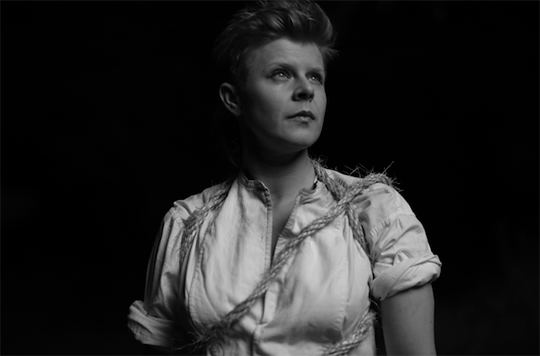 A collaborative EP initially seemed an unwelcome diversion from a new Robyn album proper. However, if you were craving some classic Robyn – equal measures sassiness and vulnerability – then Röyksopp had it covered with 'Do It Again'; all strobe lit flutters, pounding bass drum, staccato synth fizz and warped bass. It stutters, modulates and warps its way around Robyn's vocals and builds with an almost unbearable tension to multiple climaxes. Only on the tender ethereal mid-section does Robyn's subject matter reveal its romantic concerns (We should not be friends, we'll just do it again), but the rest of the time she just sounds in love with the music. Quite rightly too. Neil Ashman
23) Belle & Sebastian
The Party Line (Matador)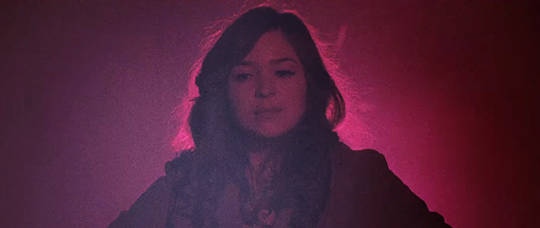 Everyone knows that indie-discos were invented as an excuse to air Belle & Sebastian's back catalogue, but were you aware that the covert goal was to facilitate procreation amongst us more bookish-types? Sadly, this admirable initiative was ultimately flawed by the fact that no-one's ever danced to 'The Boy With The Arab Strap' while retaining even a modicum of cool.
This year, Glasgow's finest finally solved this issue, delivering a song you could strut to, hand on hip - ideally on an LED dancefloor - instead of effecting a slightly limp skip. Most significantly, you didn't even have to like the band to enjoy the laser-guided synths and peacock-ing basslines of 'The Party Line', thereby bringing fresh blood into the gene pool and ensuring that, one day, us Belle & Sebastian fans will rule the earth. Hurrah! Gemma Samways
22) David Bowie
Sue (Or In A Season Of Crime) (ISO Records)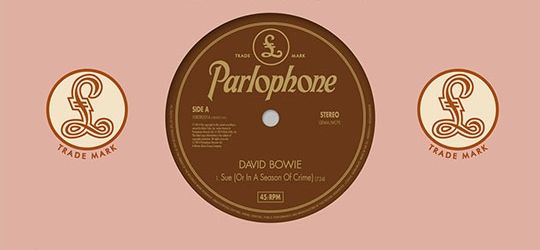 Just before Scott O))) released Soused, David Bowie managed to out-Walker Scott Walker with this seven-minute borderline unhinged jazz-wail odyssey. While last year's The Next Day had shown promise, it was occasionally a little too conservatively "funny little fat man". Now, suddenly, BANG!, what the hell?!, here is 'Sue', probably the most experimental, nutty and playful thing that Bowie's done since... well, Low.
So Bowie, we're begging you, please don't let this pass as merely a new-number-stuck-on-the-end-of-a-greatest-hits one-off moment of musical madness. Rather, please, please let this be the beginning of the bold, new (final?) era of bonkers Bowie. (Not that you owe us anything, of course. Do what you like, you bloody Godlike spindly bundle of brilliance.) JR Moores
21) Modern Baseball
Your Graduation (Run For Cover)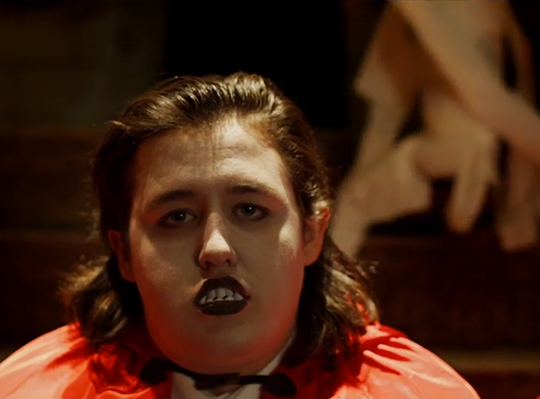 "EMO IS BACK" yelped just about anyone who had a thing for it 10 or so years ago. Okay, so it did kinda make a comeback this year but instead of channeling the same old formula, Modern Baseball have truly led the way in its resurgence. Lead vocalist Brendan Lukas' straight-to-the-point monologue juxtaposed with drummer Sean Huber's mid-song shouts of "Remember all those countless nights when I told you I loved you and to never forget it / oh just forget it" perfectly bring together the woes of High School graduation, with the turmoil of facing the real world without your first love. There's punk, there's pop and there's emo in 'Your Graduation' and Modern Baseball manage to nail them all; from the pogo-inducing break-down to the grab-your-best-pal-and-shout-in-their-face chorus. If you don't at least nod your head, just a little bit, I'm pretty sure that you have no soul. Sammy Maine
20) Karen O
Day Go By (Cult Records)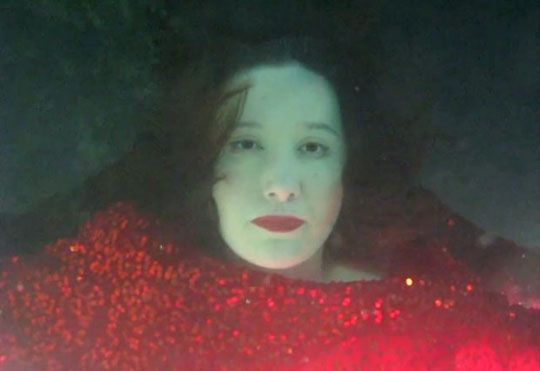 It's a long held belief that you can find the "real artists" by stripping them down to bare bones. As a theory it's largely bollocks, but with Karen O's gorgeous Crush Songs their might well be something in it. Recorded on what sounds like a dictaphone stuck in the corner of the room 'Day Go By' manages to take you through pain to redemption, via a suckerpunch of gorgeous melody in just over two minutes. It's a very small song, the definition of lo-fi, but in its smallness it scrapes across the heart and brushes unbearably close to perfection. Marc Burrows
19) Death From Above 1979
Trainwreck 1979 (Caroline International)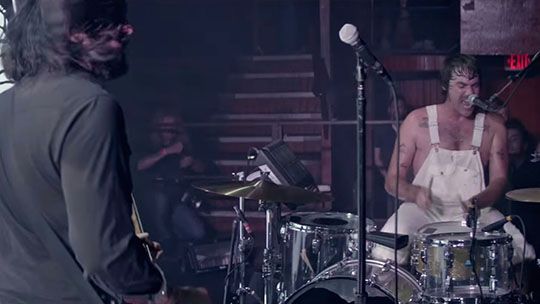 I didn't know DFA1979 were returning until I deafened my daughter cranking up 6music very loud at 7am and shouting "THEY'RE BACK!"
'Trainwreck 1979' is just what I wanted from the duo were they to reemerge; more of the same. Because when that is basically another great, taut beast of a record I wonder why that's a bad thing? In truth, the LP goes beyond that (and was a bit underated generally) but this is pure rifftastic pleasure. Its got singalong bits, parts on the edge of your vocal range, THAT bass and amounts to sexy results. Its splendid to have them back and on form. Sean Thomas
18) Shamir
On The Regular (XL)
Having released one of the most underrated EP's of the year – Northtown, do check it out – Shamir's first single for XL proves just what a musical chameleon the Las Vegan teenager really is. A kaleidoscope sugar rush of pop that neatly mirrors the accompanying video, he may have left the sweet soul and disco-funk grooves of that EP behind, but 'On The Regular' is no less mesmerizing or impressive; plus, there's still that voice. Raw but talented, quirky but cute, big things are expected of him in 2015 and on this form, it's easy to see why. Derek Robertson
17) The Pains Of Being Pure At Heart
Eurydice (Fierce Panda)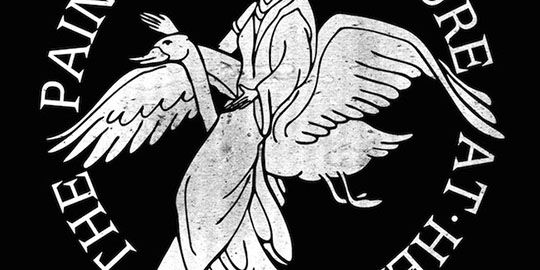 The Pains of Being Pure at Heart are/is such sneaky little beggar(s). Just when you think they've written the perfect song, they somehow manage to redefine the axioms by making a song that's even more perfect. Just when you think they'll never match 'Heart in Your Heartbreak', they come out with the stunning 'Eurydice' (which is pronounced 'your-rid-da-see', and not, as I had thought until this year, 'you're a dice').
From the opening stabs, through the near faultless chorus, right through to the transcendent counter-melody that closes the song, ''Eurydice' goes to show that whilst Kip Berman might have lost in band-mates, he sure as heck made up for in indie-pop bliss. Christopher McBride
16) Marissa Nadler
Dead City Emily (Bella Union)
On a very superficial level, I loved 'Dead City Emily' the second I heard it because it was a relief to hear Marissa Nadler get back in touch with her inner goth after the disconcertingly scrubbed up straight country of 2011's self-titled album. But the song is much more that that: its six minutes are deep and rich and chilling, a hazy mesh of euphoria and dread that feels steeped in the ambience great American horror literature despite being largely lyrically inscrutable. The delivery of the chorus line 'oh, I saw the light today' is just extraordinary, a suffocating mix of sun and darkness. Andrzej Lukowski
15) Merchandise
Green Lady (4AD)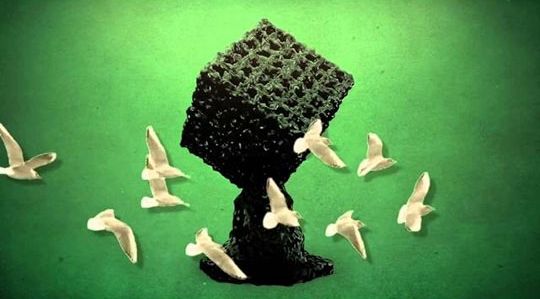 'Green Lady' is a song with swagger to spare. It's the track that elevated Merchandise out of the toilet venue circuit and set them on course to conquer the world's arenas.
Will the Florida-born quintet achieve their lofty ambitions? As anyone who's watched a Lord Of The Rings movie knows, it's the journey that matters and this trek across the indie-rock spectrum is nigh-on irresistable. Kicking off on a woodblock drum pattern, this prime cut from After The End only raises the bar of bravaggio from then onwards by introducing a huge, cocksure guitar riff and Caron Cox's preening vocal tones. It's a classic case of 'fake it 'til you make it', and Merchandise can fool me anytime. Rob Leedham
14) Taylor Swift
Shake It Off (Big Machine Records)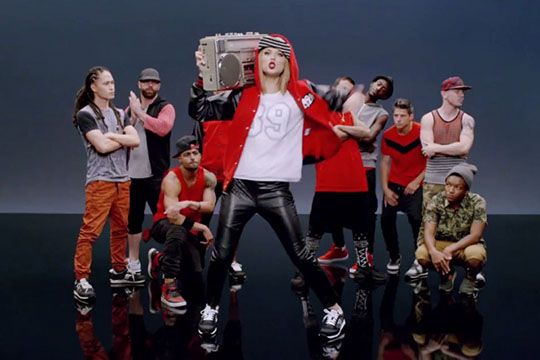 The only single this year (perhaps ever?) to have a DiS Does Singles piece dedicated to it, 'Shake It Off' initially left me underwhelmed; it seemed to exclusively inspire gushing positivity or barbed cynicism, but I couldn't really place myself too far either side of the fence - instead, mild disappointment reigned.
I've changed my view dramatically, though, perhaps because the unbridled brilliance of 1989 has hammered home just why Taylor Swift is currently the planet's biggest pop star; there is nuance, intelligence and subtlety running beneath the inexorably catchy choruses, and 'Shake It Off' is the record's unabashed radio cut. The hook is irresistible, the lyrics sharply reflect the newly-carefree image Swift's managed to cultivate (remember when her fixation with failed relationship basics verged on parody? Me too, but only just) and then there's THAT rapped breakdown in the middle 8. As irrefutably likeable as the lady herself. Joe Goggins
13) Sharon Van Etten
Your Love Is Killing Me (Jagjaguwar)
Despite its masochistic imagery, "Burn my skin so I can't feel you/Stab my eyes so I can't see", 'Your Love Is Killing Me' is about release. It slowly builds confidence, then it reaches up high and lets it all out. Sharon's voice is incredibly powerful, even when it betrays the pain behind her realisations: "Everyone needs to feel". With its marching drums, iridescent guitars and hard-hitting piano, this song is so intense you need a few more seconds to let it sink in. No wonder she calls it 'The Beast'. Giuseppe Zevolli
12) Wild Beasts
Wanderlust (Domino)
With John Lewis' Lost and Found rip-off and Sainsbury's rose-tinted WWI pastiche currently vying for everyone's crocodile tears, now seems the perfect time to revisit the first single from Wild Beasts' excellent fourth album, Present Tense. For a song that critiqued corporations hijacking emotion within art for commercial gain, 'Wanderlust' was careful to eschew soapbox-style execution. Instead, it found Hayden Thorpe cooing defiant put-downs like, "Don't confuse me for someone who gives a fuck", over a bed of bass-y synth sounds and 'O Fortuna'-style choir samples. The result was sleek, unsettling, electronic-pop that claimed a sensory victory by eliciting genuine emotion from the listener. Gemma Samways
11) Cloud Nothings
I'm Not Part Of Me (Wichita)
I'm getting a bit old to be saying this, but if I'd grown up Dylan Baldi's native Cleveland, Ohio, we'd have been best mates. I mean, his Twitter confirms we share numerous hobbies and interests, and 'Wasted Days' landed in my record collection in 2012 when the one thing I needed more than anything was to hear was some angsty American scream "I THOUGHT I WOULD BE MORE THAN THIS". For me, 'I'm Not Part Of Me', deals with similar issues around growing up, and reconciling the need to address your shortcomings with the fact that by now, you really ought to just be getting on with shit. Basically, I'm taking life lessons from a guy several years my junior who I've never met. I guess this is growing up, one Cloud Nothings album at a time. Robert Cooke
10) Run The Jewels
Close Your Eyes And Count To Fuck
(feat. Zack de la Rocha) (Red UK)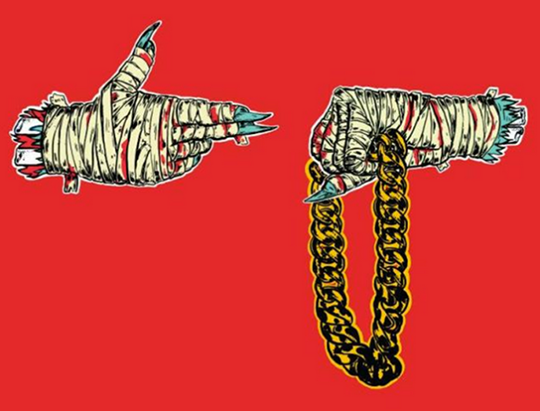 If Run The Jewels' debut proved El-P and Killer Mike were adept at intelligent rap braggadocio, then Run The Jewels 2 showed they could bring a politicised fury to their epic shit-talking. And they reinforced this with a surprise cameo from elder statesman of righteous indignation Zack de la Rocha, whose contribution to 'Close Your Eyes And Count To Fuck' forms the looping bedrock of the entire track. Mike and El crafting a four minute explosion of dissatisfaction about political and personal freedoms; which still manages to be a barnstorming banger. "We killin' them for freedom cause they tortured us for boredom" spits Mike, his thoughts - laid down pre-Ferguson - only serving to resonate harder in the wake of injustices that have transpired since. Tom Fenwick
9) Perfume Genius
Queen (Turnstile)
Mike Hadreas might have won a rapt fanbase for his fragile confessionals, but 'Queen' marked the moment he forcibly demanded the whole world listen to him. "Don't you know your Queen?" he snarled imperiously, over distorted guitars and Eastern harpischord trills, adding triumphantly, "No family is safe when I sashay."
Though specifically addressing homophobia, the beauty of Hadreas' comeback track lay in its universality, fighting the corner of anyone who's ever felt marginalised, or suffered abuse at the hands of small-minded bigots. The result was the most flamboyant, defiant pop single of 2014. Gemma Samways
8) St. Vincent
Prince Johnny (Caroline International) Annie Clark has spent her career to date balancing pop and art rock sentiments with consummate ease, and she has written her fair share of heartstring pullers along the way (Strange Mercy, in particular, springs to mind). Nothing she has produced to date, however, quite matches 'Prince Johnny', a song which oozes bittersweet nostalgia from the get-go. Any song that includes the line "Remember the time we went and snorted that piece of the Berlin wall that we extorted" deserves to win all the awards at this time of year. Benjamin Bland
7) The War On Drugs
Red Eyes (Secretly Canadian)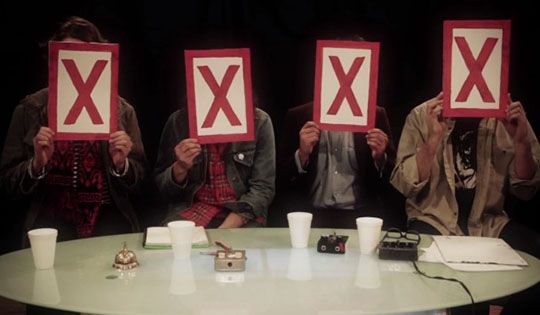 It doesn't have much melody to speak of - half-spoken, half-formed lyrics just languidly sloping alongside the instrumentation - but the chorus of 'Red Eyes' is the most uplifting and addictive of the year. The killer blow comes in its back half: peeling away their second verse for maximum impact, they roar into life with that synth lick, letting the lead guitar hurtle from its launch pad, spiralling upwards and away in a frenzy of hedonistic excess. Nothing else this year has had me reaching for the rewind button as much as that moment of energising bliss. Russell Warfield
6) Ought
Today More Than Any Other Day (Constellation)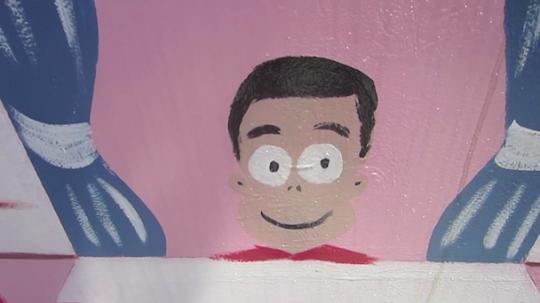 "Today, more than any other day / I am excited to feel the milk of human kindness". If there's a better, more profound opening line from a single this year, I've yet to hear it. Setting politics and the mundanity of everyday life to post-punk, Talking Heads-esque guitars and grooves, this, the (almost) title track from Ought's debut album, is a perfect microcosm of their genius and the apex of a thrilling record. Not many could pull all that off with such nonchalance, but they've spent most of this year – and all 5:16 of this song – making it look pretty effortless. Derek Robertson
5) Charli XCX
Boom Clap (Warner Music)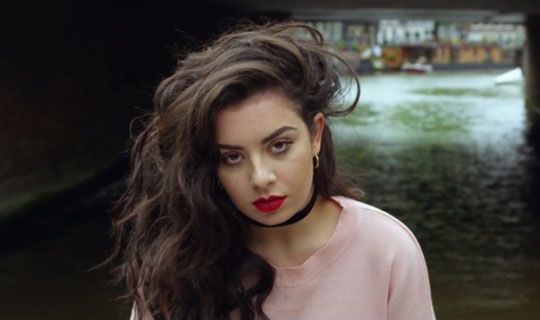 Right at the moment most people had written Charli off, she delivered and then some. This rumbling dose of floor-filling pop did all the heavy lifting and defined her as a special talent (rather than just someone who had a hand in writing that gigantic Icona Pop 'I Love It' mega-hit!).
'Boom Clap' is the sort of tune that has a sophisticated simplicity. Like all classic modern pop, it stamps itself on your memory right from the off, beginning with the undeniable hook that Boom!-Booms! into the room alongside the first few thud-snaps. It soon fades down as a breathy British lady starts talking in double-entendres about balls illuminating, but it's all an understated ruse to make way for that dizzying chorus.
It's a career-changer, for sure, and, there's no way you can deny she doesn't deserve it. Perhaps there's hope yet for those shoulda-been-massives still waiting to transition. Sean Adams
4) Future Islands
Seasons (Waiting On You) (4AD)
Happy tune/sad words is rather an old trick in pop music, but in 'Seasons (Waiting On You)' Future Islands have a rare song that blends melancholy and ecstasy so utterly inextricably and cathartically that it belongs in the exalted company of 'Dancing Queen' or the similarly parenthesised 'Reach Out (I'll Be There)' rather than the usual 80s synth-pop culprits to whom they are compared.
As the urgent yet serene synthscape verses beget an electrifying surge of a chorus, Samuel Herring reflects on lost love and yearning with an unequivocal sincerity ("When people change they gain a piece, but they lose one too") and his croon/growl wringing every last drop of emotion from each syllable. Sentimental? Certainly, but as he beats his chest in earnest your heart pounds in involuntary euphoric response from the other side. Neil Ashman
3) Iggy Azalea
Fancy (feat. Charli XCX) (Virgin EMI)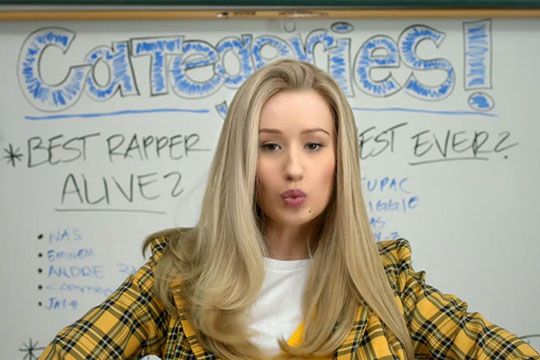 Taylor Swift tried hard to compete this year, but while she was shaking off haters in 1989, Iggy Azalea and Charli XCX were "Bringing '88 back" in accents of indeterminate origin; schooling us in how to sidestep haters through a work hard, play harder curriculum. So trash the hotel, get your "money on time" and put their names in bold, because this is an anthem for female empowerment; reaching for the top in a male dominated industry and doing so entirely on their own terms. It was announced last week that 'Fancy' was the most streamed song in 2014, but the question remains: is it the year's finest pop song?
…You already know. Tom Fenwick
2) FKA Twigs
Two Weeks (Young Turks)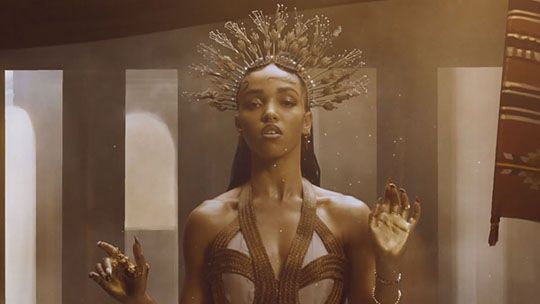 It was female artists who made 2014 the fantastic year we've just had. Gazelle Twin and Pharmakon unleashed noisy, corporeally-anxious masterpieces. Carla Bozulich made an astonishing "pop" (not pop) record. Grouper's Ruins was hailed as a hushed "classic". And Kelis reinvented herself yet again, this time as a brass-soul superchef.
However, if I had to fasten just one name-tag to the pigeon-leg of 2014, that tag would read 'FKA Twigs', principally because she managed to create such idiosyncratic music that was both perplexingly, exhilaratingly odd yet still commercially accessible. Even with its swearing blanked out somewhat awkwardly, 'Two Weeks' seeped out of the radio with so much raw emotion, vocal dexterity, mellow swagger and sexual power that it proved breathtaking. And what's more, her performance of it singlehandedly made that last Jools Holland series actually worthwhile. "Quench that thirst", indeed. JR Moores
1) Alvvays
Archie, Marry Me (Transgressive)
Alvvays have made the perfect anthem for 20-somethings. In a world where you find yourself heading to seven weddings a year, with some frivolous great aunt consistently asking you when you'll take "the next step," 'Archie, Marry Me' is an anti-wedding sing-a-long for the masses. It talks of love; the kind of love you can't breathe without, sleep without or eat without but this Canadian five piece prove you don't need a stupid piece of paper to prove it to anyone. Instead they give us an adorable strumming intro teamed with the nostalgic crescendo thrashes of 90s indie rock that conclude with one of the catchiest chorus' of the year. Expect this to be a go-to festival anthem come next year. Sammy Maine
---
Alvvays
Our Favourite Songs Of 2014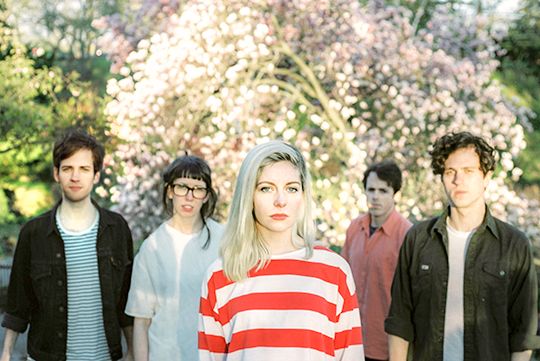 So it was Alvvays at Number 1. Whether you've already heard 'Archie, Marry Me' or are overdue an introduction, you'll want to read the Canadian quintet's own top songs on 2014. They've made us a 10 song playlist to celebrate winning Single of the Year.
---
Playlist
DiS' favourite songs of 2014
Spotify
YouTube
---
DiS Does Singles will return next week for a special Christmas edition before collapsing from exhaustion