Fight!
To celebrate the release of a new Coldplay song, this week's DiS Does Singles is a no holds barred battle for musical supremacy. We pitted The Horrors, Cloud Nothings, Haim and several more of your favourites up against each other in an ultra-serious musical face off. Only the winner receives the most illustrious prize DiS can offer: Single of the Week.
But surely music itself is the real winner here?
Shut your sissy face! Everyone knows that culture is a competition and Chris Martin is its champion-elect.
Quarter-finals
Coldplay vs FKA Twigs & inc.
Midnight (Parlophone)
The first release from For Gwyneth, Forever Ago is a conceptual homage to Cher's 'Believe' that encases Chris Martin's thirst for universal sentiment inside the cold husk of a cry-wanking cyborg.
Now we've got that out of our system, we feel a lot better about professing our appreciation for 'Midnight'. With the help of Jon Hopkins' shimmering production values, there's the palpable sense that the biggest band in the world might finally have used their powers for good. Or at least stopped looking at U2's Pop for inspiration. Cast off your self-made shackles of indie snobbery and you may well agree.
FKA x inc. (self-released)
If you're a normcore pioneer, love quinoa and don't understand why people look at you funny, then this new FKA Twigs & inc. collaboration counts as essential listening. These hip young hitmakers of tomorrow, if hell freezes over in the next 24 hours, have come up with a pretty, long sigh of a song that's not entirely dissimilar to 'Midnight'. Drum beats clatter, piano notes appear out of nowhere and Tahliah Barnett does that simpering exhale thing she does so well, but we remain unconvinced.
In fairness, we're still not entirely sure if double denim is back in again.
THE WINNER: Coldplay, obvs
Cloud Nothings vs The Horrors
Psychic Trauma (Wichita Recordings)
If 'I'm Not Part Of Me' passed you by, then 'Psychic Trauma' is a rip-roaring reminder of what to expect from the new Cloud Nothings album. A thrilling swell of breakneck chord changes and dizzy feedback, it'll have you moshing on your own like Robyn at the local goth club. There's just something about Dylan Baldi's guttural growl that compels us to stomp around with a complete disregard for our own personal safety... or yours.
I See You (XL Recordings)
'Psychic Trauma' may be our third favourite song on the phenomenal Here and Nowhere Else, but 'I See You' ranks as The Horrors' best offering to date. When it first cropped up on the interweb we listened to it on repeat for a full hour, even though we had better things to do with our Monday evening. Honest.
THE WINNER: Gargh! Go on then. The Horrors have it.
Haim vs Sky Ferreira
If I Could Change Your Mind (Polydor Records)
If making a living out of music is a dream come true then Haim are the perfect ambassadors for that ambition. They care a great deal about their craft, but aren't precious about making light of it.
'If I Could Change Your Mind's video sees the Fleetwood Mac-indebted trio hook up with director Warren Fu (Daft Punk, The Strokes, The Virgins?!?) and bust a few moves. Some of them of them are properly amazing.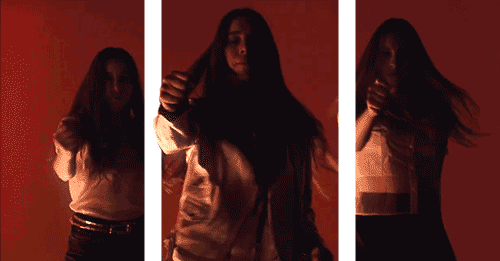 Cue a legion of indie bands asking, 'Okay. How do we do this ironically?'
Rancid Girl (Polydor Records)
In one of the most Sky Ferreira things that's yet to happen to Sky Ferreira, the 'Sad Dream' hitmaker last week tweeted to a leaked song probably should have been on her debut album. An acoustic collaboration with Jon Brion, Cass McCombs and Fiona Apple-associate Blake Mills, 'Rancid Girl' is at once sweet and self-loathing thanks to Sky's sombre coo. "The last rancid girl in a rancid world, and I don't seem to mind," she sings with utter sincerity. Something LA folk seem to have in common these days.
THE WINNER: Haim. We're feeling cheery this week.
Slow Club vs The Pains Of Being Pure At Heart
Tears Of Joy (Caroline International)
Slow Club have stepped up onto the same label as St. Vincent bringing with them a taste for svelte knitwear and 60s indebted songwriting. More of a Shangri-Las woe-fest than a Supremes-style celebration, 'Tears Of Joy' sees the Sheffield duo lament their unrequited love with whispish guitar lines and shrill harmonising. Think Cults covering Beach House on a rainy afternoon.
Simple And Sure (PIAS Recordings)
Last week's other 'remember them' moment came courtesy of The Pains Of Being Pure Of Heart. After flirting with Smashing Pumpkins fandom on 2011's so-so Belong, Kip Berman has found comfort once more in his Sarah Records collection. Accordingly, 'Simple And Sure' is an indie-pop gem just like they used to make them. It's a little bit fey, wholly upbeat and makes our bloodstream flutter about like no one's business. Wonderful.
THE WINNER: The Pains Of Being Pure At Heart. Now where's that Field Mice reunion at?
Semi-finals
Coldplay vs The Horrors
If there is a limit to our contrarian streak, we'd bet on the band behind 'Para-para-paradise' to purge it out of us. What Coldplay lack rhyming finesse, they typically make up for in choruses that bludgeon you into begrudging submission. Miraculously, 'Midnight' doesn't have a single singalong lyric and when it comes to dissonant wails, Faris Badwan is leagues ahead of the chasing pack. So much so that even Thurston Moore offered his services for the first live rendition of 'I See You' last month.
THE WINNER: Sorry Chris…
Haim vs The Pains Of Being Pure At Heart
Both of these singles fulfill their carefully ordained roles. After failing to sashay our way round the 'If I Could Change Your Mind' dance routine, we settled for revisiting Days Are Gone instead - something we hadn't done since it went to Number 1 in September. Turns out there was a lot less filler than we remembered.
As for 'Simple And Sure', it's been a while since we went to a gig while dressed in our best cardigan. If Days of Abandon lives up to the promise of its lead single and 'Art Smock' trailer, we might have to break out the cashmere once more. Ladies, try to restrain yourselves.
THE WINNER: The Pains Of Being Pure At Heart(breakers)
Final
The Horrors vs The Pains Of Being Pure At Heart
Whereas Primary Colours and Skying can both be critiqued as near-immaculate pastiches, 'I See You' promises a record that's more of The Horrors than anyone else. The way it ebbs and flows towards the psychedelic ether feels different to 'Sea Within A Sea' or 'Moving Further Away' - we weren't ticking off reference points as sensory oblivion beckoned. Instead, that onslaught of space age synth and howling guitar had us swept up in a rush of frenzied adrenaline.
If Luminous lets you down, there'll probably be an awesome new Pains… album to console yourself with. Don't bet on that happening though.
THE WINNER: The Horrors. They'll got far that lot.
Also released this week
Acrobat - Invincible (Parlour Records) Alpines - Oasis (Untrue Records) Beaty Heart - Kanute's Comin' Round (Nusic Sounds) Bdy_Prts - IDLU (self-released) Blood Red Shoes - An Animal (Jazz Life) Colin Macleod - California (Middle of Nowhere Recordings) Dillon - A Matter Of Time (BPitch Control) Fat White Family - Touch The Leather (Hate Hate Hate) Gäy - Blue Blue Heart (ZOO Music) Gazelle Twin - Belly Of The Beast (Anti-Ghost Moon Ray Records) I Am In Love - Proposal/ Mirrors and Smoke (Fierce Panda) Jagwar Ma - Uncertainty (Marathon Artists) Kenzie May - Skeleton Key (self-released) Kidnap Kid - Stronger (Black Butter) Nick Mulvey - Cucurucu (Fiction) Novo Amor - Holland (Brilliance Records) POLIÇA - I Need $ (Memphis Industries) Phillip Phillips - Raging Fire (19 Entertainment/Interscope Records) Postcards for Jeff - Postcards for Jeff (Alien Boutique) Rainy Milo - Bout You (LIMEY/EMI) Shake Tiger Shake - Break These Chains (self-released) Spires - Candy Flip (Too Pure) Turtle - Opposite of Low (Beatnik) T.W.i.N.S - T.W.i.N.S (Split Records) The Bohicas - Swarm / XXX (Domino Records) We Cut Corners - Best Friend (Delphi) We Were Evergreen - Daughters (Mi7/Island Records)