Ahoy there! Thanks for stumbling upon the latest edition of DiS Does Singles. After traipsing around the land of the free and the home of McDonalds, we're back to reclaim this column from the verbose clutches of Jazz Monroe.
Our timing couldn't be better either. This past week has seen a flood of splendid music emerge for your listening pleasure. There's the return of Beck to his folk-flecked roots, a sterling showcase of Katy B's Mariah Carey impression, and Disclosure's unlikely collaboration with Mary J Blige. It's better than the one she did with Bono, honest.
Oh, and Metronomy are back with a song called 'Love Letters'. Naturally, there was only one way we were going to write a review of it.
Single of the Week
Metronomy
Love Letters (Because Music)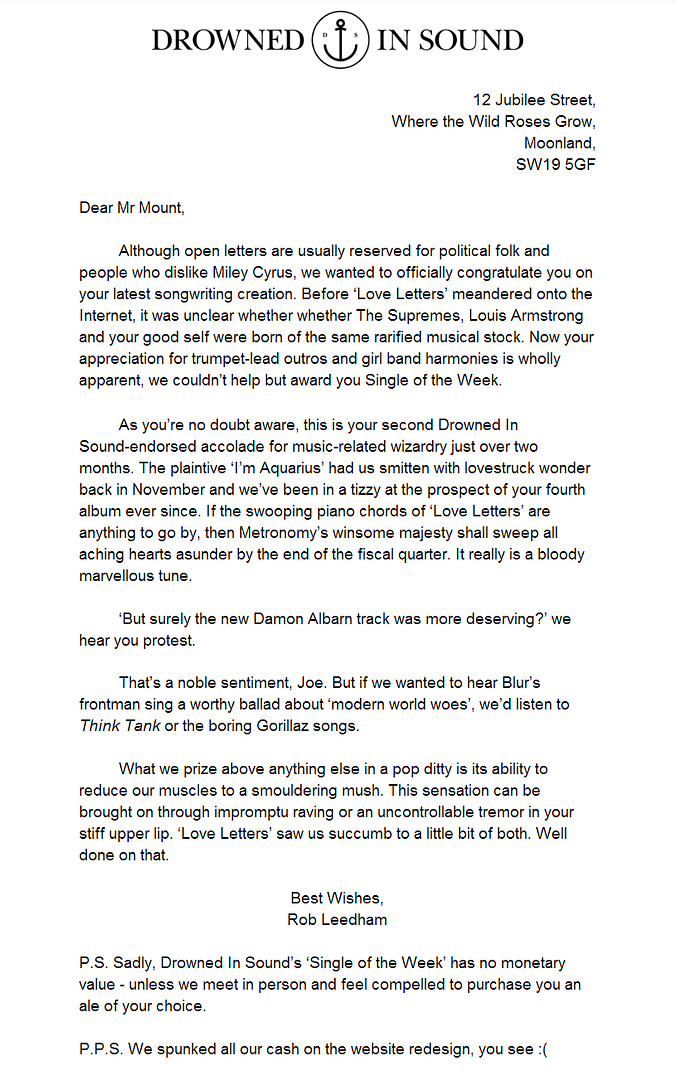 Best of the Rest
Katy B
Crying For No Reason (Sony Music)
Like Boris Johnson's fearsome intellect and the platypus' general existence, we'd always assumed Katy B could really sing without having witnessed physical proof of this talent ourselves. That was until her acoustic rendition of 'What Love Is Made Of' hit YouTube in July last year. Then it became apparent that an endless swell of glistening electro-pop might just be doing those pipes a disservice.
'Crying For No Reason' is very much intended to remedy this situation, and it does so with a key change that's worthy of an Adele record. Kathleen Brien: not just for club-worthy bangers, but 4 LYF.
Beck
Blue Moon (Capitol Records)
Beck has dabbled in more musical genre's than Keith Richards has sampled illegal narcotics, so it's tempting to only delve into his discography as far as 'Loser'. 'Blue Moon' is reason enough to dissuade from this sort of thinking. As the first cut from Morning Phase, it harks back to 2002's folk-tinged Sea Change with reflective swells of acoustic guitar and grand stomps of piano. If you've not yet treated to yourself to a knees up in the company of California's most restless son, consider this a worthy invitation.
Disclosure
F For You (feat. Mary J Blige) (PMR Records)
Imagine being in Disclosure right now - you have the zeitgeist points to collaborate with pretty much all your old school hip-hop and R&B heroes. Nile Rodgers? Might as well. Q-Tip? Go on then. Mary J Blige? Why the hell not.
Imagine being Mary J Blige a month ago - your Christmas album has barely caught the attention of Santa Claus and then you get a call to feature on Disclosure's 'F For You' remix. You better better break out those high notes like you mean them.
The resulting song sees two acts performing in unison at the pinnacle of their talents for decidedly different reasons.
The Hold Steady
I Hope This Whole Thing Didn't Frighten You
Since Franz Nicolay departed from The Hold Steady with his keyboard in toe, Craig Finn's bar rock bunch have sought to inspire the same rapture with power chords alone. Alas, Heaven Is Whenever was an emphatically mixed bag and 'I Hope This Whole Thing Didn't Frighten You' promises more of the same from the forthcoming Teeth Dreams. Although its central riff could conquer a small Commonwealth province, we've heard the same whisky-soaked tales of cities gone sour before. They sounded better way back then.
Eagulls
Possessed (Partisan Records)
Eagulls are a band to inspire group bear hugs instead of gargantuan brawls. They're slighly less austere than Iceage, much more intelligible than Fucked Up and oh so anthemic. Give 'Possessed' a spin and you'll be convinced that all punk songs should be bellowed with a Yorkshire twang.
iamamiwhoami
fountain (To whom it may concern)
Art is a Swedish lady dancing on a beach while draped in plastic bags. Art is sweeping shots of the Scandinavian coastline. Art is chuffing brilliant sometimes.
Rock Bottom
Pitbull
Timber (feat. Ke$ha) (RCA Records)
Rihanna was meant to be the featured artist on Pitbull's country-rap atrocity, 'Timber', but the collaboration was called off as she "did not have time" to record her vocals. Ke$ha' schedule was similarly stretched when recording her scenes for the song's video… so the shoot was was elongated over a week. The moral of this story? Sell more albums so you can say 'no' to collaborating with Mr 'International Love'.
Playlist: DiS Does Singles 27.01.14
Also released this week
Bibio - The Green EP (Warp Records) Cass McCombs - Big Wheel (Domino Records) Eliza And The Bear - It Gets Cold (Capitol Records) Gary Barlow - Face To Face (Polydor) John Smith - Great Lakes (self-released) Jon Byrne - Don't Let Life Get You Down/Forever Chasing That Feeling (Alexis Records) Maxïmo Park - Leave This Island (Daylighting) Oberman Knocks/Autechre - Dliankex (Aperture) Raik - Hold Me (feat. Henri) (Golden City Sounds) Rotifer - Black Bag (Gare du Nord Records) Slaves - Where's Your Car Debbie? (Fonthill Records) U.V. - Receiver (self-released) Young Fathers - Get Up (Big Dada)