The thirty-fifth edition of Rennes' Trans Musicales festival begins, for DiS at least, with a visit to the bustling Village pro Liberté arts centre. As journalists mill about seeking accreditation and interviews, Public Service Broadcasting are facing an interrogation. A small audience gathers to observe this seemingly-for-radio interview as the host rambles and an interpreter scrambles to deliver a succinct question for the sharp-suited pair. They've been paying strict attention, though, as a bemused J. Willgoose, Esq. remarks, 'I'm sorry, what did he say about Kanye West?' Apparently, the host believes that PSB and Yeezy are cut from the same cloth, given their respective experimental approaches to music. Willgoose, his brow furrowing, doesn't seem so sure.
On the way out, a pair of confused-looking French girls saunter up, explaining that they are conducting a high school project and wish to interview me. Attempts to point out that I'm not famous prove futile and an empty promise is made to thrash this out a little later. Har Mar Superstar shuffles by, shooting me a look that suggests he's already fought off this very situation.
Adjusting to the intimate yet maze like surroundings of the Parc Expo on less than three hours sleep, we head for Chic Gamine in Hall 4. There's a quirkiness about the Canadians, not least thanks to their four girls/one guy Motown aesthetic that sees the ladies switch up instruments and vocals with charming ease. Their mix of chill-out vibes and sporadic dirty rhythm initially feels jarring, but it's quite cinematic, the kind of thing Tarantino might enjoy. Often, they 'do a National', rocking out tracks that quietly fade out on record. Sometimes, they go full Eurovision. One track brings to mind M83's 'Oblivion' as huge drums and heart-stopping vocals take over an Eighties synth line, the subsequent race so exhilarating you wonder why this style is merely flirted with. In fact, there's too much foreplay. While the climaxes are suitably rousing, too often a song finds itself with nowhere to go, the same cards dealt again, driving rhythm and harmonies killing time until The Big Finish.
Pink neon emanates from the adjacent Hall 3 as Moodoïd holds court. Flitting between all out instrumental assault (save for the odd yelp or three) and considered vocal-heavy mood pieces, Pablo Padovani's soundscapes are arresting if a tad lost so early in the night. 'Je suis la Montagne' is a highlight but also our cue to bail as London Grammar prepare for their final show of 2013 back in Hall 4. Three songs in and the atmosphere is restless. A conversation strikes up to my left between other journalists, the opinion voiced that London Grammar are too nice for their own good and might be better served showing a little snark. The crowd come around. 'Nightcall' surprises most revellers and goes down well, as do a fevered version of 'Wasting My Young Years' and the powerful 'Strong'. An encore invites a fairly standard 'Wicked Game' – after 30 minutes of vocal gymnastics, it offers a weak end to a short, disjointed set.
Luke Jenner, heading up Hall 3 minus The Rapture but with two musicians for company, switches out cowbells for straightforward structure. Though he has shied away from associations with James Murphy, his best song tonight brings the LCD Soundsystem supremo to mind. It's actually a little annoying to decide that this represents a mixture of 'All My Friends' and 'Where The Streets Have No Name', because it's really quite sweet. "Don't you ever look back," he intones alongside a quickening piano line. "Don't you ever ask why… you'll be happy". And he is. He's so happy that he closes by getting behind the drums for a ramshackle, out-of-key version of Van Halen's 'Jump'. The crowd are bemused, naturally.
DAY TWO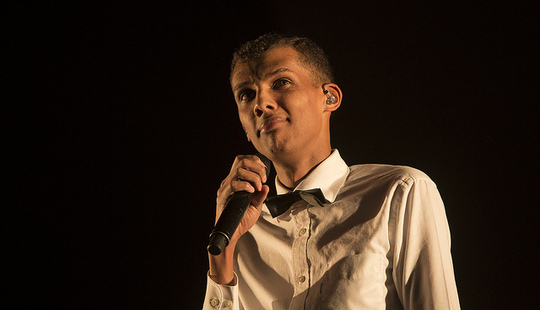 Picture: Stromae (© Nicolas Joubard)
Moody Berlin collective Oum Shatt take opening honours in Hall 4, redefining 'generic' as their plodding set unfolds.
To the vast, previously-closed Hall 9 where DJ Les Gordon is bringing the noise to what appears to be a full house, grandstand and all. To my left, a man resembling a corpse is being propped up, dragged around and laughed at by what I can only presume are his friends. He falls to the ground and starts shaking as one girl ignores him, rolling her eyes at the cigarette she is unable to light up. I find a medical team who speak English and act fast, removing the guy from the scene as the mob continues to chuckle.
Darkness falls and the subsequent roar is startling. A screen plays animation that appears ripped from the game Limbo as three uniformed (bowler hat, v-neck jumper, bow-tie) men appear, ramrod stiff, at designated instrumental posts. Eventually, the star of this show emerges and the place goes utterly apeshit. People are hugging. One girl openly weeps. What the fuck is happening? The man at the centre of the chaos is Paul Van Haver, alias Stromae, and quite the big deal as it turns out. One of his tracks has over 85 million views on YouTube. Tomorrow, the front page of Ouest-France will see him share almost equal photo space with Nelson Mandela.
It appears I've stumbled into the biggest set of the weekend. Alas, the Euro-pop flavour and relentless sub-Calvin Harris synth action fails to connect so it's off to Jacuzzi Boys, who plough through a lame Butthole Surfers/Parquet Courts impression in a scattershot Hall 3. Skip forward an hour and we're back in Hall 9, right up the front as NYC disco machine Escort take over, all 10 of them. What follows is tremendous fun, even if it's hard not to think of Chic and Nile Rodgers as the arena becomes Studio 54 for the best part of an hour. Later, Melt Yourself Down will try for a similar approach, their jazz/funk/ska barrage benefitting from dual percussion but two saxophones and a great deal of repetition spoil the party. Still, 'Fix My Life' is pleasingly bonkers.
Free of awkward press encounters, Public Service Broadcasting keep their 4.20am appointment in Hall 4. The trio (they've brought assistance) are flanked by two stacks of old TV sets, arranged in order of size. Behind them, dual antennae signs hang high. For those unaware of PSB's 'repurposing archive material to music' schtick, it's probably the last thing they expected as morning prepares to break. 'London Can Take It' sweeps in, the concept suddenly unimportant, the sound one of driving determination. A colleague noted beforehand that he previously found the Londoners initially intriguing before a law of diminishing returns scenario arose. Sure enough, the spark burns out half an hour in - eventually it all feels like an art installation.
DAY THREE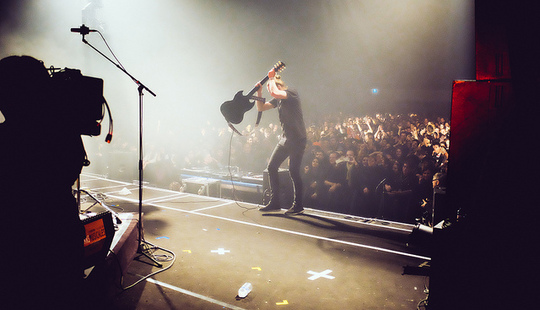 Picture: Kid Karate (© Alexis Janicot)
Daughn Gibson is proving as elusive as his noir-country sound. Though he prefers his drum machine to the spotlight, he's not shy, regularly losing himself in tambourine-shaking revelry (to his eternal credit, he makes this look cool) and fixing a steely gaze when the mood strikes. His set is a procession of moody marches that occasionally give way to more anthemic fare, the bursts calculated but never artificial. There's a sense that we've stumbled into a rehearsal, that Gibson is happy to have the company and if you get it, great. If you don't? That's fine, too. "It's been real, it's been fun… but it ain't been real fun," he crows at the finish.
Remember The Midnight Beast? That terrible sitcom about a zany parody band that E4 hyped to death about a year ago? They're still a thing. I'm going to go ahead and give all of Rennes a pass on this and put down their warm reception to the language barrier. It's quite depressing seeing people bop away with smiles on their faces as the juvenile 'Lez Be Friends' screams through Hall 9.
By contrast, Superets are merely bland, The kind of band you'd expect to see on a retro compilation French Top of the Pops equivalent, they're much too reliant on the ol' up-tempo Joy Division kick-in, which provokes a demographic split. Later, 63-year-old Lonnie Holley, a visual and musical African-American artist of quiet grace, tries for transcendence and comes up short. It's a hard sell; one man alone at his piano, no choruses, no real structure, just lengthy musings against measured key strikes. Thumping rave music filtering through from the next hall isn't helping. At times, it feels like a passive lecture.
It's a night in need of rescue. As 'Losing My Edge' booms over the Hall 3 PA, Kid Karate frontman Kevin Breen struts across the stage, tuning his guitar whilst dancing in place. It's not a contrived move, but the crowd eat it up. That's been a something of underlying constant across the three days - French audiences respect a little bit of effort. Though Kid Karate's format - one drummer, one guitarist/vocalist - and full tilt nature draws Black Keys/White Stripes soundalikes, the Dublin natives march to the beat of their own booming drum. Their set is triumphant, every song swallowed whole, from 'Two Times' to 'Night Terrors', a long, strange affair that shouldn't prompt a mosh pit but does.
The night rolls on. A Tribe Called Red's sludgy hip hop and Native American-related sampling is a surprisingly good fit for stumbling around a freezing cold hangar at three-thirty in the morning. Elsewhere, DJs splice Nineties pop songs with dubstep in a bid to keep the masses from flagging. Acid Arab's kick-off time of 5.15am, unfortunately, is too much of an ask so we exit one last time, the bus a far cry from the first, shouty trip. Half of the passengers are drifting in and out of sleep. The other get lost in their phones. With no iPod at my disposal, I embrace the silence, the odd hum, the occasional heated discussion in a language I really should have kept up after leaving school. Doors swing open into abandoned streets. C'est fini.