Planet Gear is an irregular feature in which we ask musicians to get a bit geeky and talk us through the equipment that makes the 'magic' happen... Ahead of their live shows with a string ensemble this November and December, Dutch Uncles talk is through the gear that makes their live shows so special, their studio in Salford, and Sped's guitar pedal set-up...
---
Alternatemode Malletkat Pro
This rather extravagant MIDI controller has become the centrepiece of our live show. When considering how to convert the record in a live show, we decided folk might consider themselves shortchanged if there was no physical mallet action occurring. We can also now confidently encourage air marimba.
It had a rocky start to live with DU, we did a tiny show in London in January and the equipment storage room was so cold which when met with the sweatbox of a venue resulted in moisture; the Malletkat's worst enemy! Naturally songs were pulled/restarted/struggled through, it was an experience and a lesson in the total reliance on technology. When we consulted the user guide it advised that anything goes, hit it with planks of wood with rusty nails in, but at no point should it come into contact with a drop of water.
Thankfully, this was the Malletkat's only big wobble and has proved a trusty servant. During the show it triggers an MPC1000 which contains mallet and other samples from the record with other little bits of extra percussion. It is aesthetically our most pleasing showpiece and there's even a mallet dual in 'Threads' involving Duncan playing marimba upside down.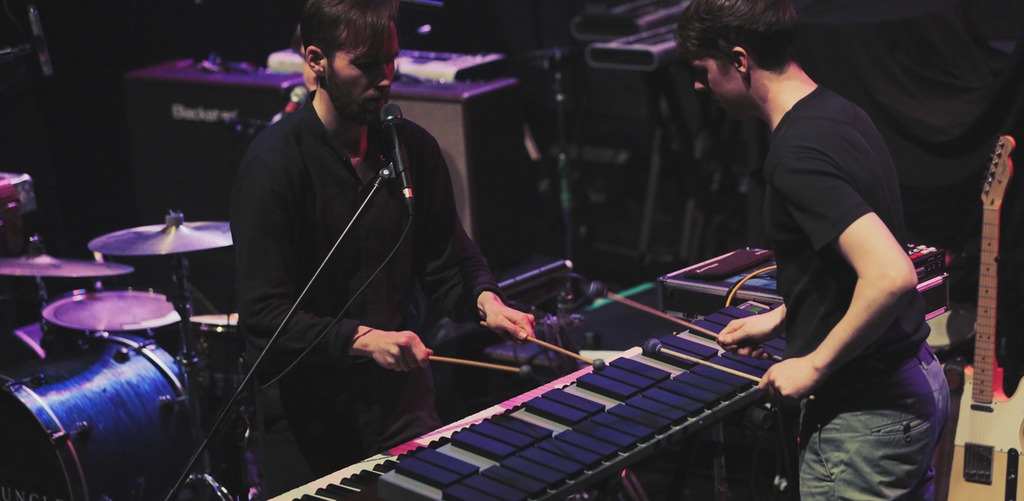 It's one of them, "How did we ever survive without a virtual MIDI mallet controller" things.
Universal Audio Apollo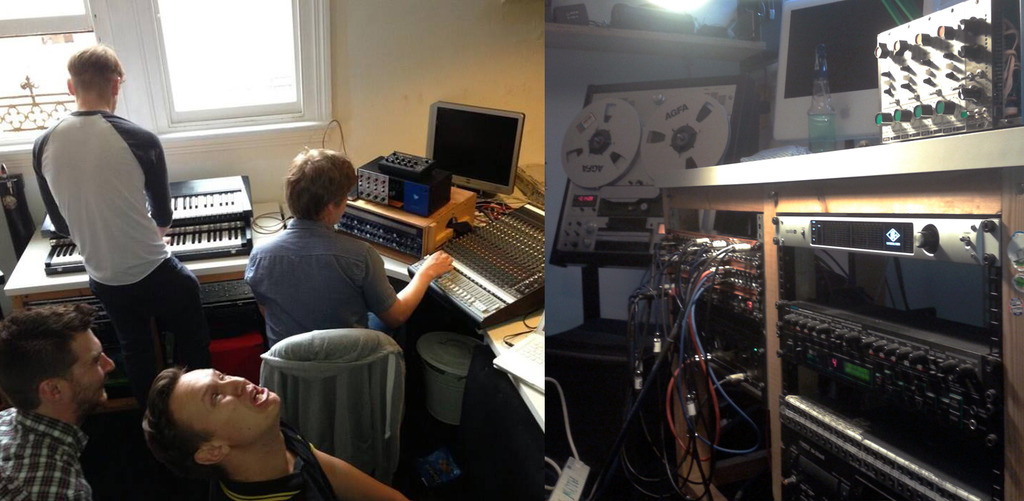 With our final tour on the horizon for this album, our mind is fully focused on the next. We've recently built our own wee studio above a pub in Salford whom we share with our producer Brendan Wiliams. We wanted a high quality AD/DA to go behind our (his) lovely Classic API pre-amps. The idea is so that if anything from the demos makes the final cut it's at a standard that wouldn't sound out of place from when we eventually go into a decent studio.
As well as top AD/DA, the UAD Apollo comes with a selection of UAD's wonderful outboard emulation plug-ins and they really are great. I've been raving about their Teletronix LA-2A and have used it on Duncan's vocals a lot recently. As well as software inserts in Pro Tools, you can use the plug-ins on the input signal, which is ideal for compressing vocals on the way in with spot on analog emulation. These plug-ins run from the Apollo's on board DSP processing chips so us lot with rubbish computers can save host CPU power.
Sped's Guitar Pedal Set-up
Sped takes his guitar set-up pretty seriously, over the years he's amassed and refined the pedals he uses from some off the shelf faves to custom made effects… including his Pretty, Pretty Good Larry David, Custom Crunch box made by our friend Pit at Gigahearts.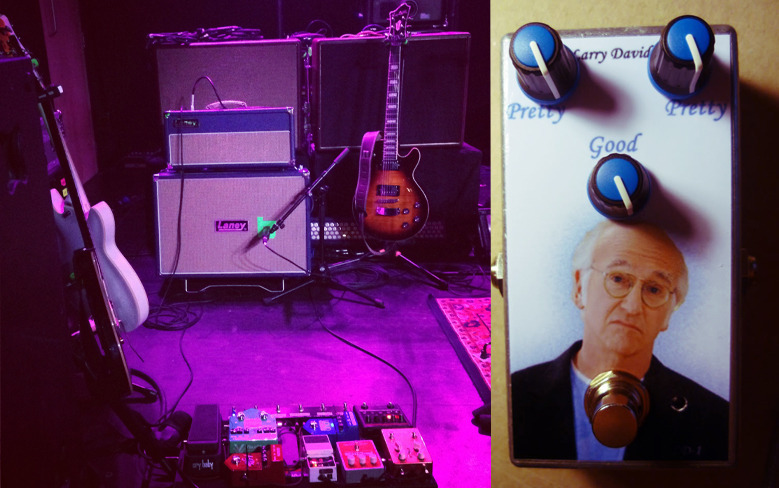 "In terms of board content… I basically took all the pedals I had (plus a few on the spot purchases) into a Guitar Centre called Tone World in Manchester, where my friend Rick Lowe works. I said "How can we make this work?" I'd had previous issues with noise and hum from cheap power supplies. This was when I first got it back…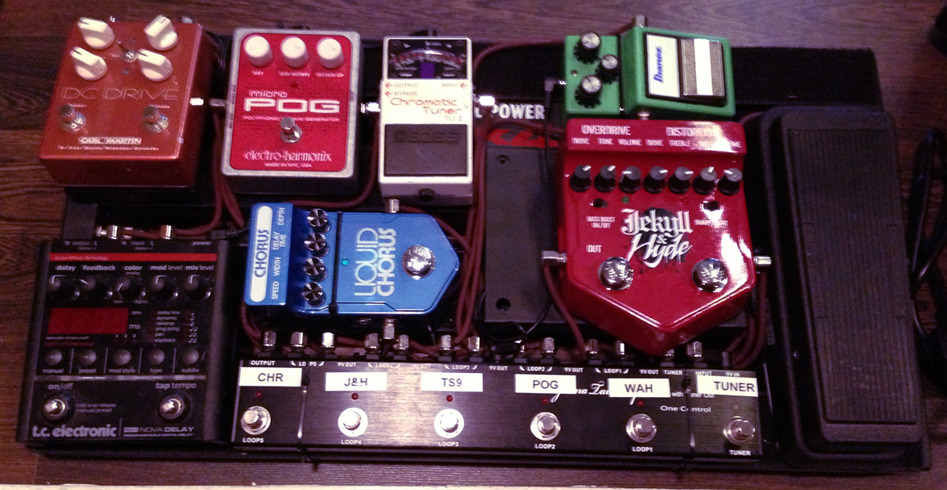 "So, mounted underneath we have the Voodoo Labs 4x4. It does 9&12v out which is important for pedals that draw a higher current. All the cable work is Evidence SIS/Mono Rail and has been completely cut to length. No more dodgy patch leads or 5 meter cables between two Pedals an inch apart.
"Drilled out are two holes, one on each side of the board and fitted an In & Out for my cables, which makes life a lot easier. Because I am going into a One Control Iguana Tail Loop, the In/Out is hard to reach with regular cables. As you can see, each Pedal is individually isolated now, so if anything goes wrong, it's not going to break the circuit and kill your signal. There are 9 things that need to be powered on my board, however, the OC-ITL also does 5 9v's out once it's powered itself, like an internal daisy chain - very useful!
"Visual Sound offered us a deal earlier this year. Their new range of pedals are awesome. I fell in love with the Liquid Chorus when I heard Jon Howard (Paramore) use it live. I literally inquired when I got home and they were great. I've since made changes to the above layout and swapped around a few pedals. I got the Double Trouble to replace the Jekyll & Hyde, basically because I've always wanted two Tube Screamers. You can have one set at a high gain, and one at a low, bass boost on or off, or even stack them. I've put the Son of Hyde at the back in place of the TS9, just incase we ever do some Van Halen covers.
"I am starting to use the Wah in some new material, only subtly. It was bought literally for experimentation so I just went for the basic Cry Baby. For places with doubled guitar lines in the album, either Octave up or down, the POG is brilliant.
I originally had the TC Flashback x 4, which didn't last long with me, I was having some latency issues with the tap tempo, really not what you want in a delay. The Nova Delay is much more accurate and really easy to use, it has 9 presets for the different delays I have live.
"This is my touring board now…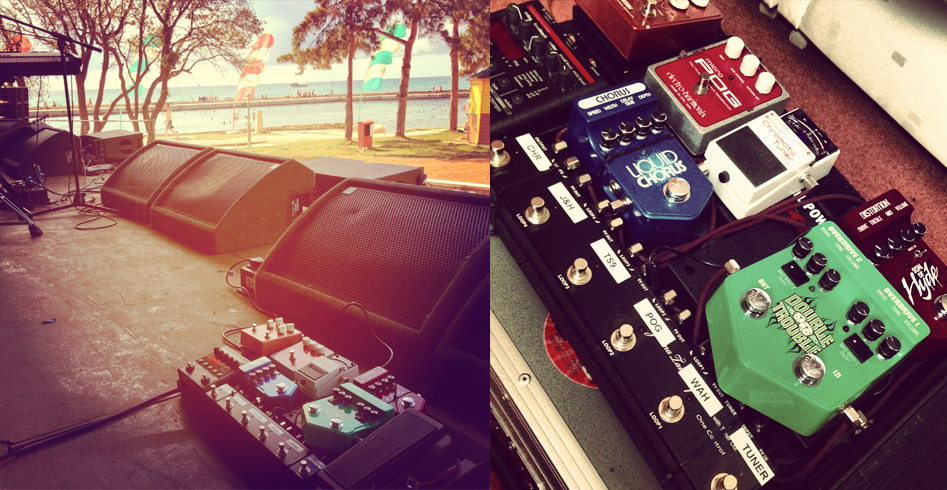 ---
Out Of Touch In The Wild is out now.
Dutch Uncles play the following dates with their expanded live show with string ensemble (with support from Outfit):
30 Nov - Belgrave Music Hall, Leeds
02 Dec - Komedia, Brighton
03 Dec - O2 Academy 2, Leicester
05 Dec - Islington Assembly Hall, London
06 Dec - Academy 2, Manchester