Hello and welcome to another sprightly edition of DiS Does Singles. This week Kanye West unveiled a video that's so brilliantly awful, it's almost beyond parody. Thank goodness we found the production notes for 'Bound 2' just lying outside DiS HQ. Otherwise, we wouldn't know how to celebrate the greatest cinematic achievement since The Room.
But that's not all you'll find in this week's column folks. Arcade Fire have created a promo clip for 'Afterlife', Reflektor's spiritual successor to 'Sprawl II (Mountains Beyond Mountains)' and 'No Cars Go'. Franz Ferdinand are back with a 'Bullet'. The piece of ammunition in question is their new single but we couldn't resist that sentence. Finally, Mutual Benefit have some lustrous folk for your consideration - you'll feel a lot better for hearing it.
All in all, consider yourselves spoilt.
Single of the week
Kanye West - Bound 2 (Def Jam)
Please note: what follows are the 100% genuine and in no way made up production notes for Kanye's 'Bound 2' video. They were leaked to DiS by a Def Jam insider who shall remain nameless, but claimed the revelations would spell 'game Hova' for Yeezy's perilous self-esteem levels
Open with stock footage of the Grand Canyon. Other canyons will not be tolerated.
Hook 1: Charlie Wilson "I know you're tired of loving, of loving With nobody to love, nobody, nobody Just grab somebody, no leaving this party With nobody to love, nobody, nobody"
Charlie Wilson to be accompanied by grand piano chords and stallions running in slow motion.
Acceptable stallion colours include Basilica White, Tailor's Chalk and Japanese Paper.
Hook 2: The Ponderosa Twins Plus One "Bound to fall in love Bound to fall in love (Uh-huh, honey)"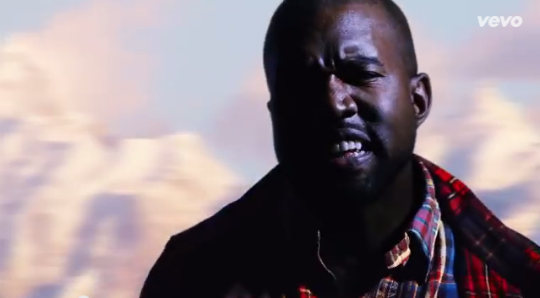 Cut to close-up of Kanye. He is wearing lumberjack chic with one half of his face bathed in darkness.
The lumberjack chic pays homage to white American stereotypes found in Western and road trip movies.
The lighting shows symbolises West's conflicted persona - he is in love, but still an arsehole.
Bridge: Kanye West "All them other niggas lame, and you know it now When a real nigga hold you down, you supposed to drown Bound..."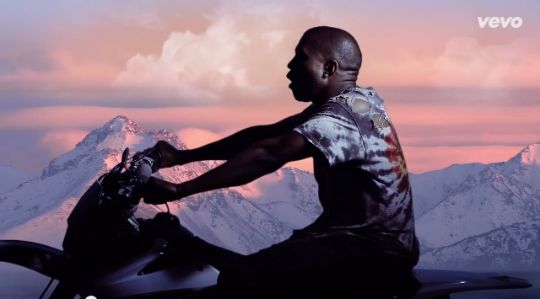 Cut to mid-shot of Kanye on a motorbike.
He is wearing a pastel t-shirt. Its splattered pattern symbolises the effect of multicoloured spunk when spilt on a mink carpet.
The motorbike does not symbolise anything at all.
Hook 2: The Ponderosa Twins Plus One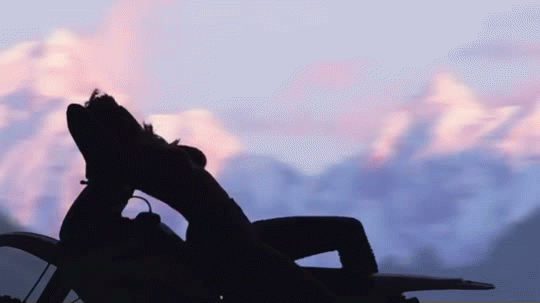 Introduce Kim Kardashian's naked silhouette stretched out across Kanye's motorbike.
This will be an extremely uncomfortable pose that could lead to future muscular problems - try and capture it in one take.
Verse 1: Kanye West "What you doing in the club on a Thursday? She say she only here for her girl birthday They ordered champagne but still look thirsty Rock Forever 21 but just turned thirty"
Intersperse close-up shots of Kanye and Kim.
Kanye's mouth to be enclosed in darkness. Kim's face to be perfectly lit.
Kanye to look intense and slightly unhinged. Kim to look pretty vacant.
Verse 1: Kanye West "I know I got a bad reputation Walking 'round, always-mad reputation Leave-a-pretty-girl-sad reputation Start a Fight Club, Brad reputation"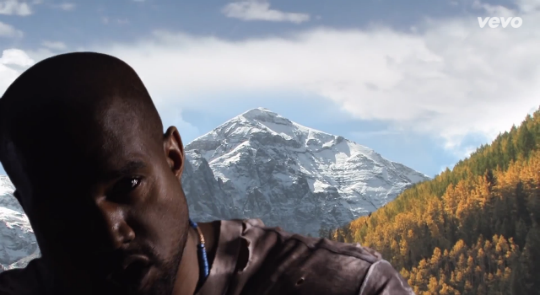 Continue with the close-ups while rotating through Windows XP's wallpaper archive.
In the event that you run out of picturesque landscapes, search Shutterstock for images of the Nothern Lights.
Verse 1: Kanye West "I turnt the nightclub out of the basement I'll turn the plane 'round, your ass keep complaining How you gon' be mad on vacation? Dutty wining 'round all these Jamaicans"
Kanye to pull first Christ pose.
Side note: you are to address him on set as Sir Yeezus.
Verse 1: Kanye West "Uh, this that prom shit This that what-we-do,-don't-tell-your-mom shit This that red-cup,-all-on-the-lawn shit Got a fresh cut, straight out the salon, bitch"
Hook 1: Charlie Wilson
Bridge: Kanye West "Close your eyes and let the word paint a thousand pictures One good girl is worth a thousand bitches"
Hook 2: The Ponderosa Twins Plus One
To underline Kanye's flawed attitude to relationships, Kim and Sir Yeezus will literally hit a rough patch during Bound 2's second verse.
This will involve them bumping up and down a lot on the motorbike.
To ensure everyone grasps the sexual metaphor, Kanye will exaggeratedly rev the bike's throttle.
Verse 2: Kanye West "I wanna fuck you hard on the sink After that, give you something to drink Step back, can't get spunk on the mink I mean damn, what would Jeromey Romey Romey Rome think? Hey, you remember where we first met? Okay, I don't remember where we first met But hey, admitting is the first step And hey, you know ain't nobody perfect And I know, with the hoes I got the worst rep But hey, their backstroke I'm tryna perfect And hey, ayo, we made it: Thanksgiving So hey, maybe we can make it to Christmas She asked me what I wished for on my wishlist Have you ever asked your bitch for other bitches?"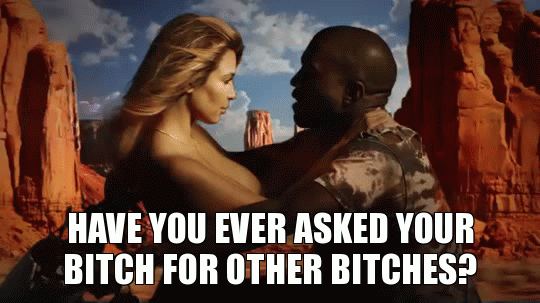 For the most video Kanye and Kim are to avoid eye contact, so as to maintain their dramatic focus.
When asked if she fancies a threesome, Miss Yeezus will defiantly toss her hair to cut him off mid-sentence.
This shows that she understands what Kanye says, has heard the proposition before and is still not best pleased with it.
Verse 2: Kanye West "Maybe we could still make it to the church steps But first, you gon' remember how to forget"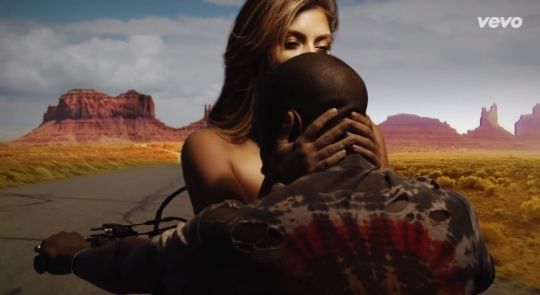 Kim to hold Kanye's head so he is staring at her cleavage.
Kanye promises to improvise here, or remain motionless for the rest of shot. Be prepared for either outcome.
Verse 2: Kanye West "After all these long-ass verses "I'm tired, you tired, Jesus wept"
Green screen footage to be looped here as though Kanye is riding in the clouds, 'where Jesus is'.
Thereby he will be shown to have achieved cultural parity with the father, son and holy ghost.
Crucially, none of these figures had a celebrity fiancé.
Hook 1: Charlie Wilson
Bridge: Kanye West "Jerome's in the house, watch your mouth Jerome's in the house, watch your mouth"
End video with a stern reminder reminder of Kanye's parental authority.
Because above being a hip-hop artiste, creator of first-rate music videos and the inventor of leather jogging pants, Sir Yeezus is a father.
A man whose child will one day grow up to know that five million people have seen his mom and pop bonk on a motorbike. Really, this should be par for the course in all overblown hip-hop videos.
Best of the rest
Arcade Fire - Afterlife (Arcade Fire Music)
Reflektor has been out for about a month now, which means you've had the chance to hear 'Afterlife' at least once by now. It clocks in just before the album's grand finale, 'Symmetry', and represents a decent summation of what Arcade Fire are about these days. Looping calipso grooves and existential quandaries get whisked together to create a smartarse disco track that's already earned its prefect's badge from art school.
Since your humble columnist is always the biggest div on the dancefloor at social occasions, I'm not inclined to endorse a song that's got more brains than my good self. Is that fair? No, but I also reserve a special place in hell for fancy dress - alongside soggy cabbage and ITV. Sorry Win, it just wasn't meant to be this time around.
Franz Ferdinand - Bullet (Domino Records)
Franz Ferdinand's new single is called 'Bullet', so some bright spark decided to film a bullet time-themed video for it using a 360 degree camera rig. That chap deserves a gold medal, or whatever video directors get when they make a band look so swish you want to join them on air guitar. Special plaudits are due for Alex Kapranos' stop motion scissor kick.
Mutual Benefit - Golden Wake (Other Music)
Lustrous folk that plucks your heartstrings with the winsome skill of Bright Eyes or Villagers. That's what you're in for should you lend your ears to Mutual Benefit's 'Golden Wake'. Trust us, its lilting organ crawl does wonders for a downcast disposition.
Rock Bottom
Beady Eye - Iz Rite/Soul Love (Columbia Records)
It defies logic that Beady Eye amount to so much less than the sum of their parts and yet here we are with their new double A-side single. That said, 'Iz Rite' and 'Soul Love' are barely worth getting into a tizz about. Plodding rock is what we've come to expect from Liam Gallagher's bunch, so two more stodgy servings of it is going to surprise no one.
Also released this week
Amber Run - Heaven (RCA Victor) Austra - Forgive Me (Domino Records) Boxed In - All Your Love Is Gone (Moshi Moshi) Burning House - Post Party Stress Disorder (Naïve) Emma Garrett - Dose Me Up (Sound of Gigha) Fé - She Came (Bad Life) FEMME - Fever BoyHeartbeat (TAPE) Fenech-Soler - In Our Blood (SO Recordings) Francobollo - We're Going to... Rio (Moonshiner Records) Franz Nicolay - Hearts of Boston (Xtra Mile Recordings) Haraket - İlk EP (Melodica Recordings) Janet Devlin - Wonderful (Insomnia Music Records) Julian Fane - Racer (Lewis Recordings) KK Null & Ore - Components of Circulation / Dawn of Time (Endtyme Records) Lily & Madeleine - Come To Me (Asthmatic Kitty Records) Nadine Shah - Aching Bones (Apollo) Say Lou Lou - Better In The Dark (Columbia Records) Sid Batham - All Lies (Bite Records) The Family Rain - Feel Better (Frank) (Virgin EMI Records) The Leisure Society - Tearing The Arches Down (Full Time Hobby) The Red Paintings - You're Not One Of Them (Graphite Records) The Weeks - King-Sized Death Bed (Columbia Records) WhoMadeWho - The Morning (Darup Associates)