The best games of 2011, taking in 1940s gumshoes, comic book super-heroes, augmented near-future bad-asses, revenge-crazed AI and a whole load of dragons…
The best video games offer the player a means of escape from the real world: from work concerns, from bills yet to be paid, from partners bemoaning a lack of enthusiasm to go visit the in-laws. They are, today, the most immersive interactive media available: a bigger draw than the vast majority of 3D movies, as riveting as the most addictive page-turner. In 2011, games mattered more to the Average Joe than any preceding year, as major titles were released to the kind of fanfare usually reserved for blockbuster films, and the budgets behind these adventures swelled to staggering figures – with its development spanning several years, Rockstar's LA Noire is reported to have cost its makers over $75 million to guide to completion, and you can bet delayed titles like Deus Ex: Human Revolution and the rather-less-than-amazing Brink came in at eye-watering outlays. Grand Theft Auto V, currently scheduled for a 2012 release, could well cost more than the reported $100 million spent on the fourth instalment of the series.
Games are Big Business today, of as much cultural importance as the albums reviewed on these pages, as any year's award-winning films or novels. They are enriching experiences which should leave the player thinking about them long after every achievement has been nailed, or every story outcome has been experienced. But, just as it was in the 1980s with Sega and Nintendo, and the 90s when Sony entered the market in spectacular fashion, console wars rage on, with exclusives still the driving force in deciding which machine to pick up. Uncharted 3 or Gears of War 3? Both are fine examples of their craft; both are titles you'll only be able to play on a single machine.
In the name of inclusivity, the games picked below as the best that 2011 had to offer are multi-platform choices. So there's no Skyward Sword, and neither of the above mega-hit threequels feature. The here-listed selections are available on at least two platforms – so, hopefully, they are capable (still) of reaching the widest possible audience. And they each deserve to. As for the late-year war games of Battlefield 3 and Modern Warfare 3: I've not played them, so I can't comment on their reported-elsewhere brilliance. So they don't make my list – but, I'm sure, their presence on several others is indicative of high quality packages.
So, here's my Savage Pixels Top 10 Video Games of 2011, in no particular order…
- - -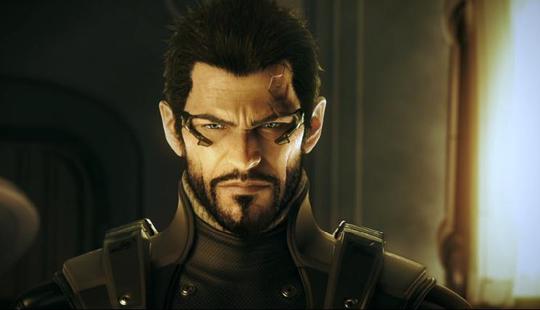 [560x273]
Deus Ex: Human Revolution
Developer: Eidos Montreal
Publisher: Square Enix
Released: 26 August
Platforms: PC, Mac (forthcoming), PlayStation 3, Xbox 360
The prequel to 2000's highly influential first-person shooter-cum-RPG, Deus Ex, this 2027-set adventure is the kind of title that really pushes the boat out for immersive experiences. With the action unfolding in a variety of believable near-future locations – the game begins in Detroit, flies to Shanghai and Singapore, stops off in Montreal and winds up in the Arctic – Human Revolution lands the player in a world where second-guessing comes naturally and discovering ways around conflict can be more rewarding than gunning down the array of adversaries that block your path. The plot gets a little tangled, but patience is rewarded: stick with this story (which can be hard, as you will likely die a lot; don't be surprised if you restart this game once or twice before it really clicks) and it proves to be one of the better sci-fi efforts to grace this generation's console set.
Mixing raucous combat with stealth, multiple story arcs – some characters live or die depending on your actions at given points, and not all directly by the player's own hand – with linear aspects that ensure the mission is never overly compromised for side quests, and undercurrents of corporate corruption relatable to today with brilliantly realised transhumanising augmentations, this is a finely tuned end product which, at its best, is a match for the original Deus Ex. Annoyances surface: boss battles are tiresome, unload-everything-in-your-arsenal affairs; and load times between death and restarting are a drag (best to put a few quilts down around you as you play, as that controller might well get chucked). But this is a big success in a year of big successes, and for its fantastic presentation alone Deus Ex: Human Revolution stands out as one of 2011's best.
- - -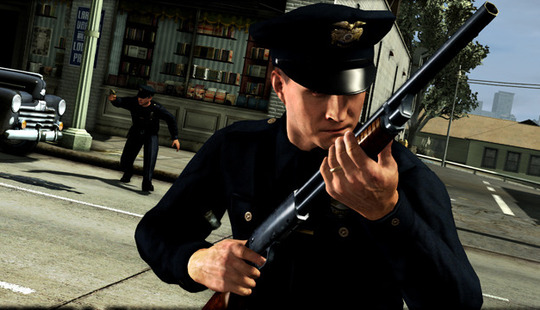 [560x315]
LA Noire
Developer: Rockstar Games / Team Bondi
Publisher: Rockstar Games
Released: 20 May
Platforms: PC, Xbox 360, PlayStation 3
Not exactly an interactive movie offering in the vein of Heavy Rain or Fahrenheit, nor an open-world sandbox adventure comparable to Rockstar's great Grand Theft Auto series and their phenomenal western, Red Dead Redemption (for me, the best game Rockstar's ever put its name to), LA Noire was caught between gaming worlds. Filling the shoes of Cole Phelps, for the majority of the game anyway, the player must complete cases to see Phelps rise through the ranks of the LAPD – only to come crashing back to earth when his tenacious nature attracts the attentions of antagonists who'd rather he wasn't sniffing around their business. Clues are found, links made between these pieces of evidence, and charges are pressed: but win or lose when accusing an NPC of a crime, story still progresses. It goes even further in holding your hand, by allowing the player to skip the (limited) action sequences if they fail them a number of times. Personally I never took this easy option: but at one point, when chasing down a suspect on an unfinished housing estate, I was sorely tempted, so I can see how it would be a godsend to some.
Superb on a technical level, with great graphics (particularly on the faces, where new MotionScan technology was used to capture every giveaway twitch of an eyebrow) and a fine cast of actors, including Mad Men's Aaron Stanton as Phelps, LA Noire looks the part when checking it out over another player's soldier. With controller in hand, though, it can underwhelm at times, and the story rather stutters after reaching something of a premature climax two-thirds of the way through. Nevertheless, it's a bold statement of intent from developers genuinely trying to do something different, with a realistic 1940s setting instead of futuristic/war-torn environs and an ease of accessibility which will appeal to non-hardcore gamers, hopefully tempting them away from the slew of dance and sing-along titles pitched at said market. It doesn't reach the standard of Rockstar titles of recent past, but perhaps that was never the point: LA Noire is a fantastic-looking, easy-playing game which entertains without the player needing to break into a sweat to further what is, for the most part, a very engaging story.
- - -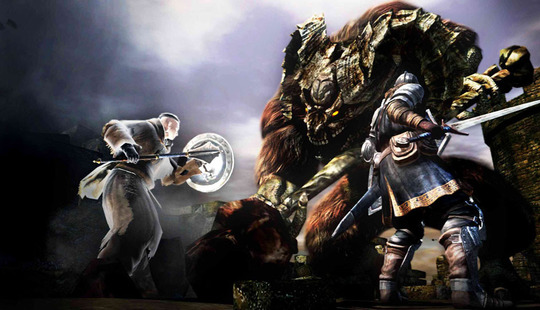 [560x315]
Dark Souls
Developer: From Studios
Publisher: Namco Bandai Games
Released: 7 October
Platforms: Xbox 360, PlayStation 3
If LA Noire proved to be a challenge for you, perhaps avoid this incredibly difficult third-person role-player, the spiritual sequel to 2010's Demon's Souls. Quite brilliantly, Dark Souls was once in line for a UK release as Dark Ring, before its powers-that-be clocked that in British slang that can mean anus, apparently (I'm no slang expert, admittedly, but I've never heard that used for a bum hole). A crawler where danger awaits around every shadowy corner – and many of those turns take the player to their demise – Dark Souls' ramped-up difficulty might be perceived as off-putting; but spend a little time in this game's company, being sure to light every (respawn spot) bonfire as you guide your avatar around the not-really-open-world environment (though it's not a corridor-bore like Final Fantasy XIII), and it soon becomes a title tough to put down. That skeleton thing is going to get what's coming to it, even if it takes me 18 attempts…
Dark Souls doesn't have all that much of a predetermined plot – whereas the two games covered already featured stories that could suck in non-playing sorts, this lets the gamer piece together what they choose to in terms of narrative. Not everything arrives in the 'right' order; but the old-school principle that guides the gameplay – that just-one-more-enemy addiction, just-one-more-save-point determination – carries it without having to rely on any clear-as-day plotline. (Which is entirely apt, as this is one beautifully dingy game to look at.) As an online experience Dark Souls is a treat, too: players from around the world can enter the gameworld to assist in another's quest. Bloodstains on walls or the floor should be heeded, as here is where another player fell. But even when taking every possible precaution, you'll probably still face the YOU DIED death sequence time and again. And that's long before you reach the enormous, evil-looking and OMG-SO-HARD bosses.
- - -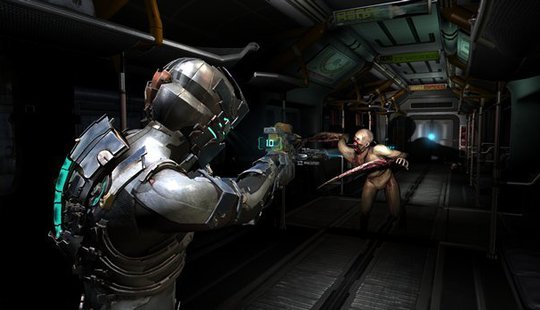 [560x315]
Dead Space 2
Developed by: Visceral Games
Published by: Electronic Arts
Released: 28 January
Platforms: Xbox 360, PlayStation 3, PC
Dark Souls might have packed all manner of twisted meanies and deadly beasties into its suitably epic running time, but it didn't haunt one's dreams quite as cold-sweatily as this brilliantly realised sequel to the pulse-raising original of 2008. The end of Dead Space hinted at a not-entirely-happy-ever fate for its protagonist, silent engineer Isaac Clarke; and sure enough Dead Space 2 finds our man troubled indeed: the game opens in an asylum, the lead character suffering from dementia, and wastes no time in turning NPCs into those pesky Necromorphs. In fact, it takes all of three minutes for the horror show to begin. Run, Isaac, run…
The puzzle-solving/shooter (meets run away from everything) gameplay isn't much changed from the original Dead Space – it's tweaked and refined rather than overhauled; though it's not so easy to smash crates with your foot from several yards away anymore – but the story is far better. Whereas its predecessor messed about with tropes from Event Horizon, Alien and a host of other sci-fi horror movies, Dead Space 2 has a wealth of material created for its own universe to call upon for foundations. Characters from Dead Space: Ignition (a relatively crappy puzzler on Xbox Live Arcade) and the animated feature Dead Space: Aftermath appear, both aiding and hindering Isaac on his mission to escape the Sprawl, a settlement built on one of Saturn's moons. It's a fantastically atmospheric adventure, and contains its share of look-away moments as Isaac comes a bloody cropper. What lingers longer than the shit-yrself visceral thrills, though, is the desperation of the whole thing: from the first five minutes it's evident that there's no daylight at the end of any of these dank, death-filled tunnels. And even at the slightly déjà-vu ending, there's no real closure. Dead Space 3: coming soon.
- - -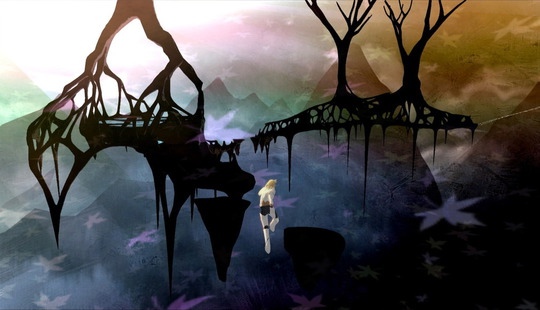 [560x315]
El Shaddai: Ascension of the Metatron
Developer: Ignition Tokyo
Publisher: Ignition Entertainment
Released: 9 September
Platforms: PlayStation 3, Xbox 360
Well, I like it. This third-person platformer-cum-hack-em-up borrows its core gamplay from a spread of preceding titles, such as God of War, Castlevania: Lords of Shadow, the movie-licence Lego games and even Psychonauts; but it moves in mysterious, enchanting ways that give it an appeal all of its own. Inspired, loosely, by the Book of Enoch, its story follows Enoch as he looks to serve out justice to a bunch of fallen angels while dressed in some rather easily loosened armour. (Does he have enough?) Every so often he bumps into Lucifel, who is kind enough to save the game and dish out advice. The game switches from 3D sections to side-on 2D action from time to time; and combat is easy to pick up, mostly revolving around a single button until the player needs to steal and subsequently purify weapons.
Easy to pick up and just as easy to lose untold hours on, El Shaddai would be worth recommending on its simple and addictive mechanics alone. But the presentation of the game takes it to another level: this is beautiful to look at, exhibiting level design that is out of this world. The way the lead character flows from roll to leap to slash to dash is reminiscent of the Prince of Persia games old and new; only the landscapes these battles play out against are dream-like environs unlike anything seen before. Some of the enemies can be repetitive (reskinning: what a cop-out), and it's not an easy game by any means, despite its immediacy – but El Shaddai succeeds where so many other hack-and-slashers fail by setting its stall out in truly singular style. It's a quiet triumph, this one.
- - -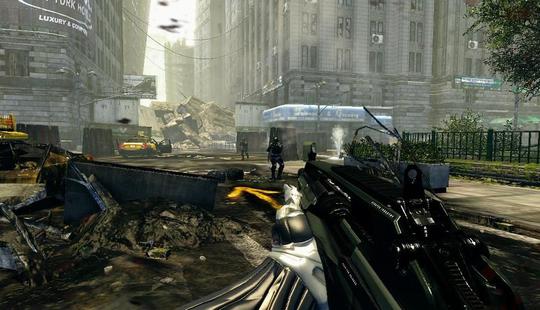 [560x306]
Crysis 2
Developer: Crytek
Publisher: Electronic Arts
Released: 24 March
Platforms: Xbox 360, PlayStation 3, PC
Probably the best-looking FPS out there, certainly on the 360, Crysis 2 follows a fairly predictable plot where an alien-infested New York – decimated after the events of the original game – is navigated by our protagonist, a virtually indestructible (if you play the game right, anyway) fellow by the name of Alcatraz. His secret weapon: a Nanosuit granting its wearer resistance to fire arms, invisibility, greater strength and speed and deeper pockets. So far, so whatever. But with the developer's new CryEngine 3 behind the scenes, Crysis 2 steals a march on every other sci-fi-shooter by looking gorgeous.
Crysis 2's beauty isn't just skin-deep: it plays every bit as well as it looks, and it looks incredible. Gone is the murk of so many FPS experiences; this battered, broken New York is a delight to traverse, shattered buildings detailed to realistic levels, water effects amongst the best seen in console gaming. Progress is fairly straightforward – this isn't a game that lets the player wander off-piste for too long, despite myriad collectibles on offer. Gun battles are intense, and getting up close and personal with the enemy – the alien Ceph – can lead to some hair-raising moments where running the hell away is the best course of action. There's some crappy AI at work, and a handful of bugs cross the player's path – enemies can glitch and simply sit there waiting to be shot at; some freeze in mid-air – but these are tiny quirks rather than major annoyances in a title that bleeds quality from every sniper rifle round it takes.
- - -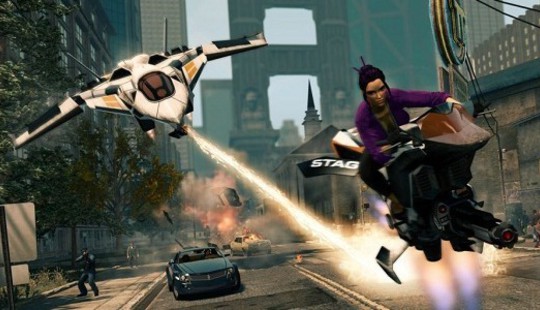 [560x280]
Saints Row the Third
Developer: Volition, Inc
Publisher: THQ
Released: 18 November
Platforms: Xbox 360, PlayStation 2, PC
Not as good as Saints Row 2, moan the YouTube comments. Not as realistic as GTA, moan the GTA fans. They're missing the point: third-person sandbox-er Saints Row the Third was designed to be stupid, and it dares to go as far as possible in order to put a dumb smirk on the player's face. There's little to overcome before one can get stuck into the good stuff: within hours of commencing a campaign, tanks and helicopters and bloody great big flying battleship things are yours to control. (Yeah, you can also smash people's faces in with a big willy.) And upgrades come quickly, too, likewise cold hard cash, which soon results in the player owning an arsenal to put entire nations to shame. Certain missions have varied endings, selectable as must-complete aspects are ticked off; so, should you want to go around again, it's possible to leave that skyscraper you demolished previously standing and use it as a base of operations.
Everything is over the top, which is endearing the majority of the time but can lead to a detachment which leaves the player ambling around without really connecting with the action before them. In a sense the GTA fans have a point: in GTA IV there were consequences to every action; in Saints Row the Third, the protagonist might be regarded slightly differently by NPCs depending on how they progress the (bonkers) plot, but whether you're slaughtering contestants in Murderbrawl XXXI or mowing down zombies after a plane-load of chemicals turns Steelport's residents into bloodthirsty undead(ish) types, nothing really changes. The same missions need to be completed; you'll still wind up on 'Mars' beating up your father. He's not really your father. But Burt Reynolds really is Burt f*cking Reynolds. Which is cool enough for me. Just be sure to think Crackdown rather than anything more 'real world' when pressing start.
- - -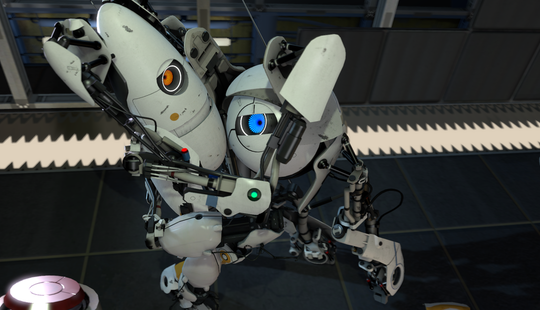 [560x315]
Portal 2
Developer: Valve
Publisher: Valve
Released: 21 April
Platforms: PlayStation 3, Xbox 360, PC, Mac
The original Portal was a sleeper hit that was never thought of as a must-have title until games to come after it – those with bigger budgets and better looks – couldn't hold a Companion Cube to its devilishly addictive mix of fiendish puzzles and wicked humour. Played first-person, it was a twist on the FPS where bullets were replaced with the power to create – yup – a portal, between point A on that wall and point B on that ceiling. What goes through it was up to you. By playing around with possibilities, solutions to problems were found and, ultimately, that nasty GLaDOS was destroyed. Only… SHE WASN'T, so here's a sequel.
Portal 2 takes the original game's perfect mechanics, polishes them and adds extra nuts and bolts to the end product. The result is one of the most genius releases to grace any console or computer, a compelling, challenging title which presents different co-op and solo play-throughs. New gadgets are a joy to mess about with, as are gels which enable to player to bounce off surfaces or speed up as they fly through an open portal. Stephen Merchant voices the personality core Wheatley – the "dumbest moron that ever lived", who's responsible for GLaDOS's reactivation – and is a treat throughout: whereas Saints Row the Third's humour is crude, Portal 2 cracks cerebral funnies that'll tickle deeper (that it's funnier than the first game is some achievement). It's short compared to most contemporary titles, so look for Portal 2 at a knock-down price; but there's no denying this is one perfectly formed video game, able to stand on its own proudly with no Half-Life episodic content cluttering its beauty.
- - -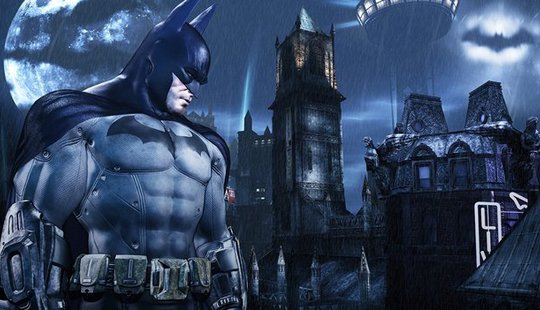 [560x317]
Batman: Arkham City
Developer: Rocksteady
Publisher: Warner Bros. Interactive Entertainment
Released: 21 October
Platforms: Xbox 360, PlayStation 3, PC, Wii U (forthcoming)
The sequel to 2009's multi-award-winning Arkham Asylum, City finds Batman/Bruce Wayne trapped in a sealed-off area of Gotham that's now home to just about every criminal mastermind and burly brute to ever bother the Caped Crusader in the name of his crime-fighting duty. To name but a few: there's the Penguin, Victor Zsasz, Mr Freeze, The Riddler, Two-Face, Catwoman (who has her own selection of downloadable missions), Ra's al Ghul, the Mad Hatter, Clayface (spoiler?), Solomon Grundy, Kane, Deadshot and, of course, The Joker. He's looking a little peaky, mind.
Gameplay is near-identical to Asylum: the player controls Batman, and he's got access to a wonderful array of gadgets, some of which you start with, others (such as freeze capsules and the remote control Batarang) are acquired as necessary parts of the plot or via optional upgrades. Combat is smooth, based more on reactions to the surrounding mob rather than an innate ability to string together complicated combos. There is a lot of extra content outside of the main plot (which is wrapped up fairly quickly if one doesn't take out Deadshot, or stop Zsasz, or disturb Killer Croc just for the hell of it), which really adds value to what is, said extras aside, one of the most engrossing games of any year. Playing as Batman was always cool before, right back to Batman: The Movie for the Amiga et al; now it's cooler than ever, as you glide and dive around Gotham's gothic towers, slamming thugs into the tarmac and wrapping your Batcable/grappling gun around collectible Riddler trophies. While its story ends on a downer, there's a great deal of fun to be had with Arkham City, which brings Gotham to life like no other Batman game before it.
- - -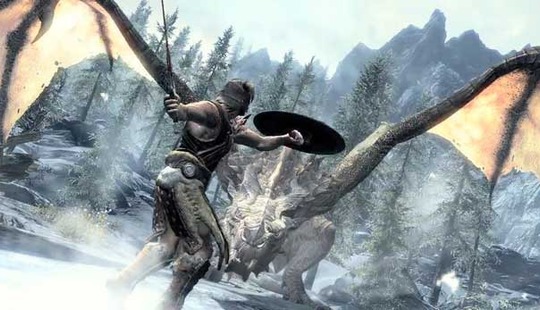 [560x313]
The Elder Scrolls V: Skyrim
Developer: Bethesda Game Studios
Publisher: Bethesda Softworks
Released: 11 November
Platforms: Xbox 360, PlayStation 3, PC
It's got its problems, most notably on the PS3, but lag issues and a variety of not-usually-too-annoying glitches aside (says the player who got stuck in a madman's head when a dream sequence looped, preventing him from completing said quest – a lot of time, wasted) this is the most spectacular RPG to have seen release for this generation of consoles. And, naturally, it looks incredible on a high-spec PC. But looks aren't everything – the world of Skyrim is amazingly immersive, and soon guiding your customised character around hillsides and streams, up snow-covered mountains patrolled by trolls and into ruined settlements haunted by zombie-like beings with a penchant for hacking your head off, becomes something of a second life. Getting home from work has rarely served up such sweet gaming rewards.
Bethesda has a habit of creating believable worlds where the fantastical soon becomes commonplace – so the first few times you encounter a dragon will be magical, but repeat experiences can become a drag, the scaly brute an obstacle between points A and B on the map. Wait… what am I saying? Battling against dragons, and giants, and mammoths, and trolls, and sabre-cats, and all manner of undead beasties is more enjoyable here than in any previous Elder Scrolls title. Certainly, combat is much improved from the random-slashing-techniques of the fourth instalment, Oblivion. And the player can level their character up as they please: unlike preceding Elder Scrolls games, the choice of race at the game's beginning needn't prove to be a crutch later on. All character types can be developed to kill at 200 yards with a bow, just as they can be trained in magic to complement the 'shouts' learned as the game's plot unfolds (not that you need to follow it – this is proper go-anywhere, do-anything gaming). Get over the relatively minimal handicaps, and Skyrim is a real game of the year contender.