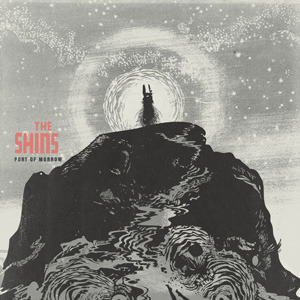 ---
---
Staff Reviews

It's to James Mercer's credit that Port of Morrow, which could have so easily veered off into soulless corporatism or self-indulgence, manages to remain nothing less than both a universal and personal joy to listen to.»
---
---
---
---
Buy now from:
With James Mercer at the helm, The Shins set sail for the Port Of Morrow taking
listeners on a voyage across beautiful, shimmering indie rock oceans.

The first new material from The Shins in over four years, Port Of Morrow is the much
anticipated follow-up to their Grammy-nominated album Wincing The Night Away.

The Shins began life in 1996 as a side project for singer/songwriter James Mercer,
around the time that his primary band Flake Music came to an end. Mercer remains
at the heart of an evolving line-up, handling all songwriting duties, lead vocals, guitar,
lap steel, percussion and glockenspiel. Port Of Morrow – the fourth Shins album –
was mixed by Rich Costey and produced by Greg Kurstin, who also contributes keys,
guitar and bass on various tracks. Other musicians featured on the record include;
Joe Plummer, Janet Weiss, Dave Hernandez, Marty Crandall, Eric D. Johnson, Ron
Lewis and Nik Freitas.

New single Simple Song is available now, and album Port Of Morrow drops anchor
on 19th March, released via James Mercer's own Aural Apothecary label and
Columbia Records.