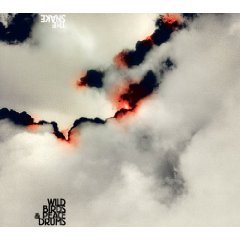 ---
---
Staff Reviews

Just a year has passed since the release of Heartcore, but with The Snake Swedish duo Wildbirds & Peacedrums have already honed their sound beyond that debut.»
---
---
---
---
Buy now from:
sweden's extraordinary drums and vocals duo wildbirds and peacedrums return with 'the snake', the fierce follow up to their intoxicating debut, 'heartcore'. 'heartcore' introduced vocalist mariam wallentin and her percussionist husband andreas werliin to the world outside their lively gothenburg scene and wound up as one of 2008's hidden treasures. the liberated abandon of wildbirds and peacedrums' primitive soul music strikes an immediate and invigorating chord, as anyone who has seen them over the past year will attest. with 'the snake', they deliver an adrenalin shot of passion straight to the heart, with songs that draw on anger and frustration as well as the life-affirming ardour that propels their music.
improbable recipients of the prestigious jazz in sweden 2008 prize, mariam and andreas used their winnings to record at the soundtrack of our lives-owned svenska grammofonstudion in gothenburg. vocals and drums were brilliantly recorded live to tape, and the spontaneity of the resulting album captures the intense bond between the couple, while expanding their sonic palette to include steel drum, piano, xylophone, marimba, rhodes and more. mariam's uninhibited vocal expressions are matched by the kinetic sparks
of andreas' percussion. 'chain of steel' has a racing rhythm that flares into yelps of vocal anguish, while the album's first single 'there is no light' channels the primeval spirit of rock'n'roll (and showcases andreas' breathtaking drumming style). 'the snake' is balanced by slower, more resonant pieces such as the slowly unfurling opener 'island' and the eastern-tinged 'so soft so pink'. the album culminates in 'my heart', a wonderfully uplifting seven minutes that blossom into a full-blown gospel anthem, and feature mariam's haunting, addictive refrain: "i'm lost without your rhythm". on the leaf label.
description from www.roughtrade.com