London-based electro-poppers Metronomy are currently on a world tour - here's what they got up to in Japan and New Zealand. Words by keyboard player Gabriel Stebbing.
---
THE BUTT STILL REMAINS
Japan, January 5th-8th
I'll give you one guess where we are. No, silly!  It's not the set of Blade Runner!  We're in Tokyo, Japan.  It's the start of our five-week world tour.  Exciting!  We stayed on the eighth floor of a hotel that overlooks the famous five-way pedestrian crossing that you sometimes see on videos of the city.  Usually the people walking across are sped up and it looks really exciting and futuristic.  When we saw them they were at regular speed. It wasn't too disappointing, it still looked cool. Now, for first-timers like us, arriving in Japan is a total mind-fuck, but the people are so friendly and polite, and try to alleviate your addled brain with nice thoughts like this:
---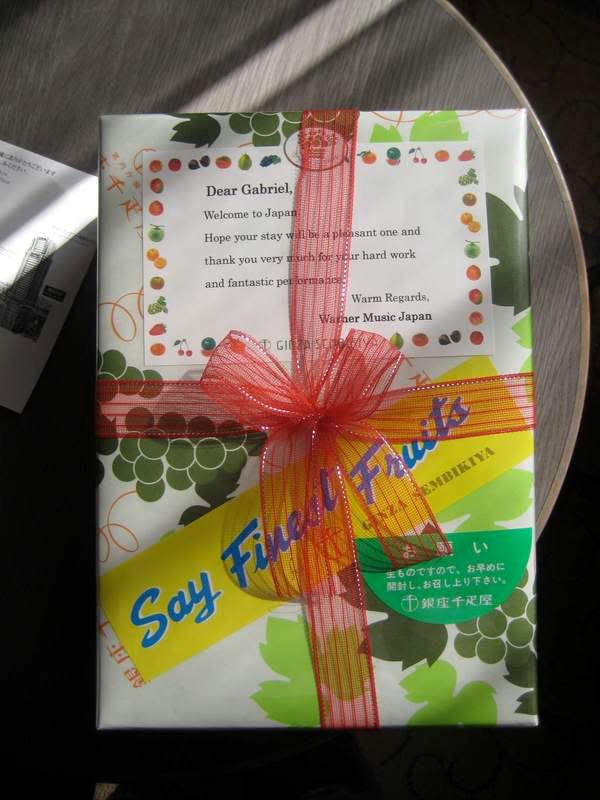 ---
This was waiting for me in my hotel room. It contained two individually wrapped bananas, a delicious clementine, and an apple and a kiwi fruit that I can only describe as being of nightmare proportions.  Huge.  You'll notice that they jumped the gun slightly when thanking me for the 'hard work and fantastic performance'.  Seeing how scrambled my brain was at that point, I could have just taken the fruit and bolted.
Despite the looming, neon-covered skyscrapers, multi-level highways, constant, blaring advertising and so on, it's the little differences that get you.  For instance, cleanliness really is taken very, very seriously.  Oscar is thinking he might name his emo band after this sign. In Japan we're lucky to be hooked up with some pretty next-level industry talent, who have managed to get our album out and about, and raised lots of interest in it.  We're with one of the biggest live promoters around.  They look after huge stadium acts but still found time to look after lil' ol' Metronomy real well.  The following night they had Ne-Yo coming through town – amazing!  We took the once in a lifetime opportunity to send him a personal message.
---
 

---
Ne-Yo, if you're reading this (which I know you are), we hope you enjoyed the CD!  Write us back!  You're welcome anytime for tea and nightmarish apples! It's not just the major labels and huge promoters who are important to us in Japan.  In fact, our best Japanese buddy is an amazing woman called Haruka, who has a record shop and café in Harajuku named Escalator Records.  If you're English and you like music you should drop by for a coffee and a delicious Japanese curry sometime – she'll make you feel right at home!
And so to the shows.  Everything they say about visiting Japan as a band is true.  There are fans waiting outside with presents (thanks, Ayumi!), the venues are super-clean, and the fans are super-attentive.  Our two shows were with Late Of The Pier and they were great fun. 
---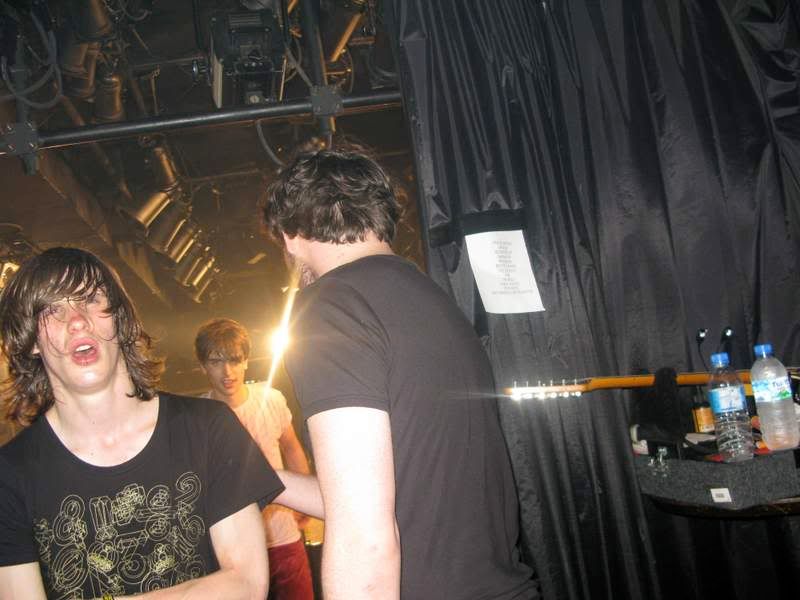 ---
There's only one place I know that makes Faley look like that. JAPAN. See you again soon!
---
AUCKLAND'S KNOBBLIEST KNEES
New Zealand, January 9th-13th
Hey hey folks! Welcome to Auckland's knobbliest knees competition - we are officially the Southern hemisphere's whitest, pastiest poms! Can you guess who's who?
---


---
I can see you're wondering why there are four sets of pale legs here - Metronomy are Joseph [Mount, singer/keys/guitar], Gabriel, Oscar [Cash, saxophone/keys] and... who? Have we got a 'touring drummer'? Nah! Too much chatback. Have we employed a comely merch girl to attract that extra tour lucre? No chance, we're not that smart. Instead, we've brought along Stephen, our manager. Stephen has been doing a great job of managing us from his private hotel rooms so far this tour, while we all share. Honestly, our career would probably collapse if he wasn't here to help us drink all the free beer. He'll be playing a bit-part role in these blogs over the coming weeks, I'm sure.
The shows in New Zealand were super-fun. Thankyou, people of Auckland and Wellington! We played both shows with our old friends The Teenagers, who were finishing up their year long world tour. It was an honour to play with them. Here they are with loads of hot girls on stage. They're good at making that happen. What are we doing wrong?
---


---
After the first show me and Joe DJed at a club and everyone had a chance to let their hair down. Song of the night? I would say 'Return Of The Mack' by Mark Morrison. Still underrated. We were lucky enough to have a couple of days off after the show, so we could explore. We had lunch in a fancy winery cafe on Waiheke Island. It's basically an otherworldy paradise. Jealous yet?
If that's not enough, it even had an olive grove with its own herd of Alpacas standing guard. Oscar thought he'd died and gone to heaven. If you ever get a chance, go and see the Alpacas roaming free over the South Downs near Glynde in Sussex. It's in Oscar's personal 1000 Things To Do Before You Die, along with 'updating your Myspace'. See you again soon! This time in Oz!