Hello and welcome to a new edition of DiS Does Singles.
You might recognise Easter weekend as a time for Jesus' death, delicious glazed buns, Jesus' resurrection and egg-shaped chocolate amazingness. According to the law of the Internet, it's also for releasing a deluge of new music. Some people are the worst.
Anyway, here's a torrent of new tracks from Tame Impala, The National and Desaparecidos. As well as a bracing Single of the Week by The Maccabees.
Single of the Week
The Maccabees
Marks To Prove It (Fiction)
Timing has never been The Maccabees' strong suit. In fact, they're actively terrible at getting their shit together.
It took the London quintet two years to transition from their debut single, 'X-Ray', to their 2007's Colour It In. By then, the lad-rock revival was in full swing and Klaxons were about to win the Mercury Prize. Now in 2015 Orlando, Felix and co have announced their return off the back of a Kasabian support stint.
"It's a year and a half late," Felix White recently said of the band's as yet untitled fourth album. This record has clearly been a struggle for them. Not that it shows.
'Marks To Prove It' is a reminder of everything you love about The Maccabees. It's slick, taut and frenetic, like a Devo song played in the style of Minor Threat. It ratchets through through coded lyrics and call and response riffing at a breakneck tempo.
"No one was lonely," simpers Orlando Weeks. "They just could not get hold of anybody."
In truth, this 'new Maccabees' isn't all that different from the band we've heard before. 'Marks To Prove It' is a step back from the expansive sound of Given To The Wild to something akin to Wall Of Arms mk.II. An irresistible force of staccato guitar has been fleshed out and fine-tuned. Perfected, if you will.
The wait for that first, truly great Maccabees album? It may well be over.
Best of the rest
Tame Impala
'Cause I'm A Man (Interscope)
"So I found these quaaludes. Maybe we should try them?"
It may not be a vintage chat up line, but you suspect it did okay in the 70s. Psychedelic lotharios have evolved since then though, and so Kevin Parker has created ''Cause I'm A Man' to celebrate his advanced seduction methods.
A shonky slice of groove-laden falsetto, the new track from Tame Impala's Currents is one blatant come on. Complete with orgasm noises and wah wah guitar, it's half tongue-in-cheek and I can only speculate where the rest of that muscle is. Naturally, Parker's having a blast.
"Cause I'm a man, woman/I'll never be as strong as you," he sings with audible glee.
It's hard to you blame him though. The dude's written a tune.
The National
Sunshine On My Back (4AD)
The National have a big choice to make when they go ahead and make Album Seven. Do they stick or twist?
As unlikely as the Brooklyn quintet are to tinker with their formula for wisened grandiosity, 'Sunshine On My Back' is a tad predictable. Originating from 2012's Trouble Will Find Me sessions, it sees Sharon Van Etten join the band for a bout of slowburn melancholy.
"Sunshine on my back is the only kind I like," opines Matt Berninger in his now traditional manner. "Sunshine in my brain is the lonely kind of pain."
It's a nice line for an outtake, even if you've sort of heard it before. Still, less of the same would be nice next time.
Beyoncé
Die With You (Sony Music)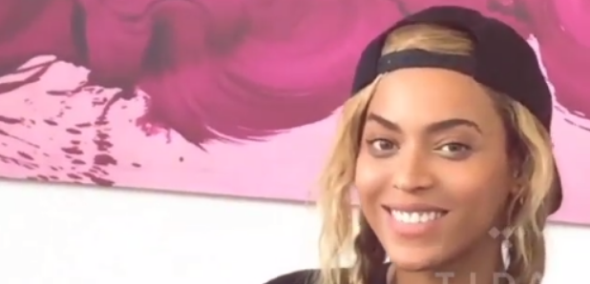 Tidal is a streaming service that features exclusive content from the world's biggest musicians, as well as a two-tier pricing plan that accounts for high quality (£9.99) and lossless audio (£19.99). That this was not at all well conveyed during its star-studded launch last week is the fault of Jay Z and his business partners. That illegal rips of Tidal's exclusive content have been deseminated via every major music site is the fault of excessively ad-driven journalism.
In short: the music industry's fucked and Beyoncé 's got a new song out.
Desaparecidos
City On A Hill (Epitaph Records)
Miracles do happen. Conor Oberst's Desaparecidos officially reunited for a benefit concert in 2010, came to the UK for the first time ever in 2012 (thanks to a DiS-inspired campaign) and they've just announced a new album, Payola out in June. Now that's what I call a resurrection.
Morrissey
Kiss Me A Lot
Having apparently cancelled his contract with Harvest Records over the lack of a video for 'World Peace Is None Of Your Business', you might wonder what audiovisual magic Moz would conjure up for 'Kiss Me A Lot' - arguably the best song on his 10th solo album. Don't, you'll only end up disappointed.
Carly Rae Jepsen
All That (Universal Music)
The first Carly Rae Jepsen song that could be conceivably described as a sex jam. Of course Dev Hynes is involved.
Lyric of the week
MNDR
Lock & Load feat. Killer Mike (Mass Appeal Records)
"Shit's fucked up said the cards of the Tarot / Now you know my DNA match with the Pharoah / I exact revenge at the end of a barrel."