Each year, DiS celebrates Listmas by presenting our staff's favourite songs, our ​​albums of the year and various other lists. We also love to get musicians involved, and in our annual audit of artists we've once again found that some of the artists we love the most are listening to some things we adore too.
Read on to find out what members of Chvrches (pictured, above), Hookworms, The Twilight Sad, Pulled Apart by Horses, and lots more adored in 2014.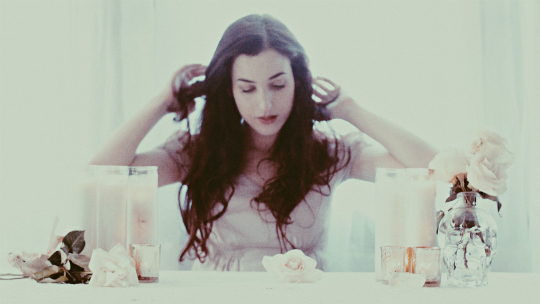 MARISSA NADLER
What was your favourite album released this year?
Sun Kil Moon - Benji
I really admire Mark Kozelek's increasing ability to turn the unglamorous and often depressing minutia of everyday life into song. I've been a long time fan of his, but this record is an intense and stunning listen. These sad details of small town America, trips to Panera bread, and several tragic deaths- he's taken these things and created an album that's a window into the life of a man. I'm not going to let the annoying bullshit internet feud color the fact that Kozelek has taken some leaps and bounds as a songwriter. As I have moved off writing fiction, Kozelek's writing style really inspires me.
Which album not-released-in-2014 have you loved this year?
Grouper
Pretty much the entire Grouper discography, including the new album which is new this year. I'm just getting into her though she's been making records for a long time, and I'm loving her.
What was your favourite song of the year?
Angel Olsen- Windows.
I think that this song is as good a representation of someone's depression as Lar's Van Trier's Melancholia. I can really relate to this song, both as the person singing it and also as the person she's singing about.
The vocals are just so insanely gorgeous on it.
Honourable Mentions: Clara Rockmore's theramin recordings. I actually made a Halloween playlist that on spotify that has a lot of her and some other soundtrack stuff that I've been really into.
THE ANCHORESS
What was your favourite album of 2014?
Sharon Van Etten - Are We There
After falling in love with Tramp when it was released, this album really didn't grab me on the first few listens but then after returning to it a few months later, it grabbed me round the throat and didn't let go. It's just one brutal, beautiful confessional after another. I can't get enough of her voice. And there's a song about shitting in someone's bathroom - which is an essential ingredient for anyone's album of the year, don't you think?
...and what non-2014 releases have you been enjoying?
Harry Nilsson / Simple Minds
I've been listening to the Simple Minds' back catalogue for the first time as I'll be touring with them for four months next year in Europe and the UK. I've fallen head over heels with Life In A Day. I've also been listening to lots of Harry Nilsson. When I'm older I want to be just like Nilsson. But without the alcoholism. Or the beard.
...and your song of the year?
'Shake It Off' by Taylor Swift
Anyone else who says anything different is just plain lying.
WHITE HINTERLAND
What was your favourite album released this year?
Lizzo - Lizzobangers
The record I've listened to the most is Lizzo's LIZZOBANGERS. At first I thought maybe it had come out last year because all of the ear worms feel like they've lived inside my head so much longer. Lizzo is a lot of things (she made a cameo on Prince's newest LP PlectrumElectrum). She nails the Minneapolis sound. She's fast on her feet and wild and has charisma for days. It's an immediately enjoyable listen without diluting the real-talk-lyrics.
Lizzo takes on a lot of frustrating bullshit going on in our industry right now: sexism, racism, making the art you want to make. fear-driven marketing. What's more, it's really fun music to listen to. I've found so many uses for it. When someone sends a negative email I didn't enjoy reading. When I'm running/lifting weights. When I wanna dance on the bed of my hotel room by myself. When a girlfriend of mine is feeling down. When I want to get the party started. The beat and verses on "Batches & Cookies" make it a total classic. Best of all, this is just the beginning. I can't wait to see where Lizzo takes us next.
...and something older?
Matthew E. White - Big Inner
I have been jamming really hard on Matthew E. White's release from last year, Big Inner. It's go theist otherworldly near-psychedelic production technique and I am impressed with the overall caliber of work coming out of SpaceBomb Record's catalogue these days. The bass on "Signature Move" has the chocolate fuzziness I'll forever try to replicate in my own studio. Great songwriting, too.
If you'll allow me to cheat, I've also been revisiting the wonderfully spacey Ray of Light by Madonna. Some of her best work on that one.
Your favourite song of 2014 was...?
Chandelier by SIA
That Sia record was something special and I listened to that a ton. I know everyone loved "Chandelier" but my favorite song of hers was "Free The Animal." It's got a zillion hooks in its DNA and the lyrics/vocals are a wonder.
Honourable mentions: Nat Baldwin's excellent "In The Hollows.", Olga Bell's magnificent Krai, Emily Reo's Olive Juice, and Son Lux's Lantern's (technically last years, although I also love their EP "Alternate Worlds" too).
THE TWILIGHT SAD
Choices from James Alexander Graham.
What was your favourite album of the year?
Perfume Genius - Too Bright
I can honestly say i'm quite ashamed of myself for having not listened to any of Perfume Genius's previous records before "Too Bright". I was on my computer one day and i saw the video for "Queen", i instantly thought that this video is both brilliant and bonkers (don't think i've ever used the word bonkers before, It rhymed so fuck it). I instantly loved the song as well, it was brave and out there. After hearing it i went out and bought his previous records. I love that "Too Bright" still has some of the songs with just him and the piano plus the songs like "Queen" "The Grid". I love "Adrian Utley's production on the record.
...and something older?
Mogwai - Les Revenants
I think by now everyone who knows our band knows that Mogwai are one of my favourite bands. I've been listening to the "Les Revenants" soundtrack a lot on tour. I think its up there with some of their best work. I really enjoyed "The Returned" but don't think it would be half as good without this score.
...song of the year?
Sharon Van Etten - Your Love Is Killing Me
I got into Sharon Van Etten on her last record "Tramp". It wasn't a record that i loved right away, it actually took about 6 months for it to click with me and once it did i was hooked. It just shows you that you shouldn't judge a record on 1st, 2nd or even 5th listen. Some things take time to sink in. I think this song was the first song released from the record. I heard it and knew the record was going to be special which it was. I haven't had the chance to see her perform yet, she was on at the same time as us at Primavera and we've been on tour when she's played in a town near to where we live.
Honourable mention: Angel Olsen - Burn Your Fire For No Witness: This is also one of my favourite records this year. I love her voice.
Lauren Mayberry of CHVRCHES
What was your album of the year?
The Voyager by Jenny Lewis.
I am a life long Lewis fan - Rilo Kiley, her collaborations with The Watson Twins and Jonathan Rice and her solo work - so was really excited about this latest record. Although it's classic Jenny in many ways (the lyrical narratives, the simple and sparse instrumentation), I think it showed definite growth and she can always write a line that will break my heart.
"By the time I got your letter I had lost my mind... When you're getting better it's a jagged line." - The Voyager.
...and some non-2014 you've been loving?
Exile In Guyville by Liz Phair.
This album was a staple for me during my teenage years but I hadn't listened to it in a long time. I think it was and remains a really brave record, and Phair was one of the writers that taught me it was OK to write about being angry, sad, disappointed or anything else seemingly 'negative' which young girls are taught aren't desirable traits. This album is so lyrically raw and unsettling at times, but it's honest and, for me, honesty in writing is a really important part.
Song of the year?
'Kids in Heat' by Hannah Lou Clark
I am currently loving the Silent Type EP by Hannah Lou Clark, especially Kids In Heat. It taps into a lot of music that I like but is also lyrically really interesting and evocative.
Honourable mentions: The Glasgow band United Fruit have been doing some interesting stuff this year, and we're all excited to hear the new album by electronic musician The Range which is due out next year I think.
MB from HOOKWORMS
Album of the year?
Virginia Wing - Measures of Joy
I was originally introduced to Virginia Wing by Dan Reeves of Cold Pumas/Soft Walls and Faux Discx. Dan released their first 12" EP, and I bought it on a whim off the back of the great artwork, and knowing that I usually love anything with a Faux Discx logo on it. I had no concept of who the band were, but it turned out that the beautiful vocals on the EP were provided by Merida, who's old band La La Vasquez I'd played with a bunch of times in the past. I adored the EP, and put Virginia Wing on in Leeds at the very start of 2014, and subsequently spent the rest of the year eagerly waiting for this LP to drop. I was convinced that they had successfully picked up where one of my favourite bands Broadcast had sadly left off. It was obvious when I finally got round to hearing this album that they had completely shed that tag and become something altogether unique, despite retaining a bit of that similar Radiophonic magic. Though I agree with some of the other references in the press release (Can, Faust, This Heat), they've managed to create their own little alien world on Measures of Joy. There's a distinct darkness on this record compared the lighter, more sunshine-y EP. There are these wonderful little explosions of noise and melody littered about, and the attention to detail on each individual component is beautiful. It has to be one of the most sonically rewarding albums to cross my path in years; the drum sound is spot on, and every time I listen I discover new layers of synthesizer or backing vocals that I hadn't noticed before. It's one of those records that makes me jealous that I wasn't involved, I'd have loved to have sat in on the recording sessions so I knew which synths and patches were making which sounds. The vast progression between the EP and this album leaves me so excited for what they're going to do next. It's great to see places like Norman Records and Loud & Quiet already picking up on the oddball genius of this record in their end of year lists.
...and something older?
This is slightly hypocritical as I have my fair share of issues with the way that Record Store Day has mutated over the last 4 or 5 years, but this year it allowed me to finally get my hands on a vinyl copy of one of my favourites albums: Any Other City by Life Without Buildings, which has long been out of press. That record was really special to me about 7 or 8 years ago, so it's been nice to rediscover it and fall in love all over again. Definitely my favourite reissue of the year.
Song of the year?
Drake and Kanye have had a quiet 2014, so this is a difficult one. Maybe the first track on the new Total Control album that sounds like Devo? I'm rubbish with track names, sorry.
Honourable mentions: This might come across as unnecessary back-patting, but we're so lucky to be friends and acquaintances with a lot of a very talented musicians, and I realised when I was trying to compile my favourite records of the year that the large majority of them were albums either played on or released by buddies of ours. Fuck it, these are all better than most of the stuff I've seen in end of year lists so far:
Mazes - Wooden Aquarium
Ultimate Painting - Ultimate Painting
Monotony - Monotony
Sex Hands - Pleh
Soft Walls - No Time
Kogumaza ­ Kолокол
Eagulls - Eagulls
Broken Arm - Life is Short
Teardrop Factory - Thrash in the Heart
The Wharves - At Bay
AIDAN MOFFAT
Album of the year?
Mica Levi - Under The Skin
Mississippi Records released a great calypso compilation called My Intention Is War this year, which I've been playing a lot – I love the sound of those old calypso and mento recordings – but I think my favourite album might be Mica Levi's Under The Skin soundtrack. It's such a sinister and seductive sound, and while it's integral to the success of the film and not easy to separate from it at first, several months on I've found myself listening to it as an album and really loving it on its own. It's probably not the album I've listened to most – you need the right conditions and right frame of mind to get into it – but it definitely made a big impression on me, and it's been floating round my mind all year.
...and something older?
Michael Nyman - Drowning by Numbers
I've spent most of this year listening to Michael Nyman and reacquainting myself with all the old soundtracks I loved as a teenager. My favourite's always been Drowning By Numbers, but A Zed And Two Noughts comes close, and his first album with the Nyman Band is brilliant. I've discovered stuff that passed me by at the time too – the Water Dances are new to me, and I love them. I'm useless at describing music, but Nyman makes some of the most beautifully plangent and exhilaratingly joyous sounds I've heard, quite often all at once. Sad and joyful, always beautiful and sometimes slightly mental – sounds like life to me.
Song of the year?
'Shake It Off' by Taylor Swift
The last thing I expected from 2014 was to end it loving Taylor Swift, but that's what's happened. Her 1989 album's great – I think I probably enjoy it so much because of its 80s references – and I think she's a good role model for young girls. But I didn't really know much about her – or even want to know much – until I heard her Shake It Off single. I don't quite know why, but there's something about that single and its video that clicked for me right away. Again, maybe it's that 80s, Toni Basil feel, but I like her lyrics too, and the video's good fun, and there's a lack of cynicism in what she does that's really refreshing. So aye, I could give you a cooler and cleverer answer, but I'd be kidding myself if I said anything other than Shake It Off was my favourite single of 2014.
Honourable mentions: It came out a long time ago, but I was having a clear-out the other day and found an old CD by Kevin Purvis. I first heard it on an Arab Strap tour in the US when our tour manager played it to us, and it pretty much stayed on in the bus for the rest of tour. He was a bit of a drifter, apparently, and the album was recorded on three mics in an empty old house before he disappeared for a while. The album came out in 2000 on Massive Distribution, who made free CDs to pass around before file-sharing was such an everyday thing, and now it's available free online. It's a very raw and genuine recording by someone who clearly has his demons – not always easy listening, but very affecting. You can listen to it and download it here.
SKY LARKIN / WILD BEASTS
Chosen by Katie Harkin.
Album of the year?
Cloud Nothings - Here and Nowhere Else
I saw Cloud Nothings perform Here and Nowhere Else in full in January when New York was in the grip of the Polar Vortex. I'm used to traveling in a pack, but I was on my own in the city for the first time, and coming in from the cold to their cohesive chaos was just what I needed to warm up.
...and a not-2014 album?
Killer Mike - R.A.P. Music
Both Run The Jewels records are ace, but nothing that anyone has released has knocked Killer Mike's 2012 solo record R.A.P. Music off the top of my pops yet. He speaks, you listen.
Song of the year?
Queen by Perfume Genius
I, like everyone, couldn't get enough of Sia's Chandelier (that vocal performance is such a showstopper), but Perfume Genius performing Queen on Letterman was my favourite pop culture moment this year, and a wonderful song.
Honourable mentions: I'm definitely biased as I spent 20 months of my life touring with those bonny bruisers, but Wild Beasts' Palace has been my most rewound tune this year. A single spin has never sufficed. You just try it. http://m.youtube.com/watch?v=nm8leHA_QdQ
POLLY SCATTERGOOD
Album of the year?
Perfume Genius - Too Bright
The first image that comes into my head when listening to this album is that of a ballerina. It is very beautiful and delicate at times it feels as if it is made of glass- with one awkwardly timed twist or turn it could shatter completely but behind the fragility there is this wave of muscle and emotion that is achingly intense, brave and strong. The album is filled with unexpected edges, movements, layers and textures contorting and stretching towards something new exciting and times painfully intense.
Listening to "I'm a mother" just pulled me into this airless room then I was spat out into a kaleidoscope of blurred lights at 3am in soho listening to "Longpig". I walked along the motorway as the cars flew passed listening to "Grid". Then I woke up in a poppy field listening to "Queen" Covered in glitter, I walked home at sunrise whilst listening to I decline.
This album has captured a little part of my imagination that I think I forgot about. It reminded me of why I love music and it was my favourite album of 2014
...and something not from this year?
Jefferson Airplane - Surrealistic Pillow
First released in 1967, it seems I stumbled across this album 50 years after everyone else. It still sounds amazing. A friend played me 'White Rabbit' one evening after a writing session. It just blew my mind, I am not sure how I lived without this song in my life for so long. It makes me feel free, it is the ultimate festival album. I defy anyone to feel sad when listening to 'Somebody to love' or 'She has funny Cars' its a trippy psyched out adventure from start to finish!
Song of 2014?
Water Fountain by Tune-Yards.
Wonderfully weird and totally mesmerizing - genius.
"Nothing feels like dying like the drying of my skin and lawn
Why do we just sit here while they watch us wither til we're gone"
Spotify
My best of 2014 spotify playlist.
---
Tara Busch of I Speak Machine
Album of the year?
Gazelle Twin's - Unflesh
It is so many things at once...frightful yet beautiful, self deprecating yet fiercely confident. Technically it is glorious as well, completely unique. Vicious digital grit and sensual analog sorcery meet her spotless voice, processed at times and at others a sweet, sorrowful, magical soprano. Also it is a beautiful, harrowing journey to listen to, a complete thought, her story that feels deeply personal - not just a random collection of songs strung together. It is complete sonic nutrition to me!
...and something pre-2014?
UTOPIA Soundtrack
Without a doubt, Cristobal Tapia De Veer's soundtrack to the TV show UTOPIA. As with Gazelle Twin, it's totally unique, moving, horrifying, disturbing and mind bendingly beautiful. It was a real game changer for me, more so than any other album in the past 20 years really. It inspired me (and very much humbled me!) to stop everything, start over, re-evaluate and push harder & dig deeper in my writing. The show is incredible too. Just a perfect piece of work.
Songs of the year?
'Belly of the Beast' by Gazelle Twin
All I can say is I blushed when I heard it. I never, ever blush. I also felt really, really jealous. Which is a great, really.
Honourable mentions: The re-score of the Texas Chainsaw Massacre by Umberto & Antoni Maiovvi that Death Waltz Records released. Starry Eyes score by Jonathan Snipes. The Babadook score by Jed Kurzel. Gone Girl score by Trent Reznor & Atticus Ross (particularly the piece "Consummation"). The Acid, Liminal. Arca, Xen... I know I'm forgetting a bunch! Oh dear.
SCHOOL OF SEVEN BELLS
Chosen by Alejandra Deheza.
Album of the yer?
Run the Jewels 2
Prismanically psychedelic from the production to the lyrics. Everyday situations are rebuilt in mantras that stack one after the other to create a hyper lucid human spilling sex and personal revelations and friction. The swagger is tower of babel tall. Hearing two lyricists with two kaleidoscopes that mesh so geniusly together is so rare and makes these songs impossible to hear the same way twice. I've been listening to it nonstop. Didn't think anything could compare to the first one. I was wrong
...and something older?
Alan Vega - Saturn Strip
The video for Wipeout Beat says it all. Dude is a giant.
...song of the year?
Run the Jewels
Close Your Eyes (And Count to Fuck) feat. Zach De La Rocha
Angela Won-Yin Mak of Parlour & PROM
Chad VanGaalen - Shrink Dust
I didn't really fall in love with any album this year sadly. I liked Aphex Twin, Angel Olsen, Ty Segall, Mac DeMarco, but I'm sure a bunch of people will talk about those, so how about: Chad VanGaalen, Shrink Dust: I like how this album feels straight forward but hides inside it lots of weirdness in its sound, arrangement and lyric imagery. So its really nice to listen to, but theres still odd bits that pop up and keep you guessing. He's also a producer (including the two Women albums a while back), illustrator, animator and puts together his own instruments. Its just nice hanging about in his brain for 42 mins or so.
...and something older?
Arab on Radar - Soak the Saddle (2000)
This just came into my life and immediately ticked all my boxes! It's incredibly raw, noisy, vicious, repetitive, and ridiculous. I really like it when an album feel focused on a specific thing to explore and commits to it, rather than trying to be an something-or-everyone kind of thing. Fun fact (well, for me anyway): it was recorded at a studio/venue called the Parlour!
...song of the year?
'Lawman' by Girl Band
These guys are hands down my favourite current band. This song just cuts through so much other stuff lurking around at the moment. They have their own way of playing their instruments and making their noise, and its a beast of a noise! And yet its totally under their control, meticulously detailed and timed and just really classy. And they have nailed live too. Can't wait for their album in the new year.
James Brown Pulled Apart By Horses
Album of the year?
The Twilight Sad - Nobody Wants To Be Here and Nobody Wants to Leave.
I'd been waiting for these miserable Glaswegians to release a new record as I'd listened to all their previous stuff to death last year. When I heard the first track that was revealed from the album I knew this was gonna be a special record. It's been my companion throughout the autumn and into the winter and it gets better with every play. Incredible step forward for the band. Oh, they're not miserable people in the slightest btw!
...and something older?
Atoms For Peace - AMOK
I've been constantly going back to this record every month since its release. It feels like the sequel to 'The Eraser' by Thom Yorke to me and even more so now since his latest solo album. It's really well constructed sonically and is stood on a thin line of guitars with a shit load of programmed beats and synths waiting beneath the tight rope.
...song of 2014?
Interpol - My Blue Supreme
'Elpintor' is my second favourite record of the year and this track instantly took a hold of me from the very first listen. It feels like the Interpol I used to know and who I grew up with. This track has so much feeling in its lyrics and reminds of when I used to idolise my icons as a kid.
Honourable mentions: Weak Messages Create Bad Situations: A Manifesto by David Shrigley - I'm a huge fan of the artist David Shrigley and this is one of his greatest books to date for me. His observations of our world in this new piece of work will have you in stitches for days on end if not weeks, I promise!
worriedaboutsatan & GHOSTING SEASON
Choices by Gavin Miller.
What was your favourite album released this year?
HTRK - Psychic 9-5 Club
I think it has to be HTRK's 'Psychic 9-5 Club'. I didn't really know much about them before I heard the record, and I'm not really sure why I decided to give it a spin, but I'm really glad I did. I love records that have an overall feel, or a similar atmosphere through the whole thing - albums that sound like albums, rather than just a bunch of songs, and this record does that so well. It's really melancholic and dreamy, which is something you don't find often in electronic music - people often get quite ham fisted with emotion, so kinda blow it. This was spot on, though.
...and something older?
Genesis
As a lover of all things prog, I decided to delve into Genesis' back catalogue this year. The Gabriel era is something I'd only really read about, so wondered why it'd taken me so long to actually listen to it. Probably all those Yes double albums and Can boxsets taking up all my time. Anyway, 'Selling England By The Pound' is an absolutely amazing record. Phil Collins' drums sound fucking amazing too.
...favourite song of the year?
Sexcercise by Kylie Minogue
Haha, oh god I've no idea. I did have a thing for Kylie's 'Sexercise' though, if only for the fact there's a song with a title as daft as Sexercise. It does have a strangely melancholic chord progression though, which was pretty weird to hear in a top 40 song, and one which is called Sexercise. Amazing production on it as well, and pretty snappy at 2:48, so kinda the most perfect pop song. Spotify
Honourable mentions: I've probably missed a load of amazing records off that, but nevertheless, here's a few records I thought coulda deserved much more fanfare. Calla's 'Navigator' in particular - I know I'm biased, but how this band keep getting ignored is beyond me. Some of the most affecting music you're ever likely to hear. Also albums from Seekae, Pink Floyd (which wasn't the disaster I thought it would be), Ian William Craig, and Run The Jewels alongside our old pal Almeeva. Enjoy!
FEMME
What was your favourite album released this year?
Jungle - Jungle
I'm not sure if it's my favourite or just the one I seem to have listened to the most. Jungle - Jungle. It just seems to work in every scenario, headphones on, in the background or pumping out of a loud PA. I also fell head over heels in love with FKA Twigs this year so LP1 would be a close second. Spotify it.
...and something older?
Michael Jackson
The Essential Michael Jackson. There's never not a good time to play this collection. He was an alien for sure and I lose hours at a time watching videos of him on youtube. Strange man, incredible music. Spotify it.
...your favourite song of the year?
Youth by Ben Khan
I only very recently discovered this tune, Youth by Ben Khan. I don't know where I was when this was released 8 months ago or if it kind of went under the radar but I'm in. All in. It's the tune I put on when I want to dance around my room with a hairbrush in hand. I'm looking forward to hearing what he does in 2015. Spotify it.
Honourable mentions: Hands down Nao released one of the best new EPs of 2014, 'So Good'. If you've not listened to it you should do so right now. I add all the new tunes I'm listening to into my FEMME WURLD playlist on Spotify. There's loads of gems in here. Grooves for days. Kelela, Tirzah, Chela, FTSE, Fannypack... so many great tunes that i love to listen to: Subscribe to the playlist on Spotify here.
In part 2, contributions from Frightened Rabbit, Kaiser Chiefs, Ben Frost, Feeder, My Vitriol, and more...