We're back! Thanks for tuning into the latest DiS Does Singles, featuring a brand new Caribou song. 'Our Love' is out right this second and it's a fully deserving Single of the Week.
Since we've been on holiday for the past fortnight, this week's column collates some tracks we've missed as well as the usual musical highlights from the past seven days. That means Merchandise have another future indie-disco staple for you, Deptford Goth is living up to his name again and Röyksopp & Robyn have made a video for our favourite song off their mini-album. You'll also find fresh cuts from Sophie, Michael Cera, Kindness and Tennis below.
Did you miss us? No. Wait. Don't answer that.
Single of the Week
Caribou
Our Love (City Slang)
Dan Snaith is on the wrong side of his 30s and, right now, he's the most exciting name in dance music. That's a totally inspiring thing.
According to the pop culture rule book, your teenage years are for getting drunk and underachieving, your twenties are a mad scramble to atone for those mistakes, and everything that comes after is a long, slow decline. This gives you a solid 10 years to change the world and ruin your hairline while trying. Given the choice, I'd rather keep my quiff intact. Dan Snaith makes me feel like I shouldn't fret about it - everything will work out eventually.
To underline just how huge his Caribou moniker is right now, it's worth noting that 'Can't Do Without You' has almost a million and a half Soundcloud plays. To get any bigger than that you basically have to be Drake or Beyoncé. This seems unlikely for a guy who wears thick-rimmed specs and eulogises about fruit baskets in interviews.
So where does that leave 'Our Love'? The title track from Caribou's fourth record is symbolic of the album as whole, taking Swim's concept of fluidity and stretching it out into new realms of childlike delight. A soft, undulating bassline holds the song together while Snaith drapes all manner of effects over it, building up and deconstructing the track as though it's made of Lego blocks.
Of course, you can flirt with an Owen Pallett string sample before diving into a deep house breakdown. What could be easier?
This is where 'Our Love' holds its two wisened fingers up to convention. The more LPs you make, the more set in your ways you're supposed to be. If Neil Armstrong can walk on the moon at 38, then straddling techno, psychedelia and several more hip-jiggling genres in the space of one track is totally achievable. All you need is the ambition to keep leaping forwards.
I may never make it as an astronaut but, when I do grow up, I'd love to be like Dan Snaith.
Rob Leedham, aged 25
Best of the rest
Merchandise
Green Lady (4AD)
We've had the Merchandise album for some time now and it has been a real struggle to stretch beyond 'Green Lady'. Featuring the best woodblock to electric guitar transition of 2014, this preening ballad is a song to top even 'Time'. And we don't make that statement lightly.
An anthem in the truest sense of the word, its glacial drift from verse to chorus is something you want to cling onto and claim as your own. After 'Little Killer' and 'Enemy', Carson Cox seems less of an 80s alt-pop revivalist and more of a figurehead. The reference points of Echo & The Bunnymen and The Cure remain but 'Green Lady' stands up to such comparisons. You've never heard Cox croon as he does on the song's chorus, traversing from a bassy growl to his upper register like a dive bar Sinatra. Listen closely and you can hear him sway under neon lights in a Top Of The Pops rerun.
That doesn't mean Merchandise sound old here. They sound classic, and there is a difference. You'll know it when After The End hits record stores next week, or if you stream it right now. Assuming you can edge past track four.
Deptford Goth
The Lovers (37 Adventures)
There are several things you should know about Deptford Goth. His real name is Daniel Woolhouse, his debut album was called Life After Defo and you can accurately describe what he sounds like in a venn diagram: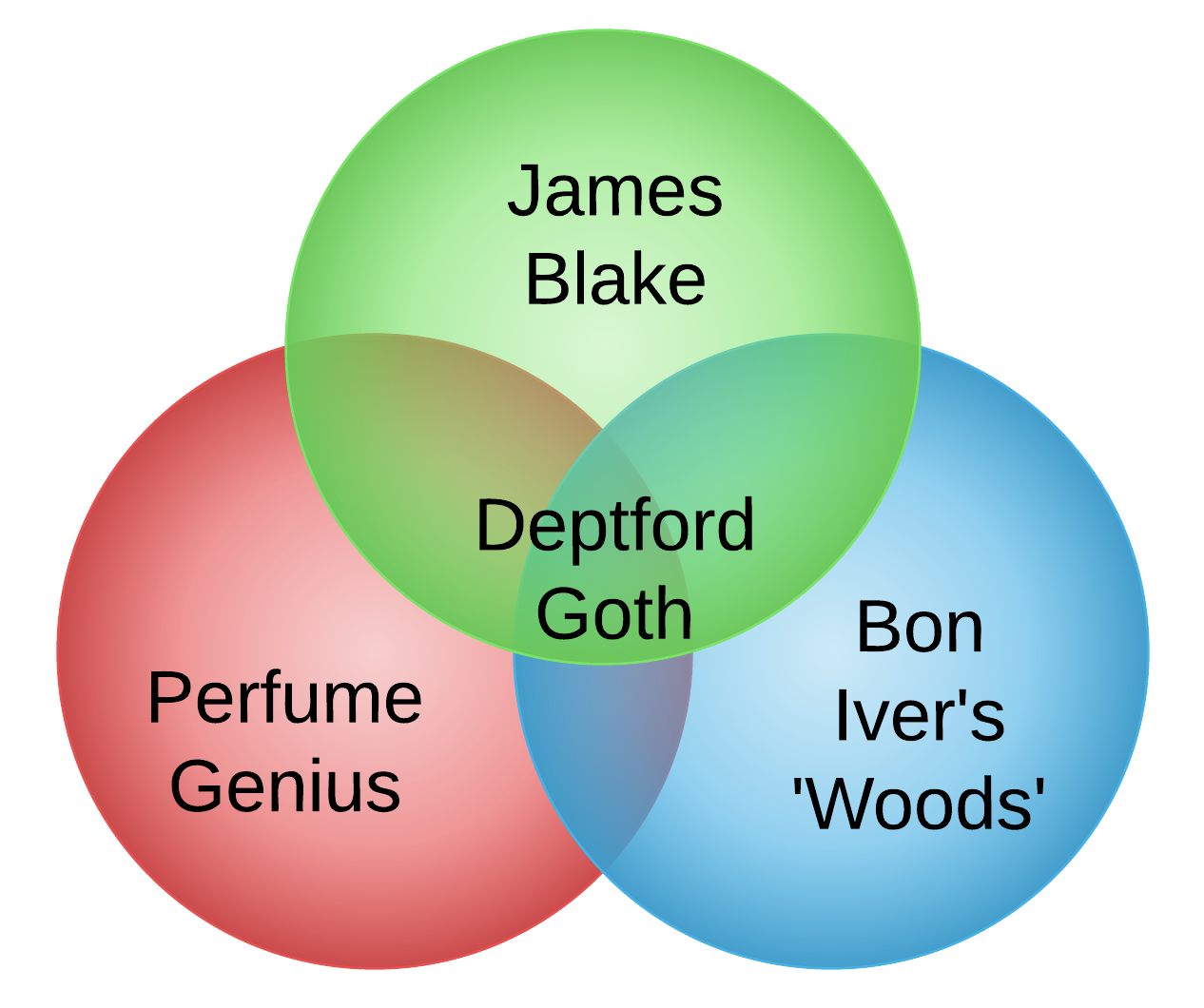 The message? If you enjoy white blokes playing morbid electronica then 'The Lovers' won't disappoint. Accordingly, the first taste of Woolhouse's second album, Songs, blends a trudging synth line with uneasy imagery to give you all sorts of shivers, "I'm my mother / I'm my father / One position is another." It's chicken soup for bruised souls.
Röyksopp & Robyn
Monument (Dog Triumph)
Robyn and Röyksopp's mini-album is one of those projects that must have first appealed to three people in the entire universe i.e. the Scandinavian trio themselves. Fittingly, they've taken that idea to heart in the video for 'Monument', which is set in the same space-time continuum from which the mullet originated.
Here the band sit on a plateau of light that separates them from existential darkness, and crawl around their surroundings as though they're on temazepam. The whole clip is absolutely stunning and just bonkers as any song that climaxes in a louche saxophone solo. Credit where it's due, we're glad Robyn didn't skip straight to the 'Dancing On My Own' sequel.
Sophie
Lemonade(Numbers)
Liam Gallagher walks into the Tate Modern. In front of him stands a wall of 194 paintings by Yves Klein. Inside each beautiful, gold encrusted frame is the same image: a monochrome wash of cobalt blue.
"What the fook is this?" Liam barks at the nearest gallery attendant, gesticulating wildly through the sleeves of his Pretty Green parka.
"This is International Klein Blue, sir," replies the attendant. "It's Mr Klein's life's work."
"But it's all the same shade of fookin' bullshit," spits back Liam.
"No lad," pipes up Damon Albarn. "You're just looking at it wrong."
"Klein refined his paintings as he got older. Each image is an improved way of representing that one perfect hue."
"Like an Oasis record?" replies Liam.
"Not like that, our kid," explains Noel Gallagher. "Ya daft coont."
"Our band started out great and peaked in 1996. Klein's early works are uneven and distinctive in texture, but his later stuff… Can't you see? They're flawless."
"All I see is fookin' blue," Liam shouts back. "Blue here. Blue there. Blue fookin' everywhere.
"You lot are the same as Dave fookin' Sitek. TV On The Fookin' Radio? I can't even find Talk Sport on my fookin' Sky+ box."
"Sorry I'm late Liam," pants Andy Bell. "It's great this, isn't it? You wanna head round the rest of the place?"
"No I fookin' don't," replies Liam. "I'm fookin' off home."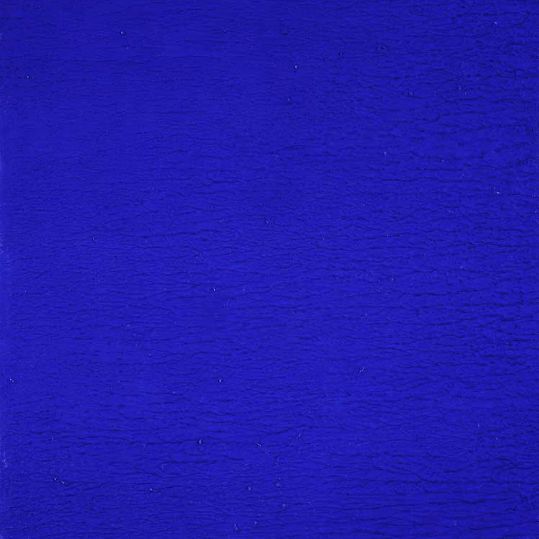 Michael Cera
Steady Now (Bandcamp)
Michael Cera's solo album is the best demo collection we've heard since Jai Paul's album, and that's sort of a compliment. The Scott Pilgrim vs the World star specialises in goofy folk sketches that don't really go anywhere but are pleasant enough for their brief existence. 'Steady Now' is the album's highlight, so naturally it sees Cera command his would-be beau to, "Take your clothes off and jump into bed."
Enjoy that image while it lingers in your imagination.
Kindness
World Restart (feat. Kelela and Ade) (Female Energy)
It's no surprise that Dev Hynes worked on the new Kindness album, he also specialises in songs that the internet loves and no one actually buys. 'World Restart' is a ponderous brass-pop jam that could easily lose at least a minute and a half of its smug running time. Once you've based a song around a horn section, common sense is already a distant concept - not everyone can be St. Vincent.
Tennis
I'm Callin' (Communion)
Indie sex jams: because gangly folk can get down with it too.
Also released this week
A J Ellis - Imambard (self-released) Basement Jaxx - Never Say Never (Atlantic Jaxx / PIAS) Bombay Bicycle Club - Come To (Island Records) Dumb - Chew Me Up, Spit Me Out EP (Tip Top/One Beat) Gravity Ghost - Heartbeats (Rewind) (Artillery Records) James Yorkston – Great Ghosts (feat. KT Tunstall) (Domino) Kasper Bjørke - TNR (feat. Jaakko Eino Kalevi) (HFN Music) Remi - XTC Party (House of Beige) Ruu Campbell - Crossroads (self-released) Southern - Where I Want To Be (Marathon Artists) Sylvan Esso - Hey Mami (Partisan Records) Teleman - Skeleton Dance (Moshi Moshi) The 2 Bears - Money Man (Southern Fried) The Kut - Make Up EP (Criminal Records) The Magic Numbers - E.N.D. (Caroline International) The Ting Tings - Wrong Club (FINCA/PIAS) Turan - Persistence of Memory (TRIBE Records) Wild Smiles - Never Wanted This (Sunday Best Recordings) Zoot Woman - Don't Tear Yourself Apart (Embassy One)