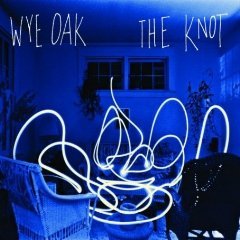 ---
---
Staff Reviews

Although it falls a few steps shy of wowing unreservedly, Wye Oak's second LP remains a poised and compelling listen. Most encouragingly, it points towards a promising and sure-to-be-interesting future from its makers; one where light and darkness grapple over a sonically engaging, muscular backdrop.»
---
---
Buy now from:
Andy Stack and Jenn Wasner spent much of the first WYE OAK record, If Children, submerging
their songs of youthful love and dread in a distortion haze, but the band's new record, The Knot,
starts with a bell. From the first, clarion-clear note, WYE OAK's collective vision is sharpened on The
Knot, a set of songs that sway, stretch, and scream while always reaching outward for personal
connection.
As ever, Stack's production layers his own multi-instrumental arrangements over Wasner's woozy
compositions, but musically, too, things sound more precise. There is perhaps less squalling feedback
than before, but lingering violin and pedal steel bring out the droning Americana that has always
informed WYE OAK's sound. Throughout The Knot, Wasner's lyrics explore the metaphorical
possibilities of the album's title, assessing the ways, voluntary and otherwise, that our ties to other
people define our experiences. The Knot encompasses romantic possibility as well as unromantic
obligation.
WYE OAK started as two friends recording songwriting demos together, but their basement project
has since evolved to include tours of America and Europe, and a home on legendary label Merge
Records (America) as well as aspiring European label Affairs Of The Heart. The Knot reflects that
burgeoning confidence and comfort while maintaining the intimacy and emotional directness that are
the band's hallmarks. Only good things can come of a band this curious, honest, and oblivious to
current trends. Pay attention.
Cat. #: HUG009, Indigo CD 930912
EAN: 4047179309127
Release Date: August 28, 2009 (Europe)
August 31, 2009 (UK)
(From Label)