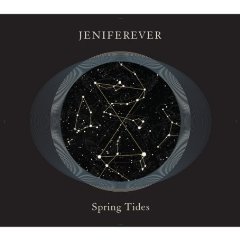 ---
---
Staff Reviews

Although more than a decade has passed since their initial formation, Jeniferever first came to prominence courtesy of 2006's Choose A Bright Morning, released by this very site's sister label...»
---
---
Buy now from:
/Rock-Pop/British / European

JENIFEREVER
spring tides
Release Date: Pre-Release
sweden's jeniferever release sophomore album 'spring tides' worldwide on monotreme records. monotreme records is very proud to be releasing 'spring tides', the second full-length album by jeniferever. jeniferever is a 4-piece band from uppsala, sweden. they have previously released 4 eps and one album since 2002, and have played over 250 live shows across europe. over the years, they have gained an ever-growing band of admirers, who have bestowed descriptions such as 'lush'9, 'melodic', 'swooping', 'glacial' 'beautiful', 'shimmering', 'sublime', 'electrifying' and 'atmospheric' on their music. some have compared their sound to the physical beauty of their native country, with its aural landscapes of slow-paced melodies which build to orchestral-like climaxes. stylistically, the music can fit into a number of different genres, with its elements of ambient indie rock, post-rock, shoegaze and dream pop.
description from www.roughtrade.com