Popular culture is fond of an origin story. From superheroes to great artists, everyone wants to know about that eureka moment that allowed someone's mind to create something extraordinary.
For many legendary artists, this story begins when a man named John Hammond saw something in them. As we learnt last week, with his passion for music, Hammond was responsible for nurturing and shepherding the careers of Billie Holiday, Benny Goodman and many more.
In modern times, the story is different, yet also similar. For instance, the word "journey" (although often over-used) is still a big part of every musician's career. It has a beginning, a good bit, a middle period, and an end. Nowadays - as in Hammond's time - not everyone's tale starts with 'I want to be famous' and ends with having a top 3 single, a laughable excuse for an album and being a tough pub quiz answer within a few months of their TV talent contest win.
Often, acts who don't immediately have the most obvious commercial potential can go on to create truly inspiring music. John Hammond continually championed outsider artists, providing them and their unique music with a platform to be heard - and enabling a legacy which continues to inspire up-and-coming musicians to this day.
Sometimes the really special acts never quite have their 'moment' that leads to any sort of commercial success, but whisper their name and people's eyes light up. For instance, mention the name The Edmund Fitzgerald on the Drowned in Sound forums and stories will pour to the fore about this really special band. Most will then go on to say how important this gestation period was to the band they became next: Foals.
Swept up by the math-rock magic of Yannis' previous band, I found myself in a London basement watching one of Foals' first London gigs. Fast forward to just a few weeks ago, when I'm standing outside of Wembley Arena waiting to see them and realising that there are more people in the guestlist queue alone than at that early show. The mind-blowing cognitive dissonance was only made manageable by thinking about all the steps along the way: The first big single. The appearance on Skins. That day when the 'Spanish Sahara' video hit the internet. The day, a few weeks ago, when they were announced as headlining Reading Festival.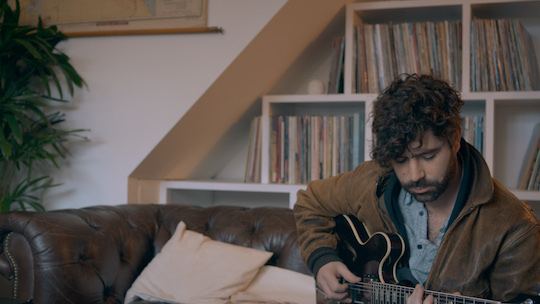 It all began with inspiration. As Yannis points out in this short film for Guinness, Foals' story was initially forged in the fires of their favourite artists. From a sizzling pit of ideas, they found themselves leap-frogging from one act they loved to another. They listened, they learnt, they wrote, they listened, they evolved. I mean, no-one is going to pick up a guitar and start playing 'Hummer' without understanding the possibilities of the instrument, and having the vocabulary of sounds and ideas to construct something complex. Those mighty chord progressions and odd shape-shifting twists come from a lifetime lived listening to the greats and cherry-picking the concepts to cling to.
For Yannis, Arthur Russell was a key source of inspiration. Whilst not one of the biggest selling artists of all-time, Russell's influence ripples across the alternative music scene. And yet, his music may never have been heard at all if it wasn't for the courage and conviction of John Hammond, the man who described himself as "the sometimes intolerant champion of tolerance". Hammond's courage and conviction allowed Arthur Russell to experiment and blaze a new trail, far from the middle of the road. It's this exploration that is so inspiring and the legacy of this lives on in contemporary bands like Foals.
It's easy to overstate having courage in your convictions, but with his preternatural talent Yannis could easily have formed a Red Hot Chili Peppers' tribute band and made thousands every weekend of his 20s playing weddings. Instead, he bravely stuck with his band's experimental vision and continued to push boundaries with their sound. Over the past decade, they've grown from slugging it out in the back of a transit and those early shows at house parties and pubs, to becoming an act who can now headline arenas and festivals, and inspiring a whole new generation of fans themselves.
Watch Yannis talk about the early days of the band and the legacy of John Hammond, here:
---
---
The John Hammond legacy series is available to watch weekly on www.GUINNESS.com and via GUINNESS social media sites including Facebook, Twitter and Instagram
Enjoy Guinness sensibly. Visit drinkaware.co.uk for the facts.