Since its inception in 1999, Oya Festival has grown in stature to become the focal point of Norway's music calendar. Now in its 16th year the eclectic celebration of rock, hip-hop and electronica has moved to a new venue in Tøyenparken, Oslo. We were there to soak up the event's many highlights and then pen our thoughts on them. Let's get to it then, shall we?
1) Outkast are Atlanta's past, Janelle's the future
Janelle Monáe may have been born in Kansas but since moving to Atlanta, Georgia in 2001 she's picked up the state's futurist mantle with gleeful aplomb. While The ArchAndroid and The Electric Lady could be accused of being draped in too much concept, Monáe's live show is deliriously accessible. The likes of 'Tightrope' and 'PrimeTime' are allowed more room to breath outside the confines of a sprawling tracklist, while a joyous array of brass, drums and guitar bring their more complex counterparts to life. We've not seen a more accomplished live show all year, although The Libertines weren't playing Oya 2014.
Janelle's smorgasbord of showmanship would have been a difficult act for anyone to follow, but even with this in mind - Outkast ranked as a disappointment. That Andre 3000 came onstage dressed in a grey wig and jumpsuit with its 'price tag' attached spoke volumes. The songs were largely great, any set that serves up 'The Way You Move', 'Miss Jackson' and 'Gasoline Dreams' can't truly disappoint, and Big Boi did his best to sell them with a devilish strut. Still, it's hard to create a sense of occasion when half of your act would rather be elsewhere.
To be totally honest, we had more fun when fellow Atlantan Future dropped 'Bugatti' than during 'Hey Ya'.
2) Norwegian headliners? Not a problem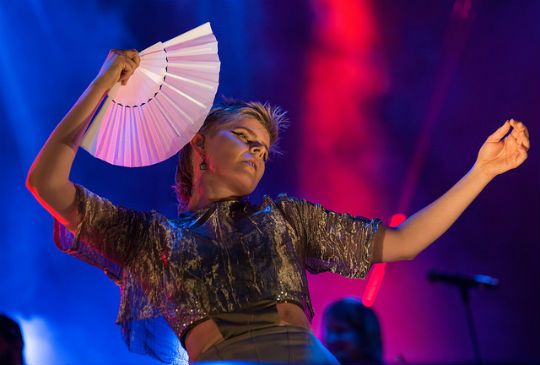 European festivals are notorious for starting the day with homegrown acts and then subbing in Brits and Americans to headline. The need to sell tickets instigates a weird cultural whitewash where, if it wasn't £8 for a beer, you could almost convince yourself you're back in Blighty.
Mercifully, this isn't the case for Oya. Norwegian duo Röyksopp top the bill with the Swedish Robyn on Friday night, while Todd Terje closes out proceedings on Saturday. There are also high profile slots across the event from Highasakite, imagine The Lumineers fronted by Lykke Li, and legendary metallers Mayhem, whose stage is decorated with animal carcases and impaled pigs heads.
The success of Röyksopp & Robyn's set depends on how much you believe Do It Again, their recent mini-album, is the best thing they've both done yet. First Röyksopp play a 40 minute set of noughties electronica that we faintly remember, next Robyn debuts her new mullet to a delirious mass of thousands while dropping 'Stars 4-Ever' and 'With Every Heartbeat', and then the trio conjoin for a final sendoff. This means 'Dancing On My Own' is relegated to mid-set filler when it's more deserving of giant confetti cannons and a glorious, extended outro. Still, the sight of pop's most loved oddball larking about with a microphone clasped to her crotch for 'Say It' was something to behold.
As for Todd Terje? Things kicks off on a dubious note when the DJ saunters on stage wearing a cardigan, but by the time 'Inspector Norse' drops at the set's climax we're knocked off-balance by a guy in crutches swinging his way to the front of the crowd. If that's not a resounding vote of approval, then we don't know what is.
3) The National have moved beyond Boxer
If you're a Drowned In Sound regular, then chances are you'll have discovered The National before High Violet. Back when their songs came draped in Bush-era anxiety and were obsessed with middle-aged decline. Now Matt Berninger and co. are set to headline London's O2 Arena in November and this is what their setlist looks like...
Don't Swallow The Cap
I Should Live In Salt
Bloodbuzz Ohio
Sea Of Love
Afraid of Everyone
Squalor Victoria
I Need My Girl
This Is The Last Time
Abel
London
Graceless
Fake Empire
Mr November
Terrible Love

With just three pre-2007 songs, The National that's touring Trouble Will Find Me probably isn't the same band you fell in love with. For the most part of their main stage slot at Oya, this didn't matter one jot. Then Berninger dived into the crowd during 'Mr November', raised a child onto his shoulders and did his best Ian MacKaye yelp, "I'm the new blue blood, I'm the great white hope."
Nostalgia or not, that was the moment that made us misty-eyed.
4) Festival reunion slots don't always work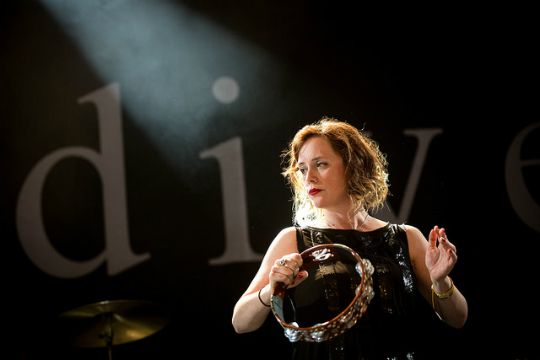 If you've never heard a note of Mac DeMarco's music you could be forgiven for thinking he's a stoner layout about who's escaped into real life from an episode of Beavis & Butt-head. This is all true, but he also has some good tunes. So amidst the shotgunning of beer cans and shout outs for cigarettes, Oya is also treated to the louche brilliance of 'Chamber Of Reflection' and 'Let Her Go'. That said, the set's highlight comes when DeMarco is thrown a pair of underpants from the crowd and duly chucks them over his head like a crown.
To then compare the Canadian goofball with Slowdive might seem unfair, but such are the joys of mid-afternoon festival scheduling. When you're paid a fair whack of cash to live up to your legend the result is usually abundance of seriousface. That's great for fans but pretty unengaging for the noncommittal. So the shoegaze titans run through near-perfect renditions of 'Machine Gun' and 'Catch The Breeze', while a steady churn of people drift into the Sirkus tent only to decide they're not that into undulating waves of tremolo and bass. At one point we spot a middle-aged bloke in front of us thrashing along to 'When The Sun Hits' on air guitar, and then turn around to see a nice young lady yawning.
It was the same deal with Neutral Milk Hotel the day before. Not ideal for those with a cult status to maintain.
5) The Districts and Jungle aren't all that different
The Districts are a band you're going to hear a lot more about in the next 12 months, and with good reason. The fresh-faced four-piece smash scorched guitar chords and self-loathing together like they're performing an exorcism. It's a timeworn formula, but frontman Rob Grote's guttural holler is truly something to behold. Such is the force of feeling that's channeled into 'Funeral Beds', you feel as though he's on the verge of pleading the fifth.
Similarly to Jungle, this Philadelphian gang of ruffnecks do one song really well. In The Districts' case this is strung out slabs of bluesy angst, with Jungle it's their singles. As soon as either band drops the tempo or intensity, then your mind begins to drift. Then again, we thought the same about headliners Queens Of The Stone Age - and they're doing just fine.
---
Photo credits: Outkast - Johannes Granseth Röyksopp & Robyn - Anna Lerheim Ask Slowdive - Johannes Granseth
Head over to Oya Festival for more information on the annual event