What are your five favourite albums of 2013? We put this question to some of the makers of our favourite albums of this year, some artists who are due back in 2014, and some brand new acts that we are loving right now...
Below, you'll find members of the likes of Wild Beasts, I Break Horses, Foals, Frightened Rabbit, Villagers, Editors, These New Puritans, Friendly Fires, Blood Red Shoes, Drenge, Los Campesinos, Olafur Arnalds, Polly Scattergood, Perfume Genius, Marissa Nadler, Local Natives, Chvrches, Sky Larkin, Midlake and many more, sharing their album of the year lists. We also asked some of them what their year was like, and what 2014 might hold for them...
---
Before we begin, please note that you can find all of DiS' year-end best of 2013 coverage, including many of these artists' favourite tracks of the year, compiled on one handy page by clicking here
---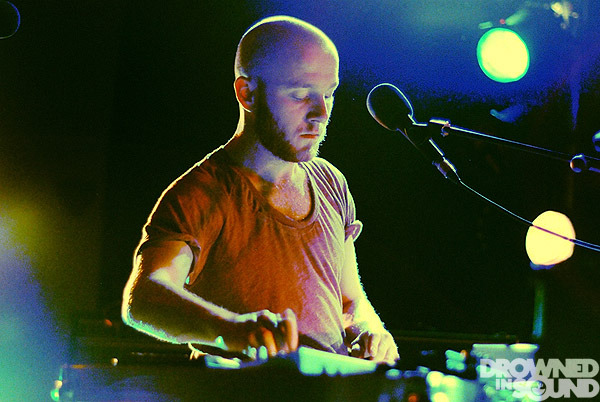 Tom Fleming from WILD BEASTS
My personal highlights of 2013:
- watching Dortmund smash Real Madrid in the Champion's League semi final
- finally being responsible enough to own a distortion pedal
- the morphing of Kanye West into a Bowie-like figurehead, and my inability to understand it.
- a first trip into Russia, at a terrifying time.
- so many marriages and babies
Oneohtrix Point Never - R plus 7
With every release Daniel Lopatin seems to hint at a new music. This both continues the spirit of Replica (which I still play most days) while extending the sound into new territory. The inelegance of it all is precisely the point. It's beautiful.
Jon Hopkins - Immunity
Mercury nominated and rightly so, this is definitely a career high so far. Wonderful sounds, exquisite development. It's actually something of a masterclass.
Deafheaven - Sunbather
As a (not entirely) reformed metal head, the hipster black metal tag thrown at these guys doesn't bother me in the slightest. It's noisy and heavy as all hell, but it's also the most colourful and psychedelic record I heard all year.
A$AP Ferg - Trap Lord
Again, with the A$AP lot, it's the beats. I'd heard of virtually no one on this mixtape/album, and it's glorious, all space and threat. Love all the dancehall/reggae nods too. I suspect that the most interesting things to happen this year were in hip hop.
Nadine Shah - Love Your Dum and Mad
This girl is ferocious. A singer with both imagination and genuine fire. In many ways it's a traditional rock record, but to me it sounds like she's calling you out on all your failings, personally, one by one. A really eloquent new talent.
---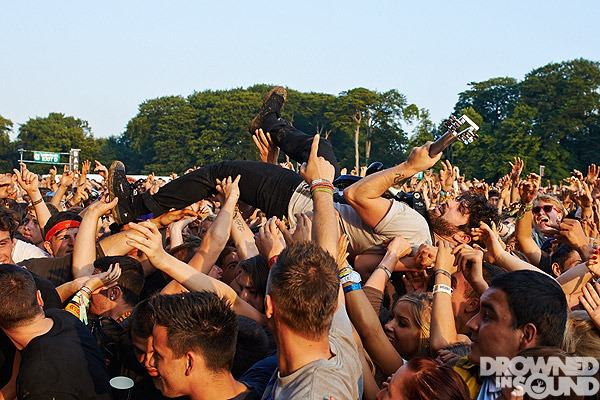 Yannis from FOALS
Forest Swords - Engravings
Its a primal record with a unique palette, full of contrasting textures & colours & killer dubby bass. Definitely recommended as an uninterrupted listening experience
Darkside - Psychic
Again a record that works best as an immersive listen, it's use of space makes each pop hook all the more rewarding. You get from it what you put in.
William Onyeabor - Who Is William Onyeabor
A great archival collection of sweaty 'forgotten' African funk from the 70's. Its sophisticated & naive sounding at the same time & has some beautiful old synth sounds for the geeks amonst you
Jai Paul - ""
Whatever this record is leaked / a forgery / a trick it's 16 of the best pop cuts of any year. His voice is delicate & inimitable & it's the record I've most returned to this year. I dunno why but it feels it could only have been made in London this year, it smells like now. if that makes sense.
Kanye West - Yeezus
From the opening synth sound you know yr in for a treat. It's the most confounding record of the year for me, it's an expression of rage & frustration & egotistical appetite & it's perfect for it.
---
Laura-Mary from BLOOD RED SHOES
We went to Australia for the first time and saw in the new year whilst watching Tame Impala - that was pretty cool! Then we had a great tour in the States with the Joy Formidable and then did some of our own shows in the states and Canada. It was so much fun we felt like we had gone back to the beginning of Blood Red Shoes, where every night just felt off the hook and really fresh and new. And then other highlight would be getting to play in South Korea and Tawain, which was such a great experience. Lastly we got to drink vodka out of an AK47 in Russia... Our 4th Album comes out on March the 3rd. We will be touring the world for most of 2014 getting into all sorts of trouble and mischief. See you on the road. LM x
Fuck Buttons - Slow Focus
Where the band move away from the more arpeggiated ravey sounds of their 2nd album and create dark, droning, menacing soundscapes with much slower tempos that are totally and utterly engrossing, and at times slightly scary. It's the best and most unique record they've made so far.
Queens of the Stone Age - ...Like Clockwork
A less produced album compared to Era Vugaris, stripped down but still with their signature guitar sounds, full of midrange and 70s tones. Athough there are some new sounds creeping in, disco even, some of the more ballady songs remind me of the soundtrack to The Virgin Suicides by Air (which I love). This album to me seems very reflective and personal in its lyrics... something I would find hard to say about previous Queens albums. It's a new side to them that i am loving and i like that they didn't just give us what we wanted, another Songs For The Deaf.
Unknown Mortal Orchestra - II
This analogue sounding record is full of fuzzy warm tones. I love the intimacy of it and of the singers voice, feminine at times with his falsetto delicate moments. This is a retro sounding album yet its totally new with its progressive melodies and song writing
Savages - Silence Yourself
Some people think this record was over produced but I think it does a really good job of capturing what the band are like live: climactic, intense and kind of tribal in the way they circle around riffs and rhythms rather than stick to verse-chorus-verse structures. it's very indebted to a particular kind of 80s post punk sound but it's so damn intense you don't really mind that it feels a bit unoriginal.
Drenge - Drenge
There have been many two piece bands coming up this year and this band are one of my favourites. Heavy sludgy riffs with vocals almost reminiscent of Smiths melodies at times, the lyrics and melodies are what sets them apart from the many other blues/grunge rock two pieces out there. This album is full of cool songs, I'm really looking forward to see how they grow and evolve.
---
POLLY SCATTERGOOD
My 2013 highs? My album "Arrows" came out which for me was a personal highlight as it had taken a while to make, I also played some really fun gigs , my favourite one was opening for "Goldfrapp" at Somerset house. I have always really wanted to go to Norway, and this year I did- it was even more beautiful than I imagined... 2014? I think I may be Subsequently Lost for a while, but hopefully when I go on tour the Wanderlust will kick in.
Jon Hopkins - Immunity
I have been a fan of Jon Hopkins for a while now, I have always loved the way he uses samples and puts electronics next to acoustics until everything melts into a piece of sound art which is so uniquely his, and so incredibly special. This album is very atmospheric and delicate in places, then big and uplifting in others, each track take you on a journey, it's an album of to halves - highs and lows - it feels like we are being allowed in, to what is a truly beautiful world.
Sigur Ros - Kveikur
This album still has the signature Sigur Ros cinematic feel but it was much is much more industrial that I thought it would be, with heavy distortion and bit crushed feedback melting into piercing glassy guitars and violins. It feels like the sound is being pushed and I really the dark adventurous feel this album has.
Mogwai - Les Revenants OST
Just when you think you vaguely know a band they bring an album out like this, and you have to get to know them all over again. This is haunting and subtle. It was written for a french television series and I love how it makes me feel really on edge when I listen to it. Mogwai's cover of the gospel song "What Are They Doing In Heaven Today" actually brought tears to my eyes the first time I heard it, it feels so restrained it just breaks my heart. I will watch the series just for the soundtrack.
Flaming Lips - The. Terror
Wayne Coyne is as bold and bright as ever, wondering off into darkened worlds filled with synthesisers tones & layered up soundscapes, his voice is so honest and the way it is layered up makes everything that could seem larger than life suddenly feel very human. The last track on the album "Always There In Our Hearts" just builds so well it starting almost like a chant and ending up in this sort of kaleidoscope of echoes and delays.
Daughter - If You Leave
This album is probably one of the most honest talbums I have heard all year Elena Tonra's vocals have this velvety weight to them, the album is very dark, but production on this record is stunning and stops it from being overly melancholy, there are moments that are thick and heavy with sound, and other moments that are so fragile you feel as if she could shatter at any moment. Its a very intimate album, that I will treasure.
---
George from THESE NEW PURITANS
David Bowie - The Next Day
I'd love anything by him to be honest.
Matt Berry - Kill the Wolf
The only album funnier than ours this year.
Wire - Change Becomes Us
Top class band, influenced us a lot in our early days, listen to 'Reinvent Your Second Wheel'.
Miley Cyrus - Bangerz
Like her wrecking ball, the only one to rival ours this year [V video]
Elton John - The Diving Board
He's great - good piano songs, stripped back and slow.. sounds like he's just doing what he likes. Cool that he worked with Taupin again.
Kanye West - Yeezus
Lots of different idea and chopping and changing, difficult to follow like our record.. but I like it..
---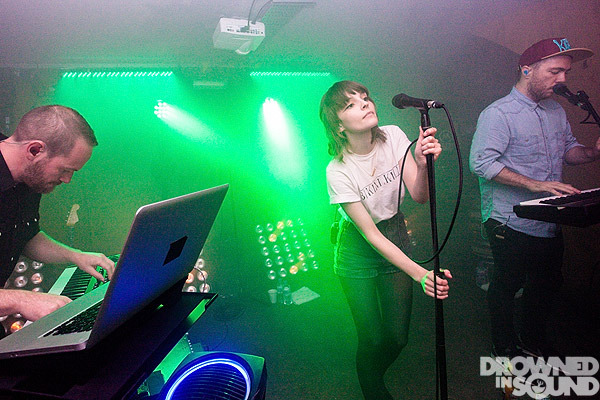 CHVRCHES
Factory Floor – Factory Floor
Iain: I have been waiting on this one since I got excited about their earlier EPs and the album certainly didn't disappoint. Minimal, intense, trippy and coldly aggressive. With their signature live-drums-versus-electronics production and Nik Colk Void's spaced out darkly psychedelic vocals they delivered one of my albums of the year.
WAXAHATCHEE – Cerulean Salt
Lauren: It's been a long time since I found an album I wanted to listen to over and over again like a teenager but this record really found a special place in my heart. Lyrically, Katie Crutchfield is heartbreaking and her voice can be simultaneously fragile and hostile, yet always sincere.
The Range – Nonfiction
Martin: The range is an exciting American producer I heard about earlier this year. This record is full of interesting ambient synth ideas underscored by hip hop rhythm production and warped vocal sampling. I've been hammering it ever since the first listen.
The Julie Ruin
Lauren: I have been a massive fan of all things Kathleen Hanna for a very long time and was really excited that 2013 was the year that she got back into music. Run Fast is a great comeback record – really raw, passionate and exciting – and I hope we can see them live in 2014.
MAJICAL CLOUDZ - Impersonator
Iain: Stop-you-dead-in-your-tracks impressive debut album from the Montreal duo. Dark, layered but never overbearing synthscapes by Matthew Otto bubble ominously underneath the powerful, raw yet vulnerable vocals of Devon Welsh. His voice is at once completely unique and evocative of 80s crooners such as Paul Buchanan, Dave Gahan and Marc Almond. Nothing else sounds like this band right now.
---
Kelcey from LOCAL NATIVES
DiS: What can you tell us about your plans for 2014?
Kelcey: We're opening for a huge band on their US arena tour in the Spring. Can't say who yet, but we'll just say they're royalty.
These New Puritans - Field of Reeds
I love classical music, and this is classical music for today. Such a brilliantly executed vision, finding the balance between the past and future. Highly recommended for traveling by a window looking and watching things pass by.
James Blake - Overgrown
I dug his debut and EP's, but I feel like he really came into his own as a songwriter on this album. It's so unique too; the space it creates is such a specific mood. It's arresting.
Jon Hopkins - Immunity
I've been getting more and more into electronic music, and of all the thing's I've sampled this year, this record has stuck with me the most. I'm not as interested in the more dance-driven side of electronica, so I think that's why I like this so much. It puts me in the most amazing-feeling trance, like I'm on drugs or on another planet.
Arcade Fire - Reflektor
I really feel like this is our generation's Graceland. They have been so involved with Haitian culture in the past, and so it's rad to see they've finally embraced it fully in their music. Haters be damned, they are as big as they are because they don't sacrifice their vision for anybody, and that's something we look up to a lot in them.
Kanye West - Yeezus
This album is so inspirational to me because he's six albums in and he still sounds as fresh and as current as the most cutting edge dudes making music today. Say whatever you want about his interviews, dude's a fucking genius.
---
Maria from I BREAK HORSES
Jon Hopkins - Immunity
Hopkins has such a rare feel for mood and texture. It's a hauntingly beautiful album and the production suits the music perfectly.
Boards of Canada - Tomorrow's harvest
When I first heard it I was a bit underwhelmed to be honest, expectations were really high, but it really grew on me for each listen and I've kept coming back to it. They have something indescribably special about them that I love so deeply.
Death Grips - Government Plates
For the captivating production. It's such an inspiring listen, a stunning chaos.
Fuck Buttons - Slow Focus
Definitely their best work yet I think. I love the way they manage to sound both epic and super cold and quite unwelcoming at the same time. Brainfreeze is my favorite song of the year, the ending is just magical.
The Knife - Shaking The Habitual
I must mention fellow Swedes The Knife's album. I think what I like the most is how they've cherished the LP format. It's an album that you have to listen to from beginning till end to be transported into their spellbinding world, and once you're in there everything around you just stops.
---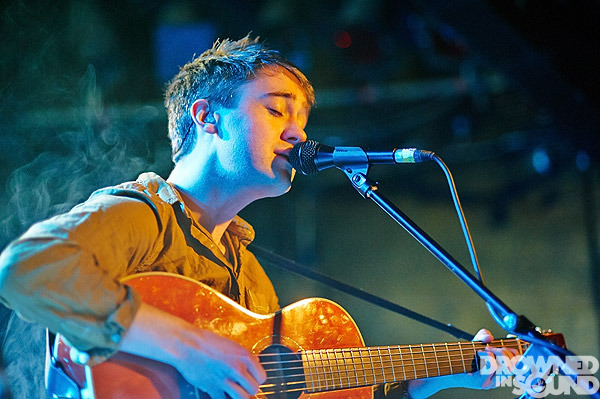 Conor O'Brien from VILLAGERS
Bill Callahan - Dream River
"The blinding lights of the kingdom can make you weep / Oh I have learned when things are beautiful to just keep on, just keep on / Oh, when things are beautiful / Just keep on". Nuff said.
Courtney Barnett - The Double EP: A Sea of Split Peas
This is music which is so completely unpretentious and playfully stream-of-consiousness that it makes me feel so very chilled out even when she's singing about panic attacks and the like in that signature dry conversational tone of hers. It's recorded perfectly and the band really adds to the songs. Courtney opened up for us on our last Australian tour and it's been a real pleasure to watch her slowly come to the attention of the world and the universe and beyond.
Factory Floor - Factory Floor
I'm a sucker for dry, minimal techno and although this debut was a long time coming, it didn't disappoint. This is music that is completely dedicated to a singular aesthetic - it doesn't bat its eyelids once - I think that fascinates me because it's pretty much the opposite of what I do. I can't wait to see them live. My housemate came home one night after seeing them accidentally and he was raving about them for days and days and weeks.
Jon Hopkins - Immunity
This record constantly astounds me. It feels like it moves with a body, or in a body. It feels like it sweats and feels and cares and caresses. It's a classic record in my humble opinion. I have lots of intelligent things to say about it but I'm going to keep them to myself.
John Grant - Pale Green Ghosts
"This pain - it is a glacier moving through you / And carving out deep valleys / And creating spectacular landscapes / And nourishing the ground with precious minerals / And other stuff / So don't you become paralyzed with fear / When things seem particularly rough". Nuff said.
---
PARLOUR
One of our editor's favourite DiScoveries of 2013. They play our DiSmas Party at The Miller in London Bridge on December 18th. Details here.
My Bloody Valentine - mbv
Angela Won-Yin Mak: Massive cop out answer? No. It took a while for me to settle and listen to it properly, but Kev did it. I love that he obviously has no control of his muse and waited (and waited) and obviously worked hard to get it. It doesn't matter how long blah blah post Loveless blah blah, he thrashed it out with her and surfs the magic bendy wave. Yeaaaa.
Colin Stetson - New History Warfare vol. III - To See More Light
Kier Wiater-Carnihan: I never expected a solo saxophone record to be my favourite of the year. Nor one that features the bloke from Bon Iver doing his best black metal roar. That's how special this is.
Fists - Phantasm
Rory Attwell: Because they've not just got a bunch of really great songs there's also a variety and depth to their songs, plus there's weird unexpected quirks hiding around each corner, I like a nice surprise. People really need to give this band more of their time!
Unknown Mortal Orchestra - II
Danny Blackman: It's a warm, fuzzy hug of a record.
Wampire - curiosity
Florence van Camerijk: Perfect mix of psych, new wave and pop. Loved it on first listen, now have a new favourite song every time I listen to the album.
---
Russell Leech from EDITORS
Jon Hopkins - Immunity
A modern immersive record. The combination of acoustic sounds and samples creates the best textures heard this year.
Daniel Avery - Drone Logic
This is a primitive, raw analogue record. Love the flow of it and very jealous of the production.
Sigur Ros - Kveikur
Saw the band debut songs at Madison square garden earlier this year and loved how they've returned to a more visceral dark sound. Great band.
David Bowie - The Next Day.
The chameleon returned as a wise elder statesman producing a record full of beautifully crafted songs. He's acted his age and as always done it by his rules.
Nils Frahm - Spaces
One of the best live records I've ever heard. I love the mix of synths and piano playing with the melodies drifting in and out. I want to see this live to believe it's all done by one man.
---
FEMME
Femme's Highlights of 2013
- My debut single being playlisted on BBC 6music.
- Performing on Late Night with Jimmy Fallon with Ultraísta.
- Watching Beiber drum along to one of my tunes on adidas.com (hilarious).
- Giving a staffordshire bull terrier a bubble bath with my two best girls for the Fever Boy video.
- And having my music pressed onto pink heart shaped vinyl.
DiS: What are your hopes and dreams for 2014?
Femme: More music. More shows. More bitches. A Femme album. Perhaps another Ultraísta one too. General world domination.
Jagwar Mar - Howlin'
Pure class. Melodies I can really get into.
Disclosure - Settle
So familiar because it leans so heavily on what has come before but i think that's why i like it. Retro, but not annoying and ver' danceable.
Emiliana Torrini - Tookah
Big fan of that voice and always will be. A joy to hear a new album from her this year.
Savages - Silence Yourself
Now, i don't typically go in for rock music but I fell in love with this band after seeing them live at Glastonbury this year. Jehnny Beth is a star that shines very brightly on stage. I'm hooked.
Haim - Forever
Good pop music and this album sounds great. A 21st century girl band that I can get in to.
---
PERFUME GENIUS
Julianna Barwick - Nepenthe
Sacred but not stuffy or locked in. Like free roaming angels.
Julia Hotler - Loud City Song
A Wizard! She taps the source directly!
Phosphorescent - Muchacho
I have all his songs, been listening for many moons now. Never disappointed.
Cate Le Bon - Mug Museum
Badass. Owns everything.
Jenny Hval - Innocence is Kinky
She goes for it, balls out. I really appreciate that.
---
Katie from SKY LARKIN
We asked musicians to send us a postcard telling us about the highlights of their year: Katie gets triple points for writing hers out on a real postcard.
DIS: What are your plans for 2014?
**Katie:_ We're continuing our 'Motto' journey with touring and a single to be announced shortly. Join us! Also, I've been honing my production skills because ignorance aint cute and I've been asked to do some composing for the screen that I'm very excited about.
Janelle Monae - The Electric Lady
The Concept Record is alive and well (and thriving in the mainstream!) in the hands of Janelle Monae. Dear Santa; I want to be in her backing band. If you're drowning in end of year lists please just give me a minute of your time and listen to the last sixty seconds of 'Q.U.E.E.N.' Simultaneously vital AND super slick, right?
Marnie Stern - The Chronicles of Marnia
Like I need to explain why I've chosen this beyond the album title...! But ok then... The playing on all counts is furious and nimble throughout the record, but don't you dare overlook the lyrics, then the dust finally settles in the piano middle of eight of "Proof of Life" and it's a gut ripper. We toured with Marnie and her band this year and I'm not sure I've ever laughed so hard, so this record is a happy memento as well as something I hold in high regard.
Dutch Uncles - Out of Touch in the Wild
These boys are at the centre of my Sky Larkin / Wild Beasts touring venn having shared bills with them from Aberdeen to Zurich, and I'm still in awe. If Steve Reich and a Greggs pasty had five Salford contemporary-classical lad babies this is what they'd turn out like. And they'd be proud parents f'sure.
Karriem Riggins - Alone Together
Some super slick sound stitching! A slice of a mind with a very interested ear. The first track I heard from this was 'Double Trouble' and, as a Dilla fan, I was struck by the fact that it is very J Dilla. Upon investigation it turns out Karriem Riggins actually worked with him before he passed. The last track on 'Alone Together' is even called "J Dilla The Greatest'. No arguments here.
Courtney Barnett - The Double EP: A Sea of Split Peas
Another late addition, but kind of fittingly because one listen is all it takes for someone as personable and tuneful as Courtney to grab you. I played 'Avant Gardener' to a friend and she bought the double EP LP online before the song had even finished. That tune also features the best lyric of the year "The paramedic thinks I'm clever 'cause I play guitar. I think she's clever 'cause she stops people dying."
---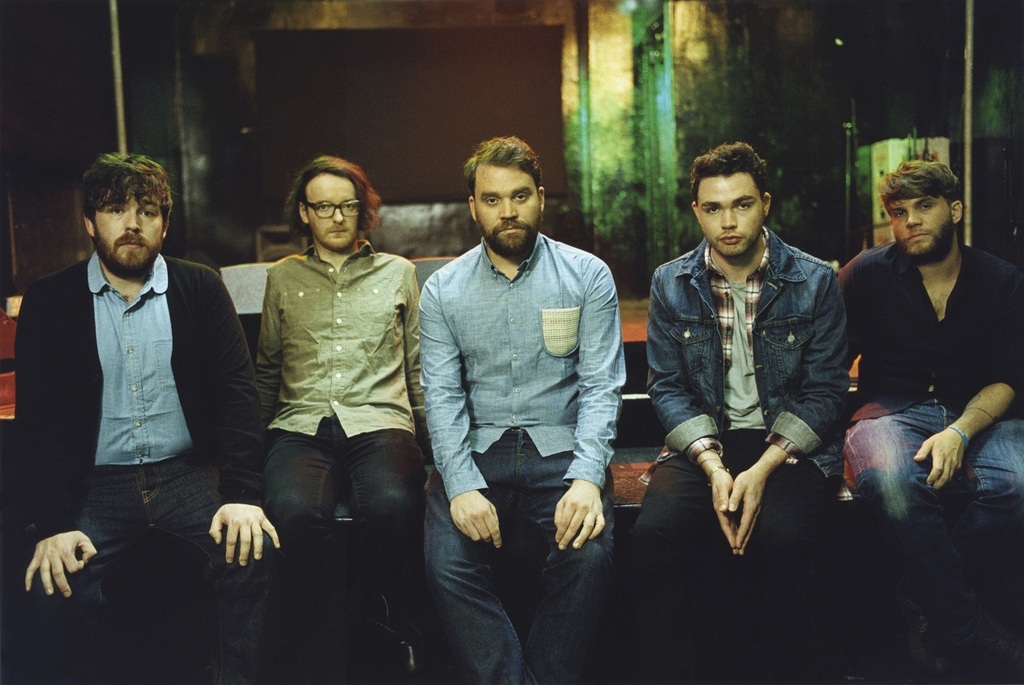 Scott Hutchison from FRIGHTENED RABBIT
Atoms For Peace - Amok
It's the synth sounds that do it for me on this. Never has (primarily) electronic music sounded so warm and soulful. It's full of the most subtle tricks and twists and is easily the most rewarding repeat listen I've had this year.
Nick Cave & The Bad Seeds - Push The Sky Away
Not as instantly gratifying a record as any of their most recent albums, this one pushes very different buttons. If you allow yourself to be absorbed, these songs become completely hypnotic. It's well worth letting yourself drown in this record.
Foals - Holy Fire
They just keep getting better. Foals are a strange one; I hated the first record, really liked the second and I absolutely love this. They have formed an admirable way with a hook, the guitar sounds are fucking massive and there are moments of utterly blistering intensity.
The National - Trouble Will Find Me
A favourite for a few reasons. We were lucky enough to tour with this band at the end of the summer and this record brings back some wonderful memories from that time. The songs are as good as anything they've ever done and it's nice to hear Matt stretching his vocal chords a wee bit more.
Phosphorescent - Muchacho
I left the best 'til last here. Easily my most played record of the year, I just love every single song on this album. A rare beast indeed.
DIS: What are your plans for 2014?
Scott: I'll be trying to record a solo album in February, after our Australian tour. Then in spring we go back to the drawing board with FR. Album #5 looms...
Grant from FRIGHTENED RABBIT
Foals - Holy Fire
I wasn't the biggest fan of the first 2 records but this one is bloody brilliant. I love the drumming and I just think it sounds a lot more mature and complete than the first two. I've watched them play some blinding festival sets this summer too which has been great.
The National - Trouble Will Find Me
This should be in every single end of year list. Another slow burner from The National. As with most of their latter records this took me a while to really appreciate but once I was in I couldn't stop listening to it. I think touring with them and getting to see the songs live night after night definitely helped but it's still an absolute belter!
Mogwai - Les Revenants
I have to confess I still haven't seen the tv show but it's Mogwai so I don't really have to do I? It is on my sky planner box but every time I go to watch it I'm hungover and get the fear. Anyway I think this is some of Mogwai's best work. I listened to it 3 times in a row when I first heard it and their version of 'What Are They Doing In Heaven Today?' is such a surprise for a Mogwai album.
Daughter - If You Leave
They remind a lot of The Antlers and Sharon Van Etten but manage to make a sound which is very much their own. I've spent a lot of time drifting off to sleep listening to this record (in a good way not because it's dull) and I find it extremely calming. I managed to see them at End Of The Road festival and they were one of my highlights.
The Mountain Goats - All Hail West Texas (Vinyl Reissue)
I hadn't really heard this record before I bought it earlier in the year in the US. Jihn Darnielle is a brilliant storyteller and I love the lofi recordings on here as it reminds me a lot of how we used to record when we were just sitting in my flat in Glasgow demoing the earliest FR songs. I love it when songwriters use characters and create a sort of community within a record.
I don't have a postcard but the highlight of 2013 was certainly playing 2 nights in Glasgow in December and feeling very very welcome in our home city! 2014 will mostly be about writing the next Frightened Rabbit record. We definitely took too long making the last one but this time we feel more confident about getting a quick start and having something ready by the end of the year/start of 2015.
Gordon from FRIGHTENED RABBIT
Mount Kimbie - Cold Spring Fault Less Youth
I like basically anything that mentions a season and has the word 'cold' in the title, so this is a sure thing. Also referencing 'youth' for a bonus, and hinting at loss and imperfections... Genius. Seriously though, I love the production and the bass lines. The King Krule collaborations are great, they sit well together. I also like how they've sort of taken what the XX started out with, but instead of falling down that pit, they expanded and built upon, moved forward and kept it innovative.
Foals - Holy Fire
I was a huge fan of Total Life Forever, and this was a brilliant follow-up.
Active Child - You Are All I See
This has been out for a couple of years now but I only just came to it, via some of our crew who have worked with him. I had already been listening to a lot of How To Dress Well; this sort of runs I the same vein. I love his vocal and the copious use of harp.
Adam Stafford - Imaginary Walls Collapse
Adam is a solo performer who builds up layers of loops.... But he somehow manages to avoid being "that guy"... You know, the loop pedal performer. It's so much more interesting and unpredictable than that. Mesmerising, without being repetitive. It helps that it's crammed full of hooks. There's also some really good collaborations on this, I love the mix of vocal textures.
Mood Rings - VPI Harmony
A dreamy marvel. I picked this up when we went through Atlanta where they're based. I didn't gets chance to listen until we got back to the UK a month later, but I fell in love immediately and listened to it for about 6hrs on repeat in the car. It's a night-time car album.
Andy from FRIGHTENED RABBIT
The Courtneys - The Courtneys
Fantastically simple straight up lofi all girl punk band from Vancouver. Singing about youth and doing whatever the hell they want but at the same time urging you to chill out when it all gets a little too much. Highlights are Social Anxiety, 90210 and Insufficient Funds.
John Hopkins - Immunity
The most sonically engaging electronic record I've head for a long time. The way this thing boils the natural and synthetic together into some kind of aural ketamine is unbeatable.
Fuck Buttons - Slow Focus
After seeing them headlining Glastonbury I fully immersed myself in this for weeks. It's a whole other plain of music deliciously distorted and mangled hooks and noise at its finest. A real grower and a perfect accompaniment to those late night walks through the town to meet your friends in the pub.
The National - Trouble Will Find Me
I didn't think these guys could get any better but they did. The production is flawless, coupled with tunes such as Graceless and Fireproof makes this one of my favourite albums of the year.
Kurt Vile - Wakin On A Pretty Daze
A beautiful down beat and honest guitar psych melt down and rebirth. A real progression in sound for the king of Philadelphia, the guitar noodles on this take me somewhere else. It's been a soundtrack to more than a few hazey nights on the tour bus.
Billy from FRIGHTENED RABBIT
Daft Punk - Random Access Memories
This album featured heavily in our European playlist earlier this year. So many good collaborators, my favourites being Nile Rodgers and Pharrell Willaims.
Tegan and Sara - Heartthrob
After catching these guys at Groove In The Moo festival I purchased Heartthrob. This became the most played album on my iTunes. Some cracking pop tunes in there.
Everything Everything - Arc
Maybe my favourite album of the year. Such an incredibly talented bunch of musicians. Sound fantastic on record and always blow me away with their live shows.
HAIM - Days Are Gone
Great debut record with some very catchy tracks. I've actually only listened to it a few times but it's had me dancing around whilst cleaning the flat.
The National - Trouble Will Find Me
Not really got much to say about this record apart from buy it, listen to it and enjoy!
---
OLAFUR ARNALDS
Psst! In his email to us, Oli left us a clue about what he's been upto:
"I'm preparing a release for - hopefully - early 2014. A tribute to one of my favourite composers."
Jon Hopkins - Immunity
I suspect i'm not the only person with Jon Hopkins on my list. There is not many people who do production better than Jon. And when that is combined with the great song writing on this album you have easily got the album of the year for me.
Kendrick Lamar - good kid, m.A.A.d city
Yes, i've got hip hop on my list. So what? Wonderfully produced, great voice, fun and sometimes great lyrics. Hip hop is back!
Fka Twigs - EP2
A recent discovery for me but one of the most listened to record of the last months.
Chad Lawson
I got this album sent in a rather random email from the composer Chad Lawson. I did not know him before but it's mostly solo piano album, but with some passages of ambient cello (played by the amazing Rubin Kodheli, who happens to tour with me too). Very lovely and definitely the surprise of the year for me.
Disclosure - Settle
I love when the underground crosses into the mainstream. Most danceable and best sounding electro album of the year for me.
---
AU REVOIR SIMONE
Daft Punk - Random Access Memories
Kayne West - Yeezus
Blood Orange - Cupid Deluxe
Grooms - Infinity Caller
Bill Callahan - Dream River
---
MARISSA NADLER
DiS: What was your 2013 highlight? What can we expect from you in 2014?
Marissa: Recording with Randall Dunn (Earth, Sunn o))), Wolves in the throne room), signing to two labels I greatly admire, and just continuing to make art on a daily basis. It's a life journey... I have a brand new record out called JULY. It's out on February 10th on Bella Union (and Sacred Bones in the states.). I'll be touring over in your parts in the spring.
Robbie Basho - Visions of the Country
The reissue of the 1978 album. I first heard of Basho when James Blackshaw introduced me to him several years ago. It's no secret I'm a fan of this approach to the guitar.
Mutual Benefit - Love's Crushing Diamond
This is a gorgeous record from Jordan Lee. It's just really honest lovely music. This record also came from my neck of the woods in Boston, Massachusetts.
Speedy Ortiz - Major Arcana
I especially love the sad song on the record, No Below. I really like this record. I like Sadie's raw energy. I also recently met her at the benefit concert for Elliot Smith in Brooklyn and she was super nice and played awesome. She also happens to live in Massachusetts. I'm a big fan.
Julia Holter- Loud City Song
I love this lady. Her music is so thoughtful, layered, and complex. I find it really soothing to listen to her.
Julianna Barwick- Nepenthe
Again, I'm so happy ambient vocal music is making such a comeback. Gorgeous, relaxing, spooky, creepville.
---
Ed Macfarlane of FRIENDLY FIRES
Grave Miasma - Odori Sepulcrorum
Some say that this album isn't pushing death metal forward. To my ears it sounds more sinister, more blackened, more cavernous than any Incantation or Morbid Angel record. I went to the release show and was blown away by the brutality and conviction these guys possess.
Vakula - You've Never Been to Konotop
I think it's a unique and intricate dance record that instantly catches your ear but sounds weird and wonky enough to scare off the casual raver. 'New Romantic' is probably one of my favourite house tracks of the last 10 years.
Firecracker label owner, Lindsay Todd, has also done a sterling job creating the most desirable, hand-printed sleeve, accompanied with its own psychedelic outer bag.
Oneohtrix Point Never - R Plus Seven
Roland D-50 presets and choir oohs and ahhhs, give me that same nostalgic feeling BOC so successfully achieve. Rather than conjuring up old science documentaries though, this reminds me of budget 80s action films. Its incredibly beautiful but also very sterile and plastic. It's this unnerving combination that rocks my boat.
Cafe Kaput - Applied Music Vol.1- Science and Nature
A great self-released digital album by the super talented and all round lovely chap, Jon Brooks. Modular bleeps and bloops, echo early 80s electronic library recordings by Francis Monkman or James Asher and is a fitting soundtrack to a day spent bird watching or watering plants.
Disclosure - Settle
I think this is a superb pop record by two very talented producers. Its an album that oozes confidence and spontaneity and I count myself lucky to be a part of it.
---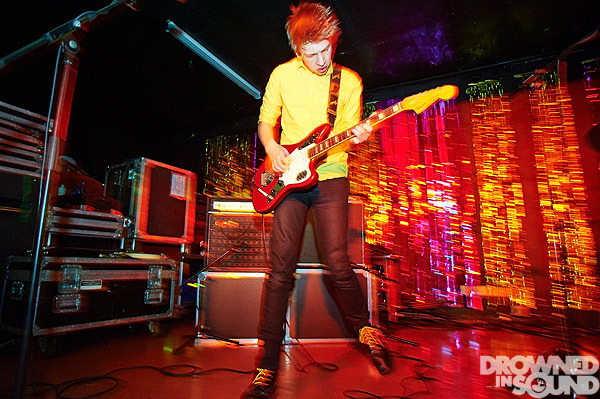 Eoin of DRENGE
Ores and Minerals - Mazes
We've been travelling around in a increasingly battered and dirty VW Transporter all year and this record didn't leave the stereo from between March to June. We'd listen to it maybe one to four times a day. I've probably heard it a hundred times or more. The tracks usually settle for a really steady groove but still maintain a central pop theme. Rewarding on each repeated listen.
Yeezus - Kanye West
I never got the commotion that surrounded this album's release. For me, it instantly clicked. It made perfect sense to follow MBDTF with this really fucked up record. It's hilarious, it's short, it's honest. It's clear Kanye makes the music he wants to make. Could he have gone further? Yeah, perhaps. Plus, it's a total fucking joy to watch him fuel his own celebrity whilst still maintaining artistic credibility.
Pearl Mystic - Hookworms
There's not much that needs to be said about this record. It's totally dominated my year. For me albums tend to lose their 'mystique' if you ever meet the band or come into contact with something tangible or closely associated with them. In this case, whatever those guys from Leeds sprinkled on Pearl Mystic, beneath it's inaudible vocals and solid rhythm work, it's still retained it's joojoo.
Mas Fiestas con el Grupo Vision Fortune - Vision Fortune
I had this on at home and my dad was playing with the dog. As each track moved into the next he'd say "When will this end?" or "Not again." like it was aural torture. The look on his face when XIV came on was brilliant. It's such a pay off. That bass structure is so stunning. The record comes with a continuous loop cut into the end of the second side. Even with that in mind, it took my five minutes to realise that I'd just been listening to that loop over and over.
No Blues - Los Campesinos!
There's so much energy and integrity and purpose to this record. It never lets up. It builds and builds, one anthem after another. The puns and wordplay turning the lyrics into a sprawling dystopian cryptic crossword. The band sound the most euphoric they've ever been. Everytime I think I might have 'outgrown' their stuff, a new album drops that looks me straight in the eyes and tells me I'm wrong.
DiS: What are your plans for 2014?
We're going to the States and Australia in January. I'm so excited. I feel like a kid. We've been to some great places this year, in Europe and the UK. But the USA and Australia is just ridiculous! Apart from that? Write and record album #2, tour, re-audition for BGT and I'm A Celeb.
DiS: What was Drenge's highlight of 2013?
Eoin: At Maidstone Television Studios.
Me: Hi, Kanye asked for a copy of our album. Could you pass this on to him?
Kanye's Bodyguard: Only if I can have one as well.
Me: Ok, yeah, sure, no worries. ...Thanks so much.
I walk off feeling like I've just thrown two CDs in the bin.
---
GHOSTING SEASON
The Drones - I See Seaweed
Gavin: I've been a fan of the Drones and Gareth Liddiard, the lead singer, for a while now - and this new album is everything that I love about them distilled into one big, brash, boozy rock album. At equal points brutal as it is beautiful. Seems like it was under a lot of peoples' radar, which is a shame - as they outstrip about 99% of rock bands at the moment.
Drumcell - Sleep Complex
Tom: Really enjoyed this one - came as a bit of a surprise, as I wasn't really looking for it, but it really stood out. Enjoyed the approach to it - it was pretty clinical and mechanical, but has a bit more to it; almost cinematic in parts! Very different from a lot of other 'industrial techno' records, and found myself quite anxious just listening to it! A journey.
James Blake - Overgrown
Gavin: This one really surprised me actually, because I wasn't really a fan before I heard it. I saw him live and then I started to change my mind, so got the album. Absolutely loved the way he very slowly turned me into a fan - the sounds on this record are just batshit mental, and a lot of stuff sounds like it shouldn't make sense, but it really does. Alongside people like Boards of Canada & James Holden (who also had great albums this year) It's good to see that fairly experimental albums can still shift units and be really well received.
Marcel Fengler - Fokus
Tom: An album that I thought would be absolutely balls to the wall techno, but actually had moments of gorgeous atmospherics, and really great melodies. I thought it'd be good, but not as good as I discovered. Every song is again, like a bit of a journey, and really takes you somewhere. The song 'Trespass' is amazing in the way it evolves and opens up - it's just one melody that constantly shifts and turns and moves and ends up somewhere completely different.
James Holden - The Inheritors
Joint: Such a great album, and so good to have him back. An absolutely astonishing journey through analogue synths, stompy rhythms and breathless atmospherics. Great to have something so strange and other worldly do so well, and be received so warmly, when a lot of other labels and acts are constantly playing safe!
---
Joe Cardamone from THE ICARUS LINE
Wolf Eyes - No Answer: Lower Floors
TG through the lens of detroit. The city has been hanging on for years now and this record, to my ears see's this band making good on the promises of all previous attempts. A soundtrack to the horror that is now.
Nick Cave and the Bad Seeds - Push the Sky Away
The guys took a left turn but went right instead. It didn't hit me how much weight this record held on first listen but after a couple passes I realized that this recording is where alot of their material has been trying to go for many years. It's tough to make an 11th record or whatever number this is and the boys just did it right.
Swans - The Seer
Another slow burn. After the live record we rose from your bed I was peaked to see where Gira was going to go. The Seer is a testament to the fact that a bunch of great musicians in a room with purpose and vision are a valuable force in this day and age. Im happy to see lifers seeing a pay off that they deserve.
Kanye West - Yeezuz
Everyone gives him shit for everything. It is sad that a guy who actually has something to say from time to time is shacked up with one of the most notorious fame whores around. This record holds more rock n roll to it than most rock n roll records out at the moment. About half this record is really great and the other half just sounds like a bunch of filler. Black Skinhead is great.
The Icarus Line - Slave Vows
Yep, i'm gonna put my record on here. Mostly because this recording meant a lot to me and I spent more of 2013 listening to Slave Vows than any other record released this year. By default of course. Since it was released I haven't heard it once but up until then I had it on making sure it said exactly what I want it to say.
DiS: How was your 2013?
Joe: Doing 40 shows in 43 days will reek havoc on your body. When you play increasingly more physical music by each year and keep getting older at the same time it's a tricky path. There were some great moments to keep the pain at bay. Meeting up with the bad seeds for a night in Hamburg broke the cold for a minute. Playing shows with Primal Scream on both sides of the pond reminded me that we have no choice but to keep going. Performing for a sold out crowd at All Tomorrows Parties reminded me that there are people like us out there that want to be thrown around a room by sonic defiance. Mostly spending time on the road with 4 guys who were willing to take the good with the bad showed me that with a little teamwork you can make it through just about anything.
---
PINS
Bass Drum Of Death - Bass Drum Of Death
We were lucky enough to play a festival in Nantes alongside Bass Drum Of Death and it was one of the best nights of tour. It all got a bit wild and involved shotgunning beers in the toilets. We listen to their record in the van all the time.
Unknown Mortal Orchestra - ||
A perfect blend of lo-fi psych guitar, scuzzy vocals with pop melodies. Was a bit late to the party with UMO but this album proved to be a hit soundtrack back in the Summer of '13.
Brown Brogues - Triflin'
They are our friends, brothers and lovers. Released in October 2013, If you haven't heard this album already then you really should.. 11 tracks dreamy delayed fuzzy guitars, lovely boys singing in harmony.. an entirely analogue production, all of our favourite things! Favourite songs - 'Shake It' and 'I Kill'.
Thee Oh Sees - Floating Coffin
Thee Oh Sees were one of our go to references whilst we were making our album. They relentless when it comes to releasing records as they are when it comes to touring, a real working band! They can't really do any wrong and this album is further evidence of that. Fav song 'Toe Cutter Thumb Buster' scary name to go with the scary artwork.
Hookworms - pearl mystic
Incredible live band. I bought this album when we saw them in Liverpool when we were recording our first album and can't stop listening to it. I love albums that you listen to start to finish and this is one of them.
---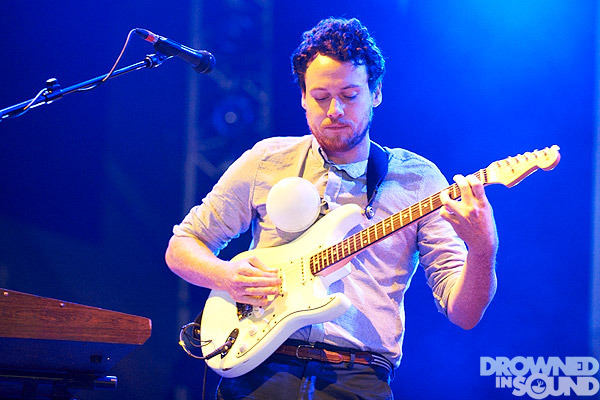 Joe from METRONOMY
Connan Mockasin - Caramel
An unsettling prospect from the album artwork right down to the track titles, but a compelling listen all the same. It shows that being holed up in hotel room with some Japanese girls produces real results.
Danny Brown - Old
Danny Brown has the gift of an inimitable style, yet an imitable voice. It means I can sing along to this record in the same way I used to sing along to busta rhymes and ODB.
Daniel Avery - Drone Logic
I live in hope that this record inspires youngsters in the same way that underground resistance records inspired me. It's proper dance music, but not so proper that you feel like a smartarse by simply mentioning it in passing.
Queens of the Stone Age - Like Clockwork
I hate people that say return to form. So let's call this album a return to familiar territory. It's familiar territory, but the kind of territory you like to keep going back too.
Kanye West - Yeezus
It's not an entirely successful record, but the first half is very good indeed.
---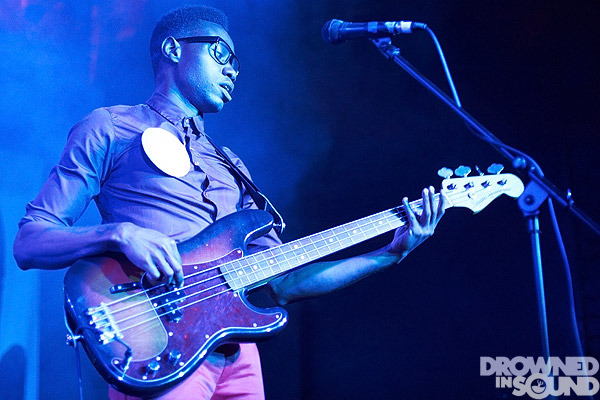 OLUGBENGA (also a member of Metronomy)
Godspeed You Black Emperor! - Allelujah! Don't Bend! Ascend!
I was extremely concerned when I heard Godspeed had come out of hibernation. Seeing their set at Coachella last year only confirmed my concerns. So it was a great relief to hear this and feel better than I had after listening to Yanqui U.X.O. The songs sprawl and the textures roil with all the anger, noise and beauty that Godspeed fans love so much. The emotional commitment (always their secret weapon) is back to the fore on this album and 'We Drift Like Worried Fire' particularly sets my spirit alight.
Zomby - With Love
Quite simply an album full of beautiful moments, totally unconcerned with suitability for a club/DJ context but still obviously a product of UK dance music culture. One of the few producers who manages to ingest hip hop references without producing music that sounds like a sample pack.
Little Boots - Nocturnes
An album influenced by all the DJing Little Boots has been doing since her first record, and all the better for it. Exquisitely produced, propulsive in the way only the best dance music can be, yet still as full of melody. I've listened to this a lot this year.
Rustie - Triadzz / Slasherr
I'm cheating here. This wasn't an album. But this was my favourite bass music/whatever release this year. The kind of thing where the kicks and snares knock with an ominous weight while the technicolour synths keep a smile of disbelief on your face. I've listened to these two tracks more than most albums.
A$AP Rocky - LONG.LIVE.A$AP
I actually forgot this album came out this year. A$AP's beat selection is on point, and I pick this album as much for that as the rapping. It's an unashamedly mainstream album where Rocky has nonetheless pushed producers to deliver unusual results (Hit Boy, for example) or allowed them to be as weird as they always are (Clams Casino).
---
James Spence from ROLO TOMASSI
This year we had the chance to go and play Japan for the first time. We followed it with a trip to Australia and it was the best touring experience I've ever had. A lot of planning went into making both these tours happen so pulling it off was my personal highlight of 2013... We've started working on new material already so in 2014 I imagine we'll release it and play shows.
Deafheaven - Sunbather
Easily my favourite album of the year and in my opinion, the most creatively inspiring 'heavy' record since Jane Doe. This was my most anticipated release of 2013 and it didn't disappoint. Almost flawless.
Rhye - Woman
Beautifully put together and the back story coupled with the way demo's or at least early versions of the tracks were released is just wonderful.
Fuck Buttons - Slow Focus
I've enjoyed Fuck Buttons evolution from record to record and introduction of a more beat driven sound on this album really pushes what they do forward. The development of their live show was also a great spectacle to watch when they toured in September
Dutch Uncles - Out Of Touch And In The Wild
Their best and most complete record to date. The string arrangements are a great addition to their awkward but awesome signature sound and Duncan is one of the most underrated vocalists in the UK as far as I'm concerned. I'd love to see them play one of the shows they have coming up with the string section!
Satelliti - Transistor
I've only gotten into this over the last few weeks but its mindblowingly great. Somewhere inbetween Goblin, Zombi and Woe sonically. Hypnotic, heavily synthesized instrumentals, amazing musicianship. Just dead good really.
---
Tom from LOS CAMPESINOS!
Phosphorescent - Muchacho
Having spent the year in a post-break up malaise, this album resonated with my sad sack outlook pretty well. Probably the record I listened to most this year.
Earl Sweatshirt - Doris
Unpolished and warm, both musically and lyrically. 'The Adjustment Bureau' is not a good movie, though.
Ryan Hemsworth - Guilt Trips
Soothing and playful electro-dream pop. One of those musicians who makes you want to rip up what you're doing and rip them off.
Lorde - Pure Heroine
Doing it for the thrill of it and killing it.
Mutual Benefit - Love's Crushing Diamond
Pretty earworms lusciously arranged.
---
Ryan from MENACE BEACH
Hello, I'm having quite a nice time here in 2013. I think it's been my favourite year of getting stuff done since 2005. The main things I've liked doing so far are; recording and doing the art for our too pure single and then EP with Liza, getting told that someone wanted to make a record with us for real was pretty good. Doing a BBC6 session for Marc Riley was fun because we had a nosy around Salford Miracle World or whatever it's called and he was really lovely. Playing Leeds Festival and Beacons were a blast and we didn't have to sit in a van for 20 hrs to get there. Mainly I've just liked hanging around with my friends (ahhhh)... 2014 to do list is currently: release an EP and make album in Jan. Learn to drive (legally). Go swimming lots. Buy a bike. Basically utilise lots of different forms of transport and make a record.
Fuzz - Fuzz
When I first heard this I listened to it seven times on repeat. I love how Ty Segall just gets on with stuff and although this sounds like it was written and recorded super quick, its really captured something magic.
Oh Sees - Floating Coffin
This has been my 2013 go-to travel companion, when I listen to this I just get to places way quicker. Dark as eff, ace riffs, super fuzzy. Also the pool/poisoning scene it soundtracked in Breaking Bad was mega.
His Clancyness – Viscous
I only heard this record within the last month and it's so so great. First new thing I've for a few months that I've been super excited by.
Cowtown - Dudes vs Bad Dudes
This has been the record that I've seen played out live the most this year so I've become dead attached to it (same with hookworms - pearl mystic but I cant really include that. Oops I just kinda did) Ski School is close to being my fav song ever
Joanna Gruesome – Weird Sister
My fav vocal stuff on anything this year. Dead good lyrics really well executed from dead cool to dead raging. This record has some amazingly written songs recorded as they should have been.
---
Eric Pulido from MIDLAKE
The Band - Live at the Academy of Music 1971
When my favorite band of all time releases a 4 CD/1 DVD document of their four concerts in New York City during the last week of 1971, it makes the list. Oh, and it's absolute greatness!
John Grant - Pale Green Ghosts
One of my favorite people and voices of all-time, John Grant magnificently marries classic influence and modern sound while crooning beautifully about Ernest Borgnine...among other things.
Daft Punk - Random Access Memories
Yes, Daft Punk. Every grown man needs to dance every now and again; or at least jog at a more brisk pace. Stand out track for me is 'Instant Crush' (feat. Julian Casablancas).
Paul McCartney - New
He's a Beatle...a Beatle. And he's still got it!
The Beatles - Live At The BBC. The Collection (4 CD Boxset)
See album title.
---
DUTCH UNCLES
These New Puritans - Field of Reeds
TNP's third album sees the band go further into the realms of neoclaccisism, sounding something like a Benjamin Britten concerto backed by an industrial rhythm section. The meld of dissonant harmonies and complex arrangements make for a inspiring listen for other bands wanting to break convention. The live performance with their expanded ensemble is also something to behold, with the eerie horn section underpinning the obscure melodic movements. Stunnin'. (Robin)
Outfit - Performance
We're currently on our second tour with Outfit this year, and we're still not getting bored of listening to this record. The song 'Spraypait' is a 'Chuncles favourite and is regularly blasted through our van's speakers to and from gigs we're playing with Outfit! Key change galore! My only fault with the album was the absence of their 2012 single 'Dashing in Passing', but this doesn't take away from Performance still being a cracking record. (Robin)
DJ Koze - Amygdala
A rich palette of tuned percussion, vocal mutation, a cacophony of clipping, smart synths all washed down with an addictive pulsing rhythm. This album stands alone, basking in its odd glory over the musical blandscape. (Pete)
Public Service Broadcasting - Inform - Educate - Entertain
We've seen them four times, introduce their music to every passing stranger and even bought a tea towel… Basically, Inform - Educate - Entertain is mint and cannot be missed. It's meticulous, provoking, warming, intelligent, comedic (in places), hair raising etc etc etc. The concept and ethos of the duo has been executed flawlessly with devastatingly beautiful results. 2013 screamed for an album of integrity and class, PSB delivered by the bucket load. Proud to be British. (Pete)
Fiction - The Big Other
We heard this record shortly after we'd finished Out of Touch In The Wild then at which time we were sure 2013 would be the year of the Japan influenced records... It didn't really pan out like that. Nevertheless this isn't your typical indie album, well thought out arrangements and at times hauntingly sparse production channeling Sylvian-esq pop moments in 'Careful' and my personal favourite 'Step Ahead'. Certainly can't wait to hear what they do next. (Andy)
---
HEALTH
DANIEL AVERY - DRONE LOGIC
Man I love this shit. Smart guy dance music that's still fun, unpretentious and really tasteful. Also the album versions of all his previous singles are all streamlined to help prevent smart guy "pussy-drying" on the dance floor. Win win.
THE HAXAN CLOAK - EXCAVATION
Hold on to your dick. Heavy as hell and darker than my shit after two bottles of wine, this is Pure Moods for people in a bad one. If Mr. Cloak's talents could be used for the right movie or video game it could define a generation of kids' heebie jeebies.
DJ RASHAD - DOUBLE CUP
NUTRAGEOUS. DJ Rashad keeps dropping them crunchy nutty shits in your mouth, and on this record he surrounds them nutty ones with some more restrained "classier" cuts. But you want them nuts. The single "I don't give a fuck" is the real star of the record and once it drops the party gets started, get it on single too cuz you don't want to miss the bonus b-side "everybody" feat. The best cry in the world.
ICEAGE - YOU'RE NOTHING
I didn't know it was still possible in these times to be born with perfect awesome punk guy voice. This kid has it in spades. This will get you AMPED.
GESAFFELSTEIN - ALEPH
Very disappointed to find out this guy was a suave suit wearing Frenchman not a bald headed shirtless German and to be honest around 50% of this record features some girl in art school yelling over it, which I assume is very exciting for the French but will make any native english speakers want to shoot themselves in the dick. Despite these shortcomings the rest of the album is FUCKING SICH and will blow your monkey ass outta the water. This guy has the best kick and snare in the biz.
---
Efterklang
Nick Cave and The Bad Seeds - Push The Sky Away
Anna von Hausswolff - Ceremony
Tim Hecker - Virgins
Julia Holter - Loud City Song
Greg Haines - Where we Were
Pinkunoizu - The Drop
Skammens Vogn - Asfalt
Lonnie Holley - Just Before Music
---
You can find all of DiS' year-end best of 2013 coverage compiled on one handy page by clicking here