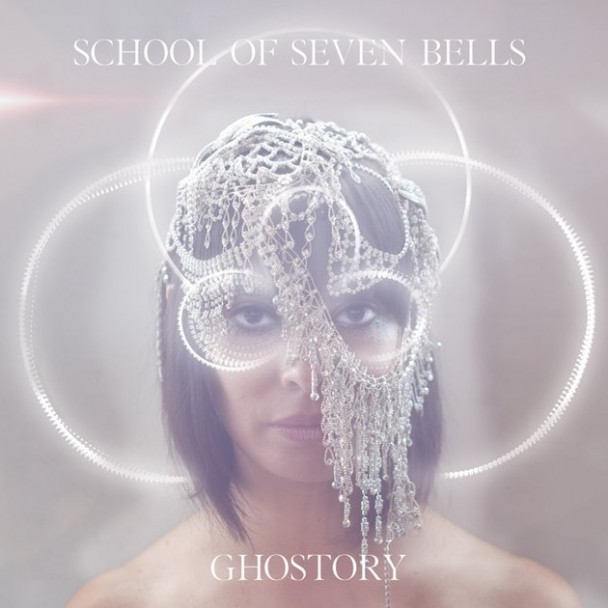 ---
---
Staff Reviews

Sean Adams writes... I love this record because it's the exact album I was hoping M83 was going to make (just for me) last year. I love it because it's everything School of Seven Bells' soaring debut promised, and all the things the follow-up wasn't to be. I love it because it's shoegaze gone a bit headlight-staring, drums-as-guns, guitars-a'blaring then guitars-gone-misty, all the while I'm a reviewer-gone-gushing-puddle-of... »
---
---
Buy now from:
'Ghostory' is the anticipated third album from highly acclaimed New Yorkers, School of Seven Bells. This returning album finds the band's lineup evolved along with the music; formerly a trio, the band is now a duo: guitarist/producer Benjamin Curtis and vocalist Alejandra Deheza.

Recorded in-between tours, 'Ghostory' exemplifies a fervent progression of SVIIB's growth as artists, preserving the common themes found on their last two releases but exposing them in different fashions. The familiar ethereal and enigmatic tones are omnipresent, surrounded by layers of influences from '80s pop, shoegaze and ambient electronic sounds. However, the complete album comes with a story in mind; the tale of a young girl named Lafaye and the ghosts that surround her life. "Everyone has ghosts", says Alejandra Deheza; "They're every love you've ever had, every hurt, every betrayal, every heartbreak. They follow you, stay with you."

This detailed storytelling is evident from start to finish on the record, weaving a tale that moves between a fervent synthesized adventure and spacious lyrical euphoria. Tracks like 'Love Play' and 'Show Me Love' create a hauntingly indelible atmosphere that grab attention with the ambitious wordplay in the center of it all. Surrounding tracks like 'Lafaye' and 'Scavenger' entice the vibe of previous School of Seven Bells releases with their steadily dance-centric tempo and uplifting melodic progressions.

'Ghostory' flows seamlessly and effortlessly, a result of the shared songwriting process. "Ghostory is our most collaborative music to date," describes Benjamin Curtis, "Alley (Alejandra) and I have always written our music together, but always independently and on our own time. We knew we wanted to do something that was more sensual and spontaneous than anything we had ever done before, and that meant writing together in a room, coming up with ideas quickly and immediately reacting to what the other person was doing." Through 'Ghostory', the story of both Lafaye's and the band's journey will be told.

School Of Seven Bells formed in 2006 as a trio (including Claudia Deheza) and released their debut full-length, 'Alpinisms' in 2008. The group's appeal grew exponentially, with their signature sounds stemming from pieces of electronic subgenres and shoegaze bands before them. In 2010 the band brought us their critically acclaimed second album 'Disconnect From Desire' before this current release, 'Ghostory' – a beautifully crafted, haunting and truly defining piece of work.

'Ghostory' Tracklist:
01 The Night
02 Love Play
03 Lafaye
04 Low Times
05 Reappear
06 Show Me Love
07 Scavenger
08 White Wind
09 When You Sing