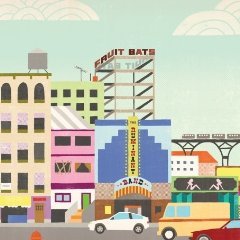 ---
---
Staff Reviews

Set against a backdrop of Michigan skylines, woozy piano and twinkling slide guitar, Fruit Bats' latest is utterly gorgeous. »
---
---
Buy now from:
Fruit Bats
'The Ruminant Band'
UK album release date: August 24th, 2009 (SUB POP - SP830 CD + LP)
Over the course of three records, the last two on Sub Pop (2003's Mouthfuls and 2005's Spelled in Bones), Eric D. Johnson's Fruit Bats have looked for ways to file down the cynical edge of modern life and found many. Using bright melodies, defiantly major-key chord structures, natural imagery mixed with the occasional blazing insight and tender observation, the Fruit Bats have never shied away from darkness, but more uncommon in this day and age, they've refused to shy away from light.
With The Ruminant Band, this tradition continues in characteristically rich and involving fashion. From the barn-floor stomp of "The Hobo Girl" and the Fleetwood Mac-esque shimmy of the title track to the propulsive yet spacious '70s country-rock jam "Tegucigalpa" and the parlor piano soft-shoe of "Flamingo," The Ruminant Band makes good on Johnson's recent message board promise: "We are going to choogle for you."
Though he has spent the handful of years between Fruit Bats records playing with peers as heralded and forward-thinking as Vetiver and The Shins, the songwriting and production on The Ruminant Band mark a further crystallization of Johnson's own melodic instincts and overall vision over the past near-decade, abetted by brothers-in-arms who know both bluster and restraint.
(from label)