Hello and welcome to a special edition of DiS Does Singles. Lykke Li's 'Gunshot' is out today, so we gave it Single of the Week and asked your favourite Scandinavian songwriter how to swear properly and what song makes her cry.
Elsewhere, Weezer are still knocking around, Iceage have picked up a Southern fried twang and Spoon have foreseen a future apocalypse. Plus, Joanna Gruesome and SBTRKT both debuted ace new tracks in the past week. Really, all's well in the musical world, unless you've been listening to the Teenage Mutant Ninja Turtles soundtrack.
Single of the Week
Lykke Li
Gunshot (Atlantic)
Love: it's an ideal. Something to search for and fetishise. A promise you've been sold by string-drenched film scenes and songs by The Beatles. You know what it is but you can't quite grasp it.
Heartbreak: it's a reality. Something that's achievable and universal. A fate that chiselled actors, femme fatales and especially you will succumb to. It's just so horribly attainable.
Such is the mindset it takes to write a proper break-up album. We're talking about The Cure's Disintegration, Adele's 21 and, of course, Lykke Li's I Never Learn. The fucked up mindframe that envelopes your senses so that everything is processed through a singular prism of self-pity. And to think it's sparked off by a single moment…
In real life there are no drums, but in 'Gunshot' hope is swept asunder to a thunderous rush of percussion. If you're going to dramatise your LP's centrepiece, you may as well make it memorable. So much of I Never Learn reminisces on the relationship Li had and lost, but her latest single is purely present tense. It needles in on the second when everything fell apart with unsparing detail.
"I am longing for your poison like a cancer for its prey," simpers the bereaved Swede. Before booming dissonance fills your headphones, these toxic words are left to percolate. They're drenched with regret for untold mistakes and nag at memories you'd rather were laid to rest, exhuming them for an almighty chorus. One that crashes forth with cataclysmic force, commemorating the instance when everything falls away. When you're at a loss for what comes next.
That feeling will fade, the scars will scab over and the movie stars will have you believing once more. Despite this, 'Gunshot' remains. Loud, indelible and utterly brilliant.
Interview: Lykke Li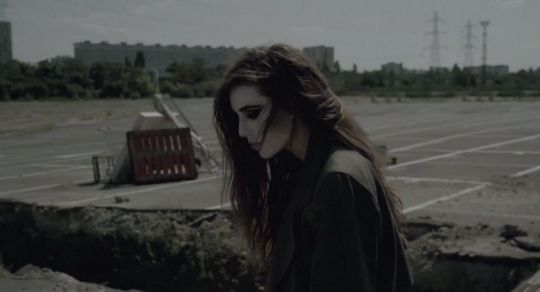 You've said 'Gunshot' fixates on the moment when a relationship is "gone forever". Why revisit that moment again and again by writing a song about it? It's not by choice but by necessity. Everything I write comes out of a subconscious need to solve things. This is my way of dealing with the difficulties of life and love.
'Gunshot' is all about that big drumbeat in the chorus. How did you get it to sound so huge? I did a lot of versions of this song, I knew that the drum had to hit hard so I experimented a lot with it. Originally I had another beat but I knew I had to make it simpler so what we did in the end is have both Lars [Skoglund} and Greg [Kurstin] play live drums layered with a drum machine.
What came first, the lyrics for 'Gunshot' or the drums? They must have been made to complement each other The lyrics came sprawling out of me. I only had an acoustic version of it for a very long time as I didn't know if I was going to put it on the album or not. My roommate convinced me though as that was the song she kept humming. To figure out the production was the hard part, the poetry was already there....
The video's location is incredible. A big concrete car park with a crevice running through the middle. Who found it? Fleur, the director found it, she had been wanting to shoot there for a long time but was never allowed so somehow our lucky star shone it's light on us and this is where we could lay down the crime scene, the wasteland of lost love and desire.
Your dance moves mimic the motions of being shot. What was your inspiration for them? Since I was very aware of the emotional undertones as I've lived and written the story I just improvised. I knew the dancing had to be emotional rather than "perfectly choreographed". I actually did it without the song on set as I wanted the character to dance along to the memories and the suffering of her heart.
There are several surreal moments in the video. Why the contrast with the bleak references to "cancer" and "poison"? There is light and dark in everything and one can't survive without a bit of humour. I certainly wouldn't.
You're a fan of dropping the F-bomb in your interviews. What's the key to a really great swear? Ouch. I'm not sure. I'm actually trying to become a more proper speaker. I guess it's my background in the underworld that still lingers.
What's a song that makes you cry? Why does it have that effect on you? 'Such a Woman' by Neil Young. I first cried to it at an airport under the influence so I suppose I will always have a sense memory response to that song. I can't even imagine having a song written like that for you. Imagine being his woman! When you love really hard there is always a fear or losing. "No one else can kill me like you do, no one else can fill me like you do."
In a word, what does 'Gunshot' sound like when you hear it? Hypnotic.
Best of the rest
Weezer
Back To The Shack (Republic)
Weezer's latest album is called Everything Will Be Alright In The End and it's an apt descriptor for 'Back To The Shack'. Rivers Cuomo has ploughed the same juvenile pop-rock furrow since 2001 while paying slavish lip service to the good old days. During this 13 year timespan there have been some good records (The Green Album) and there have been some bad records (Make Believe and Raditude) but most of them have been OK.
Similarly to a Greggs steak bake or any movie starring The Rock, you know what you're getting with a new Weezer song and that is unchallenging mediocrity. 'Back To The Shack' flatters to deceive with its opening hail of power chords and Ric Ocasek's production gloss. Alas, The Blue Album's producer can't rouse much interest from this ambling trip down memory lane. "Kick in the door, more hardcore, rockin' out like it's '94," hollers Cuomo in what's pretty much a re-run of Hurley's 'Memories'.
Then the bequiffed frontman bemoaned getting older, now he's happy to have "settled down" and made up with his pop. Either way, the result is same: good enough to keep the tour van rolling.
Iceage
The Lord's Favorite (Matador)
You know the punk band drill: make your name on an electrifying live show, channel that energy into a much-lauded debut album, repeat the trick and then go country. That's the Iceage way at least and if it sounds preposterous then 'The Lord's Favorite' will beat your cynicism to a bloody pulp.
Although Elias Rønnenfelt still sounds like he's gargling razorblades, the most surprising thing about this new single is how well the Danish four-piece do melody. Johan Wieth's scattergun guitar line is just on the right side of ramshackle, while the rest of the track could well have been lifted from a Dolly Parton record. Bring on the rhinestone-encrusted jumpsuits!
Spoon
Do You (Anti-)
Are kids the end of the world or do they destroy everything you hold dear? That's the question posed by Spoon's new 'Do You', and Britt Daniel seems remarkably chilled about the whole thing.
Surveying a trail of destruction from the comfort of his mid-sized estate car, Texas' finest rock 'n' roll son concentrates on looking cool and singing his band's latest single. As though louche guitar chords and soothing coos are going to help rebuild a desolate city. We're no experts in disaster management, but pitching in with a fire extinguisher is probably a better solution.
Joanna Gruesome
Jerome (Liar) (Reeks of Effort)
With last year's Weird Sister Joanna Gruesome outgrew their woeful name to become no laughing matter. As spiritual successors to The Ramones and Black Tambourine they do bittersweet hysteria in big swells of clanging guitar and aren't keen on stretching their songs over three minutes. Even by these standards, 'Jerome (Liar)' hits like a shot of honey and absinthe giving you all manner of heart palpitations in the process.
It's the first cut from a split 12-inch with Bristol's Trust Fund (a.k.a. DIY pop-thing Ellis Jones), so stay tuned for that when drop in 'late September'. We doubt it will disappoint.
SBTRKT
New Dorp. New York. (feat. Ezra Koenig) (Young Turks)
Syllable slapping, toe-tapping delirium.
Rock Bottom
Juicy J, Wiz Khalifa, Ty Dolla $ign
Shell Shocked (feat. Kill The Noise & Madsonik) (Atlantic Records)
The new Teenage Mutant Ninja Turtles movie isn't out until October, but it's produced by Michael Bay so you can safely assume the worst. To underline why you won't be watching this film, Juicy J, Wiz Khalifa and Ty Dolla $ign have made a bro-step hip-hop song in tribute to the heroes in a half shell. If casual misogyny, tired rap tropes and songs that rhyme "Shredder" with "cheddar" are your bag, then you're in for an absolute treat.
Playlist: Best songs of 2014…. so far
Also released this week
Empty Pools - Liberation Prayers (Enclaves) Jennifer Left - Cold Black Stare (Sining Hinny Music) Joseph Coward - Thin (Stiffy Byng) MØ - Walk This Way (Chess Club / RCA Victor) Modern Time Machines - Loveletters (self-released) Night Sports - Youthquake (Mingo Records) Oliver Wilde - Say Yes To Ewans (Howling Owl Records) Rae Morris - Cold (feat. Fryars) (Atlantic) Rhyan - When I'm With You (self-released) Salvation Bill - FML ( diot King Recordings) TenFiveSixty - Control (self-released) The Family Rain - Hunger Sauce EP (Lateral) Velour - The Tower/Plato's Retreat (Broadwalk Records) ZHU - Faded (Island)
---
Rob Leedham is going on holiday for the next fortnight, so Sean Adams will be manning the ship with an appropriate amount of snark. Unless Beach House come back with a new song he hates.