Hello and welcome to a brand new head-bopping edition of DiS Does Singles. As ever we've rounded up the best new toe-tappers from the past seven days, and there's plenty to bust a move to.
Thanks to the shake appeal of Wild Beasts and their magnificent video for 'A Simple Beautiful Truth', this week's column is something of a shimmy-rific special. Most significantly, we've rounded up the top 10 indie dance moves of all-time so you can learn them and set young hearts a fluster at you local discotheque. As if to prove we're onto something, Warpaint also waltzed around in their promo clip for 'Disco//very' / 'Keep It Healthy'.
Sadly, neither tUnE-yArDs or Jaws saw fit to get their boogie on to their latest singles. Since they're both splendid anyway, we'll let them off. Just this one time.
Single of the Week
Wild Beasts
A Simple Beautiful Truth (Domino Records)
Music is big and important and life-affirming, but sometimes it's wonderfully daft too. We're talking about The Flaming Lips and Miley Cyrus collaboration, Alex Turner's impossibly slick quiff and, of course, Wild Beasts. Those bands that understand it's okay to wink at the camera every once in a while.
Despite their art-house extravagances, our favourite Kendal-born Lotharios have always found thrills a plenty in a good old fashioned gag. Whether that's an articulate request to "take off your chemise and let me do as I please", or climbing up a Welsh mountain to sign the title of their latest single… in neon-trim suits. While 'A Simple Beautiful Truth's video might read as an ironic take on Top 40 decadence, it's gloriously po-faced in practice. Hayden Thorpe, Tom Fleming and the rest wander around Hay Bluff, thrusting their arms aloft as though it's what they do with any spare afternoon.
This genial approach suits the single down to a tee. For all its many thrills Present Tense, isn't blessed with a great amount of levity. 'A Simple Beautiful Truth' is the album's breather track, when Wild Beasts crack a smile and place their pearly whites on gaudy display. Its chirpy parps of synth and classic baritone-soprano interplay combine for the kind of track the Pet Shop Boys became famed for - hyper-intelligent pop that any dunce can appreciate.
Never less than whip smart, but with one eye fixed on the cheap seats - it's always a pleasure to hear Wild Beasts flex their musical muscle. Now, finally, we can watch them choreographed unison too.
Top 10 indie dance moves of all-time
10) The Dev Hynes wriggle
Sportswear: impeccable. Effort: monumental. Execution: MJ-esque.
9) Haim's kung fu power pose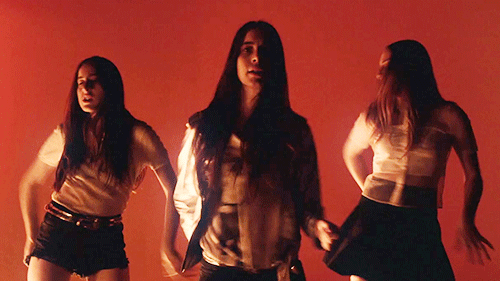 Also known as indie's best triple threat since Test Icicles split up.
8) The David Byrne & St. Vincent shuffle
An art-rock reinterpretation of the robot. Because, why not?
7) Thom Yorke's existential freak out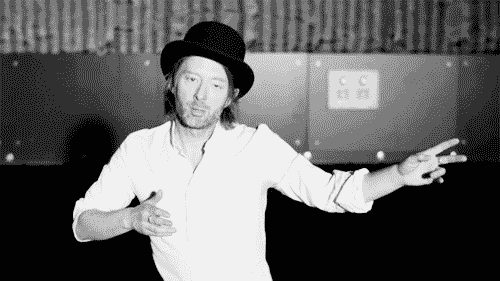 Who are we? Why are we here? How can I express these questions via contemporary dance?
6) Hot Chip's group geek bop
Step 1: Raise your head aloft. Step 2: Slam it down again, chin first. Step 3: Repeat, over and over.
5) The Future Islands neck thrust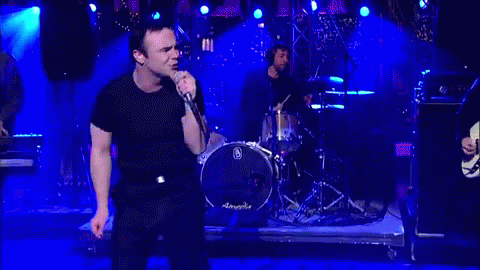 Want your band to become a viral sensation? Then trust in the neck thrust.
4) Morrissey's gladioli twirl
Because singing into a microphone just won't do on Top Of The Pops.
3) Zooey Deschanel's hula hoop twirl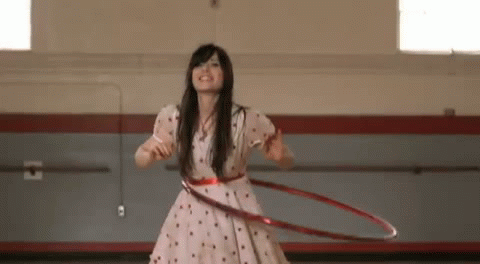 Humankind's most adorkable achievement. Unquestionably.
2) Ian Curtis' FM radio twitch
Forever imitated, never bettered.
1) Whatever Thom Yorke is doing here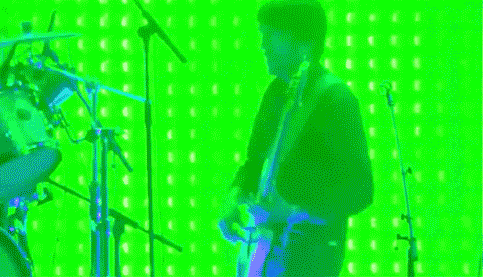 The Kid A of dad dance moves.
Best of the Rest
Warpaint
Disco//very / Keep It Healthy (Rough Trade)
There are a multitude of reasons why we can't be in Warpaint. Aside from our inability to play a musical instrument and membership of the wrong gender, we're simply not cool enough. Just watch Jenny Lee Lindberg and co prance about in the video for two of 'Disco//very' / 'Keep It Healthy'. If that was us with a camera pointing our face, we'd be frantically Googling the right shapes to throw.
Mercifully, our own brand of gangly limb flailing is yet to debut on YouTube. This means we need only worry about finding new superlatives to describe the LA-based gang of four, and how they've teased their rhythmic fog in an ever-more danceable direction. Seriously, we defy you not to cut loose to this joint offering of malevolent chanting and kickass bass. You won't be able match Warpaint for sheer majesty, but don't feel too bad. Few people can.
tUnE-yArDs
Wait For A Minute (4AD Records)
When tUnE-yArDs usually tones a song down, she'll only pitch-shift her voice five times in the same minute. You'd expect nothing less from a singer who can't even decide whether to spell her name in all-caps or not. So why did 'Wait A Minute' replicate the kind of emotions we only experience when Tesco Metro has run out of Creme Eggs?
Well, aside from being produced by Malay of Channel Orange fame, its wispish synth squiggles showcase a rare vulnerability in Merrill Garbus. After the barmy bombast of last month's 'Water Fountain', she seems completely adrift in tender, uncertain sentiment. Even her usual hollers have been replaced a trembling coo, "Not knowing what the future will bring is always wrecking my day, I guess I'll drown my fear and seal my fate."
Proof that one of our favourite extroverts can cause uproar, even in the minor key.
Jaws
Think Too Much, Feel Too Little (Rattlepop)
As representatives of same B-Town scene that spawned Peace and Swim Deep, Jaws boast a similarly 90s-inspired outlook towards guitar heroics. Even though they'd barely achieved consciousness at the time Slanted and Enchanted was released.
If Stephen Malkmus can still play the lackadaisical stoner at 47 years old, we're inclined let these young tykes off the hook. Their Milkshake EP topped up 2013's louche swagger to a righteous high, and 'Think Too Much, Feel Too Little' sees the four-piece return to slowburn surf-pop in a thrillingly nonchalant fashion. Its rambling groove takes a few spins to stick but, once your cerebral cortex gets the drift of things, you'll be able to think of little else.
Also released this week
Catfish & The Bottlemen - Kathleen (Island Records) Cotton Wolf - Cloud City (Strangetown Records) Danny Brown - 25 Bucks (feat. Purity RIng) (Fools Gold Records) Detachments - The Promenade (Polvo Records) Dracula Legs - Heartburn Destination / Cold Licks (Too Pure Singles Club) Ex Wives - Hoors (Bandcamp) Gabby Young - I've Improved (Gift of the Gab Records) Gary Barlow - Since I Saw You Last (Polydor) Hercules & Love Affair - Do You Feel The Same? (Moshi Moshi) Klaxons - Love Frequency (Phantasy Records) Liz Green - Rybka / Where the River Don't Flow (PIAS Recordings) Lizzo - Faded (Virgin Records) Noeva - I Promise (feat. Paigey Cakey) (Downing Street Records) Oliver Wilde - Play & Be Saved (Howling Owl Records) Peggy Sue - Figure of Eight (Wichita Recordings) RÜFÜS - Take Me (Columbia Records) Standard Planets w/ Harald Grosskopf - Ethernet / Telegraph (Fin-A-Dee Six Records) Southern - Where The Wild Are (Marathon) The Amazing Snakeheads - Here It Comes Again (Domino Records) The Sea - I Hear The Drums (Lusty Records) The Wands - The Dawn (Levitation Records) Then Thickens - Tiny Legs (Hatch Records) White Denim - At Night In Dreams (Downtown)